This post was most recently updated on April 27th, 2019
Image Credit/ Source: Team Shaadidukaan
A small town boy, Rohit Sharma learnt the aptitude of marketing and consumer loyalty while working in Insurance field with Bajaj and Reliance Group for a long time. He quit from his Job in 2010 to begin his own startup to full fill his own particular dream of making a National corporate organization which is having its base in Jaipur, a tow tier level city of India.
He started Arnav Media and Entertainment Pvt Ltd in 2010 as an event company to comprehend the requirements of wedding clients and service issues with wedding vendors. Being a marketing expert, he went on to execute 100 social, corporate and wedding events from July 2010 to April 2015.
Thus from humble beginnings to being a sole proprietor, running his own venture, Rohit Sharma in short span of time went on to become a successful entrepreneur who could now be recognized in the whole of Jaipur.
While the venture was functioning smoothly, In April 2015 he realized that wedding client is looking for descriptive data and 360-degree view and details of work to be booked by them by while sitting at home only. It was during this time, Rohit's experience of 5 years came into the fore and he came up with the idea of providing the services of genuine vendors with the track record of their previous work.
In addition to this, clients would be provided with pricing details and classification of services, enabling them to make bookings for vendors such as photographer, planners, and DJ Band online in a completely hassle free manner just like buying mobiles online. Thus in April '15, event planning and organization with Arnav Media and Entertainment PVT LTD came to an end, paving way for the conceptualization and launching of Shadidukaan.com.
With six months of meticulous planning and management underway, Shadidukaan came into existence in the month of October with the beta version being launched on 21st of the particular month.
What problems did Shaadidukaan promise to solve?
Wedding customers have at their disposal numerous online portals nowadays to discover merchants. However, their principal concern remains as to who they should finalize, whether the service provider is reliable or holds experience in dispensing the service.
Since the wedding is once in a lifetime affair, each and every arrangement needs to be best in class as inferior quality service can very easily spoil the whole wedding and their reputation as well.
This is where Shaadidukaan comes to picture, as it serves as a marketplace that serves as a platform between vendors and customers. We offer dedicated services to help our customers with successful and grand wedding events by bringing all the related services on a single platform.
Thus we assist customers to settle for a merchant according to their necessity and within their spending plan. Further, our customer support team assist customers with choosing merchants, negotiate prices, and furthermore give seller's past client feedback which ensures merchant's reliability, further enabling customers to get fully satisfied with their selection.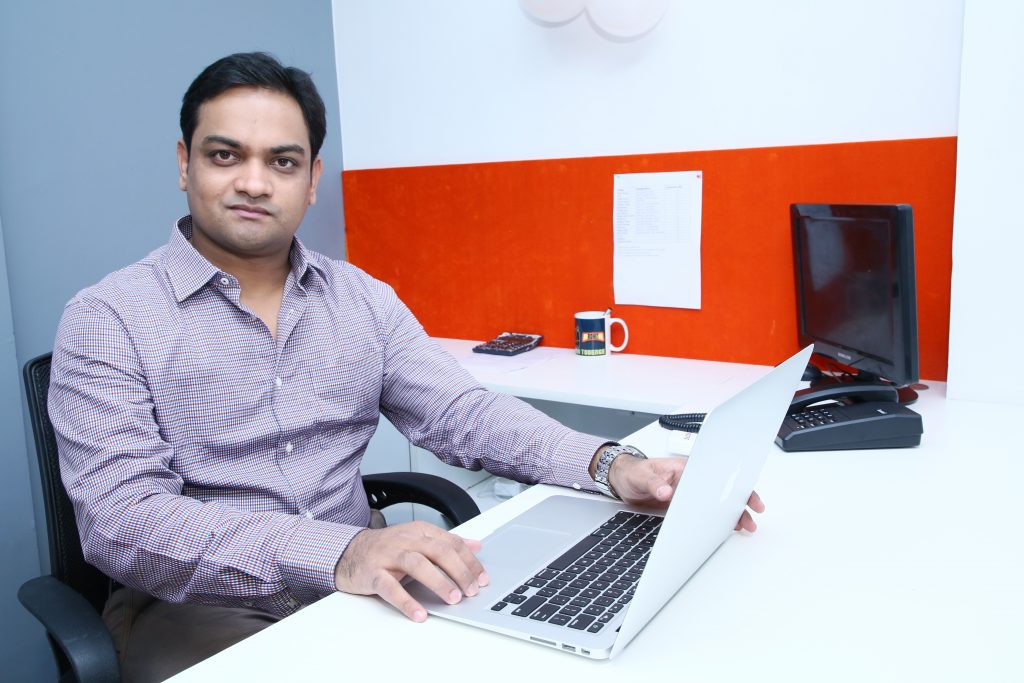 Image Credit/ Source: Rohit Sharma ( Founder and Ceo: Shaadidukaan )
What happened when Shaadidukaan was young?
As a wedding consultancy service provider, one of the biggest initial challenges that came into the way of Shaadidukaan.com was to start the business from Jaipur. Being a wedding hub, vendors in Jaipur were not pretty sure about the viability of business via Shaadidukaan, which made it difficult for us to sustain in the market left alone generating the revenue.
However, through perseverance and untiring efforts, we made vendors believe in the concept of wedding consultancy online business, thus persuading them to buy listing at our portal to get clients for their business.
What made Shaadidukaan, a hit?
Shaadidukaan emerges among all other wedding organizers since it works like a wedding consultancy. It helps in encouraging different parts of a wedding like focusing on a scene, contracting photography, organizing the cooks, among others.
The startup by Rohit guarantees that the clients get the best services and facilities at the least expensive cost. Being one of the earliest online wedding marketplaces, Shaadidukaan takes pride in being solitary online wedding market to have proper office setup in 3 states and Jaipur, Noida, Pune,  Goa  other major cities of India.

Image Credit/ Source:  Shaadidukaan
Actively working in entire Rajasthan, Delhi NCR and Madhya Pradesh, we are rendering our consultation services in International cities like Dubai and Pattaya. Moreover, we also plan to expand our operations in several other cities in India and the world to leverage our resources and dispense our service to the Indian community across the globe.
Shaadidukaan is servicing approx 30,000 vendors across 6 foreign and 24 Indian cities satisfying them by getting the client. While at the same time, we assist customers clients find the variety of quotations from trusted vendors at the touch of a click from the comfort of their home.
With 26 categories and 91 subcategories, customers can find the solution of almost all their requirements at our portal to organize wedding celebrations in a quintessential way while within their budget.
Shaadidukaan plans for the future
Going ahead, we at Shaadidukaan are looking to expand our venture Pan India while initializing sales operation in major cities of the country. By early next year, we are planning to serve wedding customers from across the country through our online portal and are expected to make Shaadidukaan one of the most sought-after online service provider.
All the more, to serve customers in a more holistic manner, we are looking to start the facility of online shopping of wedding products and essentials at our portal to enable customers to purchase quality items directly from us.