ACT IT OUT (AIO) is an App that connects Aspiring Actors to Casting Teams of Production Houses in the Media & Entertainment Industry. AIO provides a smooth video streaming platform for Production Houses/ Casting Directors to directly take Auditions online according to their requirements. Actors can upload their Audition video for these requirements from anywhere with internet connectivity and a smart phone!
Struggle is Real
Act It Out is born out of the struggle of an aspiring Actor. Manit (Aspiring Actor & Founder), spent three years in Mumbai to pursue his Acting dream. He sweated it out in long Audition queues for hours, was rejected even without an Audition, paid thousands of rupees to casting agencies but never heard from them again. He gave 100s of auditions and received no feedback, dejected, he moved back to his home town, Ahmedabad, to pursue a job which he wasn't passionate about! That's when this idea struck – why can't he give auditions online? He thought of developing an app to bridge this gap and make it convenient for all passionate actors to give auditions conveniently.
Industry reports depict that on an average 25,000 people come to Mumbai daily and hope to make their acting debut in Bollywood. Yet, inspite of so many people inclined towards making a career as Actors in the M&E industry, the industry still struggles to find the right talent due to the unorganized audition process. With a rapid growth of content in mainstream cinema, regional cinema, ads & web series for OTT Platforms, the demand of actors seems to be at an all-time high. This is why a digital process is required for bridging the gap, hence ACT IT OUT.
Bridging the Gap
Our journey started in February 2016 when we started ideating & developing the app that was launched on Android and iOS by January 2017. It was a chicken & egg situation at the beginning. Actors wanted Auditions and Casting teams wanted Actors to join the platform. It took time, about 3 to 4 months, for us to create a balance. It eventually started happening and people have started to see the app as a convenient platform to connect with each other.
"It has been a roller coaster ride, but you have to hang in there and be extremely patient and continue to believe in your idea. What kept me going was the belief in the idea and in the people I am working with. The most inspiring moment was when we had got our first break and AIO registered Actor was featured in an Advertisement. This moment boosted our confidence that our concept is here to stay and change the traditional Audition process."
 – Manit Bhatia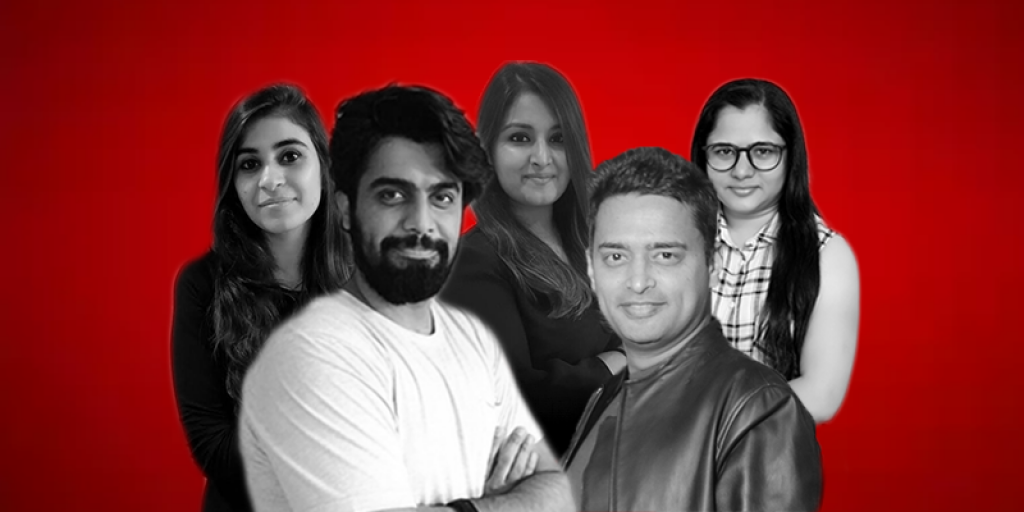 Image Credit/ Source: Founding Team: Act it Out 
Behind the Scenes
We are 6 team members from different walks of life, working towards the same vision. Manit hired Palvinder, an ex-colleague, who he always knew would hire if he ever starts his own business owing to her sincere, hardworking and organizational skills. Next person was Aditya, his college-mate. Always participating and winning events together during their MBA, Manit knew they made a great team. The third was Natasha – A friend who often assisted offline for AIO content and communication strategies. With a match in vision & synergies that would benefit AIO, she was perfect for the organization. Ruchika and Manit met at an investor event and was very impressed with her networking skills and felt was a pure fit for the resource in Mumbai. Gaurav – A tech partner, met at an event and was very impressed with the concept of AIO. He had immense value inputs in terms of technology and he got on board to plan the best ways to put across the platform to the public.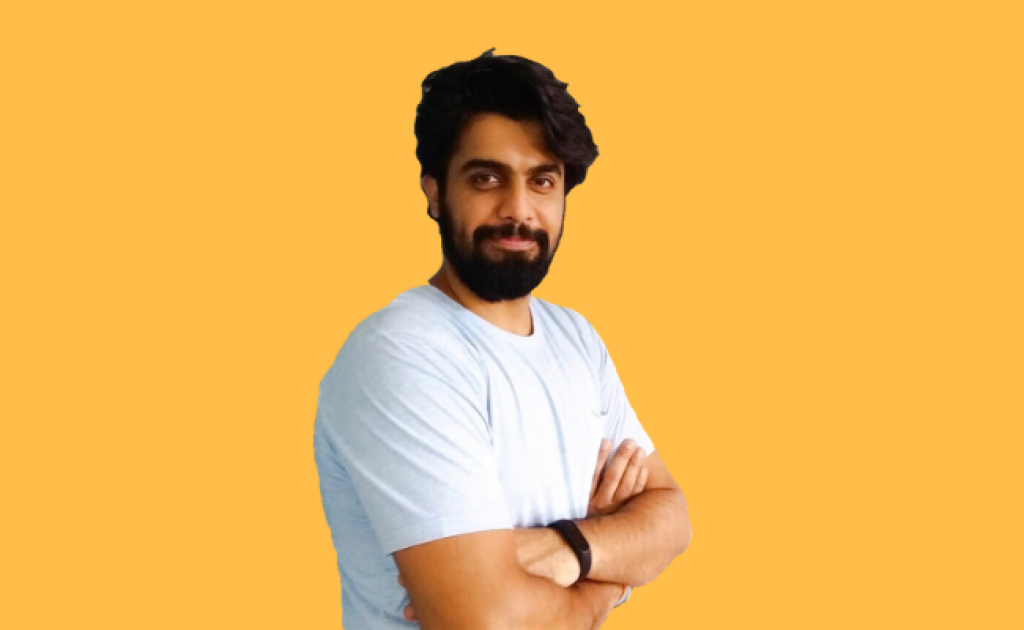 Image Credit/Source : Manit Bhatia ( Founder and Ceo : Act it Out )
It is all About Numbers : 
Since March 2017, our user base has grown from 3,000 Actors to 50,000 + Actors. Currently, we have 59000+ Actors as registered users and 35 Production Houses & Casting companies to use the app. Some of our clients are GirlsXP, Rundime Business Pvt. Ltd, Take One Casting, Bluewinds Entertainment, Theatre Army Films, Amit Sharma (Freelance Casting director), Add Factory Films, Oneness Casting Hub, Emoticons Casting and many independent Casting directors. We have received a positive response from our clients about the process of Act It Out.
Testimonials from Production Houses : 
Mikhil Musale (Director) – "We really loved the concept and decided to collaborate with AIO. Acting as a career option has garnered a lot of acceptance over the years in India. If this app becomes successful then it can play a major part in this industry."
Mohd. Nazeem (Co-Founder, Take One Casting) – "AIO is a talented team with a vision to upgrade the casting industry into a user-friendly platform for newcomers."
Jayesh Agrawal (Co-Founder, GirlsXP) – "AIO has helped us in getting the finest raw talent across local region saving us lot of time. The team at AIO is proactive and takes care of every minute requirement. The overall team effort helped us in getting the video out on time and sharing it across. The whole credit of video going viral on social platform goes to team AIO. Would love to work with AIO in future projects."
What's next?
We have reached this stage of growth as a bootstrapped company and we are looking forward to partner with Investors and VCs who would share the vision of making Auditions accessible to all.
Having set up a strong team and traction, we are now moving forward to adding more actors, production houses and casting directors in our network. As the idea has been appreciated in the market, we plan to expand to regional cinemas like Punjab, Gujarat, Maharashtra, etc.
Ever dreamt of becoming an ACTOR?
Click below & Follow your dream!
Website – www.actitout.in
Download our Audition App
Android: http://bit.ly/2o1nWEl
iPhone: http://apple.co/2o1tSxd
contact e-mail – [email protected]