When and how did you start?
" Technically, I have been into corporate training since my first job in 2012, which was with one of the World's biggest direct sales and marketing company. A day in my life on that job of being a door to door salesman included literally knocking close to 100 doors, getting close to half of them slammed on my face, getting to make a pitch to some and being able to make a sale to a few. This role later progressed to recruiting a team of sales personnel, training them, coaching them, making them achieve their targets and promoting them to higher roles. My first job has been one of the hardest ecosystems that I have worked in, as we had zero basic salary and earnings were only on the basis of commission. The sales field can be quite harsh if you approach it with a weak mindset.  Post this stint, I worked as a business and communication consultant for Multinational companies and Startups in multifarious industries like advertising, technology, human resource, and events including NASSCOM 50 and BBC featured Startups. I have trained, consulted and coached as a solo service provider since 2016. We had the official launch of The Skill Hub – Skills that set you Apart and its manifesto on the 12th July 2017 which was also International World Youth Skills Day", says M.r Abhishek Banerji Founder and C.E.O of The Skill Hub. 
Image Credit/ Source: The Skill Hub 
How did you come up with the idea? Your inspiration moment? 
 Well, there is no one particular moment that I can hinge my entrepreneurial inspiration on; it has been a series of leaps of faith that have led me to this. But if there is an episode, which I can look back and give credit to, it has to be the experience of my first job of being feet -on- street salesman.  It helped me build an unusual brand of tenacity, an arsenal of people skills and nurture in me the zing and enthusiasm for initiative and entrepreneurship. And the fact that, I was one of the top awarded performers in my organization along with a growing and highly productive team strengthened my faith in my ability to achieve individual performance and even impact and influence team performance through training & coaching. So yes, this period of mine in my first company did inspire me to pursue entrepreneurship in the years to come.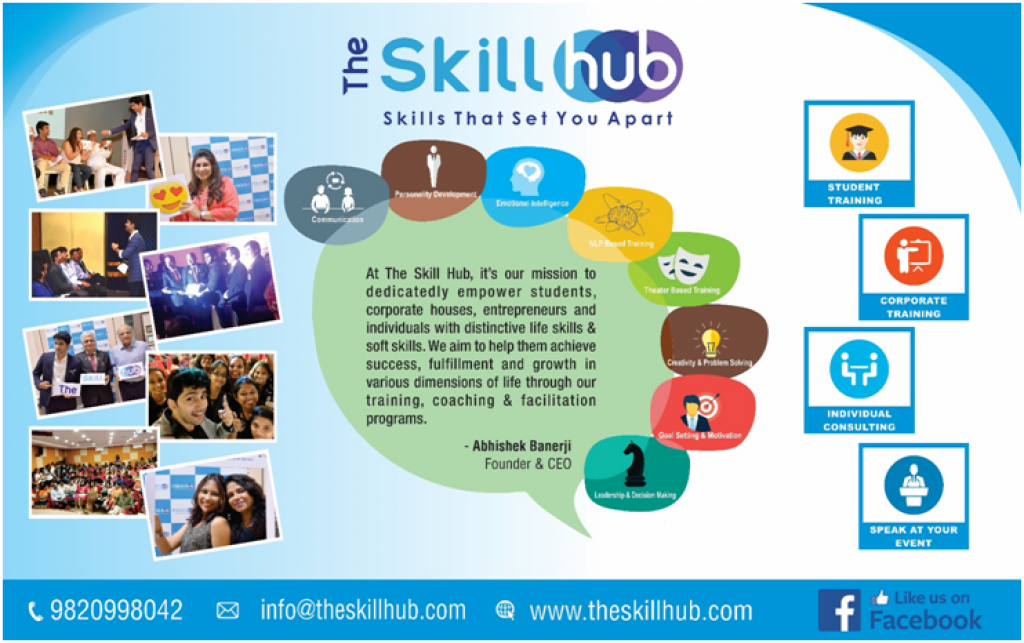 Image Credit/ Source: The Skill Hub  
Brief about the organization and founding members
Times of today are characterized by Volatility, Uncertainty, Complexity, Ambiguity (VUCA times). The business and professional landscape are constantly changing. Thriving in this VUCA world needs an agile and adaptive mindset and lifelong learning of skills. Developing effective leadership for a nation is not an overnight feat but a constant process of training, developing and skilling its workforce, students, entrepreneurs and every citizen for that matter to realize their fullest potential. At The Skill Hub, we seek to empower our clients with distinctive life skills and soft skills that will help them achieve success, fulfilment and progress in various dimensions of life viz. Personal-Social, Career-Work, Relationships, Health-Wellness, Finance, Education, Entertainment etc.  Providing essential life skills and soft skills through the most modern learning experience is a goal we are committed to.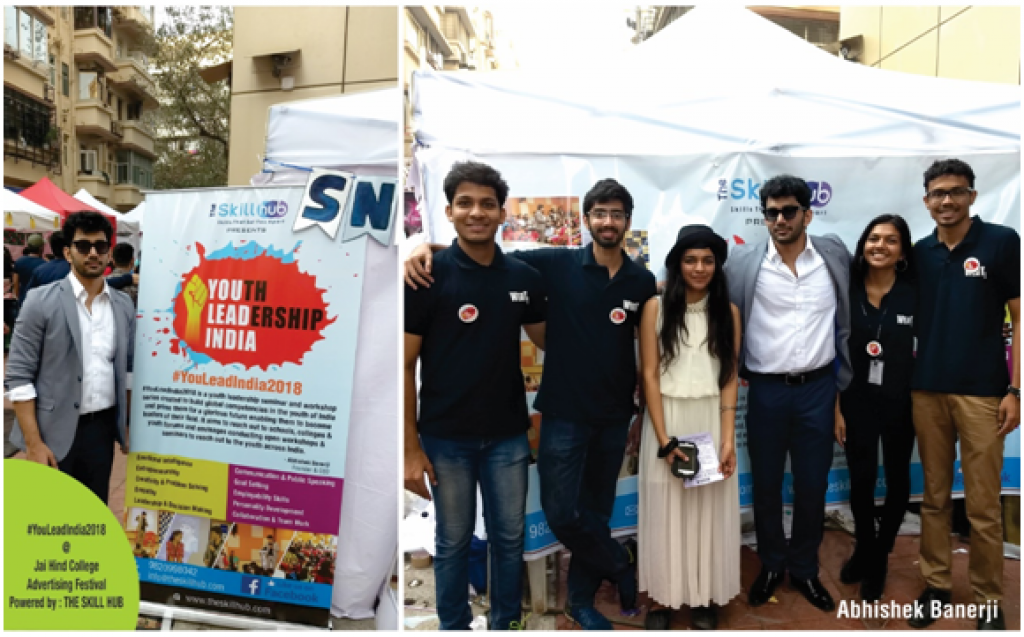 Image Credit/ Source: The Skill Hub  
We provide highly transformational experiences through our customized workshops, training, consultation, one-on-one coaching, courses and speaking engagements. Our workshops and training are a blend of highly curated content coupled with creative methods of delivery. Our training is devised using modern facilitation and training tools, Neuro-Linguistic-Programming (NLP), theatre, role-playing, gamification, storytelling, emotional intelligence etc. Our clients include corporate houses, educational institutions, students, entrepreneurs, individuals etc.
#YouLeadIndia – In the space of youth leadership development, we have launched a movement #YouLeadIndia which is a seminar and workshop series created to build global competencies in the youth of India and prime them for a glorious future enabling them to become leaders of their field. It aims to reach out to schools, colleges & youth forums and envisages conducting open workshops and seminars for youth across India.
As far as the founders go, I founded The Skill Hub and have hired a team to handle our digital presence. Apart from this, I have associates that join me in corporate training programs and add their unique flavour in accordance with their expertise. We also have college ambassadors that represent #YouLeadIndia and volunteer for our projects.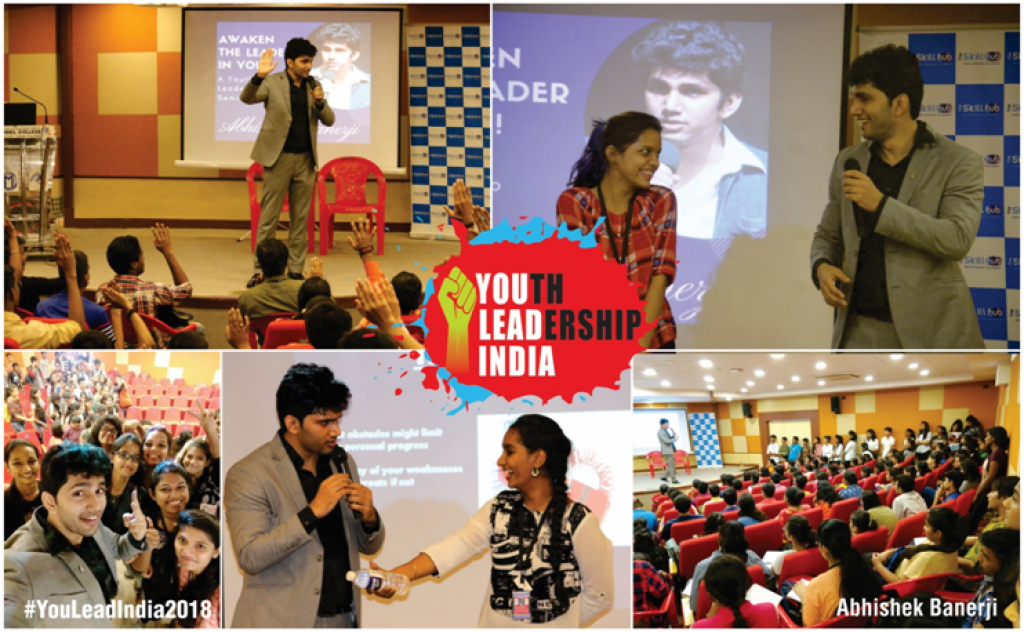 Image Credit/ Source: The Skill Hub  
 The journey has been nothing less than exhilarating. It is just the beginning and me have miles to go, many lives to touch and massive impact to create. I am a first-generation entrepreneur in my family but have received immense support from my dad Dr Ankur Banerji who is an internationally cited and referred scientist and my mom Mrs Cumi Banerji who is a C.E.O with a leading non-banking financial company in Mumbai. I have had the liberty of pursuing my dreams and I hope every youngster gets the support of their family and friends to pursue their dreams.
  

Challenges and Opportunities/ Marketing Strategies
" Companies are realizing the immense importance of training for organizational growth and success. Employees are the brand ambassadors of a company and training them is imperative. After all, customer satisfaction starts with employee satisfaction. Owing to this realization, there are vast opportunities for training, coaching and upskilling. Even in the sector of youth leadership and training, there is immense scope, since India is primarily a young country, and by 2020 it will be the youngest country in the world, with the median age being 29 years. The only challenge can be positioning yourself in the right way to your target audience in accordance with your expertise and cutting through the competition, but with the right marketing strategy, this can be worked on. Currently, we are using various social media platforms to target different demographics for our various services. " . 
 

Future plans and funding
 We would like to be a well sought-after name in the space of Training and Development. We would like to collaborate and co-create modules in liaison with more subject matter experts and reach out to more people through online modes like webinars and digital media nationally and internationally.   
 

A quote from the founder on the journey, or dealing with the challenge, or any inspiring moment.
 This might sound movie-ish, but I believe wholeheartedly in the law of attraction.  I recently happened to pass by the coffee shop where 5 years back a friend of mine had coaxed me to scribble everything that I wanted to do with my life on a piece of paper. I no longer have that paper, but 5 years since then, everything scribbled on that sheet is coming true! I have many more miles to go and a lot to accomplish. What my journey has taught me is – believe in what you want so much it has no choice but to materialize. 
 

EXCLUSIVE: Founder's advice to budding entrepreneurs
" Having had the opportunity to be on the advisory board of start-ups and an advisor to solopreneurs and subject matter experts as a business consultant, I have realized that many are jumping on the entrepreneurship bandwagon. India is definitely turning into a start-up nation. But the ones which stand the test of time irrespective of their area of product or service are the ones that create massive value for their customer and are able to communicate that value through various mediums. Personally, collaboration, co-creation and communication have helped me immensely. As an entrepreneur, you will have to go that extra mile to make your mark and get noticed amidst all the noise. I believe that your dreams might take you to places that are sometimes out of your comfort zone, but your passion and your "Why" will act as the most loyal champions to keep you motivated and on track", Says Abhishek.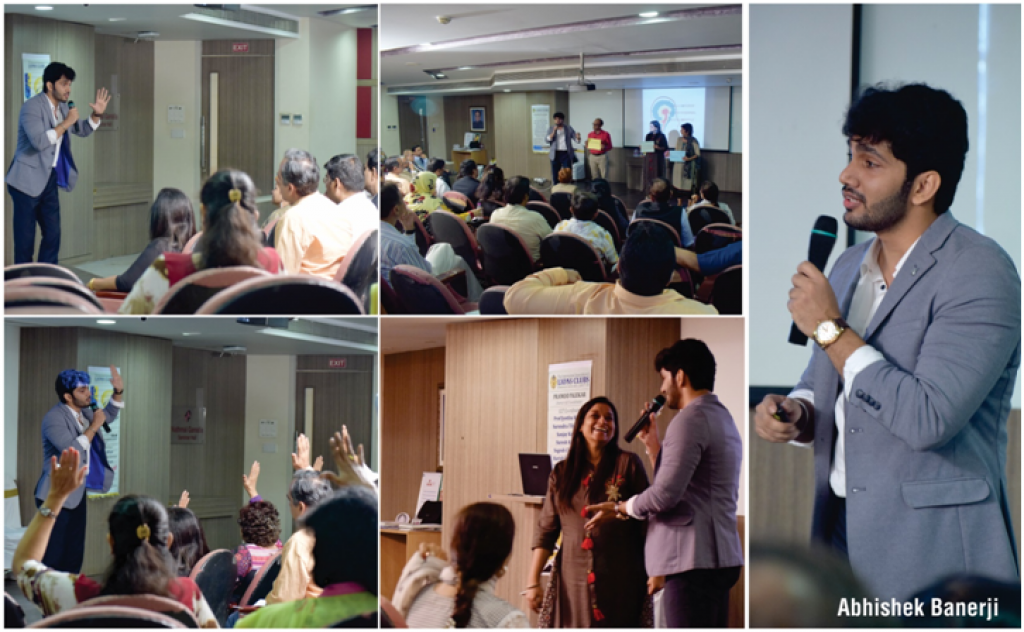 Image Credit/ Source: The Skill Hub  

 

Your website / apps / and contact details
Website: http://theskillhub.com/
      Facebook Page: https://www.facebook.com/TheSkillHubIndia/
LinkedIn: https://www.linkedin.com/in/abhishekbanerji1990/
 YouTube: https://www.youtube.com/channel/UCDLHfy8AL7l_yAHWVl_KDJA
 You can reach me at 9820998042