This post was most recently updated on May 6th, 2022
Introduction:
Coworking spaces have been more popular across the world in recent years, and Austin is no exception. Austin is quickly establishing itself as one of the greatest cities to launch a business, thanks to its strong entrepreneurial culture and growing digital industry. We've organized the best coworking spaces in Austin by region, facilities, and membership price to help you discover the perfect fit.
Deskpass:
Deskpass offers flexible, inexpensive, and personalized access to an ever-growing network of professionally managed workplaces in 8 major cities across the United States, with a single subscription for all. Experience the entrepreneurial edge by cutting to the chase and focusing on your work in this clean, pleasant, and caffeinated coworking environment designed to help you get more done. Simply log in to Deskpass, check-in, and choose a place, and you're ready to start your day.
Amenities:
Internet access at a high-speed
Well-furnished
Free coffee and a plethora of little nibbles
Wi-Fi at lightning speed.

Fibrecove:
This east-side location is a refuge for wellness-conscious, creative hustlers looking to boost their output. Thanks to a Crossfit exercise area with TRX, medicine balls, kettlebells, and resistance bands, the shared space focuses on members' well-being for maximum effectiveness. Furthermore, Work Well boasts a breezy outdoor recharging space to relieve your mind, in addition to a coworking lounge and dedicated office workstations.
Amenities:
Wheelchair accessibility
High-speed internet
HD meeting equipment
Self-service cafe with coffee and beer tap
Ergonomic Chairs furniture
Free Printing Etc.
Location: 1700 S. Lamar Blvd #338
Membership pricing: $400/ month for a standard membership, $35 for a day pass
Website: https://www.fibercove.com/en

Greenway Central:
If traveling downtown is an issue for you, Greenway Central is an excellent option. Greenway is aimed to create a collaborative and professional environment for entrepreneurs, independent professionals, and innovators with a "get it done" mindset, featuring dedicated workstations, private offices, phone booths, and a 12-person conference room.
Amenities:
Projectors and flipcharts of excellent quality
Mail Service with Fast Internet
Cold Brew on Tap
Printing is unlimited.
Location: 1139 W Braker Lane, Suite 202 Austin, TX 78758
Membership fees are as follows: Coworking space costs $450 per month, whereas offices cost $700 to $1500 per month.
Website: http://greenwaycentral.com/

Craft:
Craft is a creative, modern office that is not only one of the cheapest in town but also an idyllic setting for ladies who want to focus on their job and tap into their artistic side without being surrounded by other people. Indeed, this Austin coworking space's distinctive feature is its wide library of DIY supplies and equipment, such as paint, postcards, and glitter, for crafting cards that you can send to your clients right away.
Amenities:
High-Speed Wi-Fi
Free Coffee, Tea & Snacks
Well-equipped Kitchenette
Communal Tables & Individual Desks

The Commune:
The Commune is a new coworking and event space in Chicago's distinctive North Loop neighborhood for artists, creatives, and anybody who thrives in a beautiful, community-based environment. The vibrant community space and center for organizations like Soho House and Lulu Lemon, which was started by a designer looking for a place to practice her own creativity, has an incredible list of amenities for creatives of all types.
Amenities:
Wireless printers and scanners with high-speed monitors
A meeting room is available, as well as private phone booths.
Studio of Photography
A patio with easels and art storage may be found outside.
The mess is confined thanks to oil traps.
The Design Resource Library's mail service
Water Coffee Merit: Snacks, Kitchen, and Sparkling Wine
Location: 101 E. North Loop Blvd. Austin, TX 78751
Cost of Membership: The cost of coworking begins at $200 per month. Dedicated Desks start at $475 per month, while Private Studios begin at $900 per month.
Website: https://thecommuneatx.com/

Vessel Coworking:
Vessel Coworking is a vibrant, creative community in the heart of the city! The vessel provides a peaceful environment for established enterprises to do their thing, rather than focused on networking, incubation, and launch. This job is also precious because of the social possibilities and special events. You can even have a wonderful talk over tacos at their large kitchen table with other like-minded coworkers.
Amenities:
Phone Booths for Hire Internet access that is lightning-fast
Large Wooden Desks
TV-equipped conference room
Secure Access Available 24*7
On tap: Cuvee Black/Blue Cold Brew
Membership Status: 2 Days/Week $ 195/month, 24/7 Flex Seating $ 275/month, 24/7 Dedicated Desk $ 375/month
Location: Austin, Texas 78752, 500 E St John's Ave #2.620
Website: www.vesselcoworking.com

Createscape:
Createscape was created specifically for Austin's creative minds, such as photographers and videographers, and offers a unique discount on studio and equipment rentals. Createscape provides open coworking spaces, allocated desks, private offices, and conference rooms, as well as organizing socials regularly so members can get to know their co-workers during happy hours or other fun industry-related hangouts.
Amenities:
24/7 Access
Day Pass Option
Dog-Friendly Environment
On-site Grocery Store
Location: 701 Tillery Street #12, Austin, TX, 78702
Membership Cost: Day pass: $25, Part-Time Coworking: $100-$120/month, General Coworking: $200-$230/month, Designated Desk: $300-$350/month, Private office: $900/month
Website: https://www.createscapework.co/

Industrious Office:
Industrious Office is an upmarket coworking facility with two locations in Austin that offers private offices and premium coworking spaces for individuals and teams of various sizes. Industrious stresses the necessity of resting from time to time with nice relaxation rooms and a calm coffee bar and lounge, in addition to standard workplace services such as high-speed internet and conference rooms. P.S. After you've done your task, take a coffee break to refresh your thoughts with an icy-cold beverage.
Amenities:
Mother's room
Exclusive networking events
Complimentary snacks
Unlimited free printing, Etc.
Location: Downtown, 5th Street
Membership Cost: Desk rentals: $545 per month; Private offices: $972/month-$3,573/month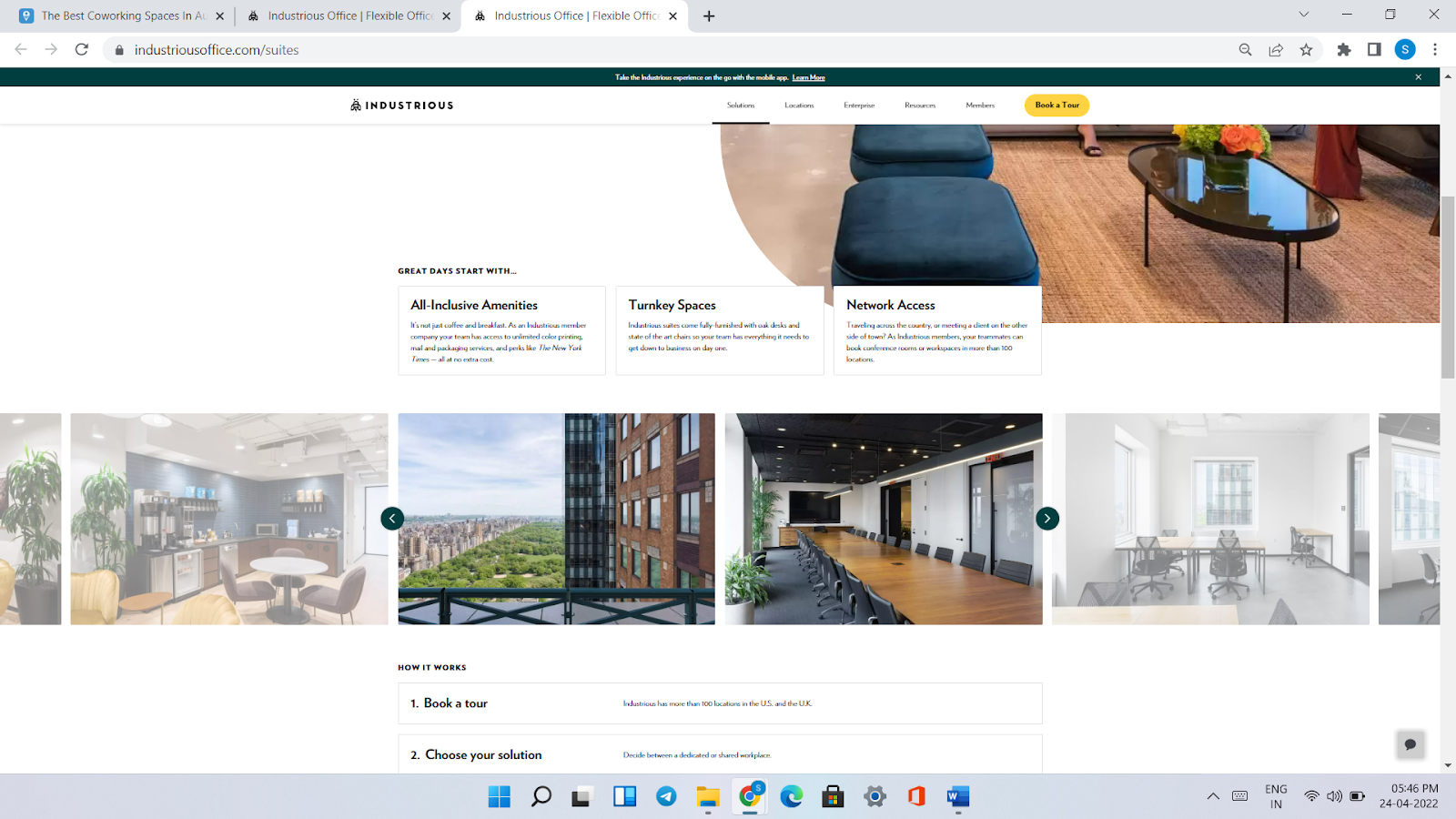 Wework:
WeWork is a globally acclaimed coworking facility with three sites in Austin. WeWork members get access to a variety of activities, like excellent seminars, happy hours, and meet-and-greet lunches, in addition to the lightning-fast internet, conference rooms, and comfy lounge space. WeWork coworking space in Austin delivers the convenience and camaraderie you need to flourish, whether you work in government, law, finance, or the non-profit sector.
Amenities:
Bike Storage
IT Support
Nearby Great Restaurants
Complimentary snacks
Location: WeWork Domain, 3rd Floor, 11801 Domain Boulevard / University Park, 3300 N. Interstate 35 / Congress, 600 Congress Avenue
Membership Cost: Hot desk: $410/month, Private offices: $14,700
Website: https://www.wework.com/l/austin–TX

Galvanize:
Galvanize Austin is surrounded by multiple world-renowned tech businesses like Google, IBM, and Dell, as well as various eateries, and is located in the throbbing core of a city with a long history of digital innovation. Galvanize arranges networking get-togethers that give mentoring opportunities and access to an unequaled network of tech talent, in addition to all the conveniences of a coworking space.
Amenities:
Conference room
High-Speeded Internet
Community Kitchen Access
Complimentary snacks
Unlimited free printing, Etc
Location: 98 San Jacinto Blvd. Austin TX, 78701
Membership Cost: $25/day drop in; from $375/month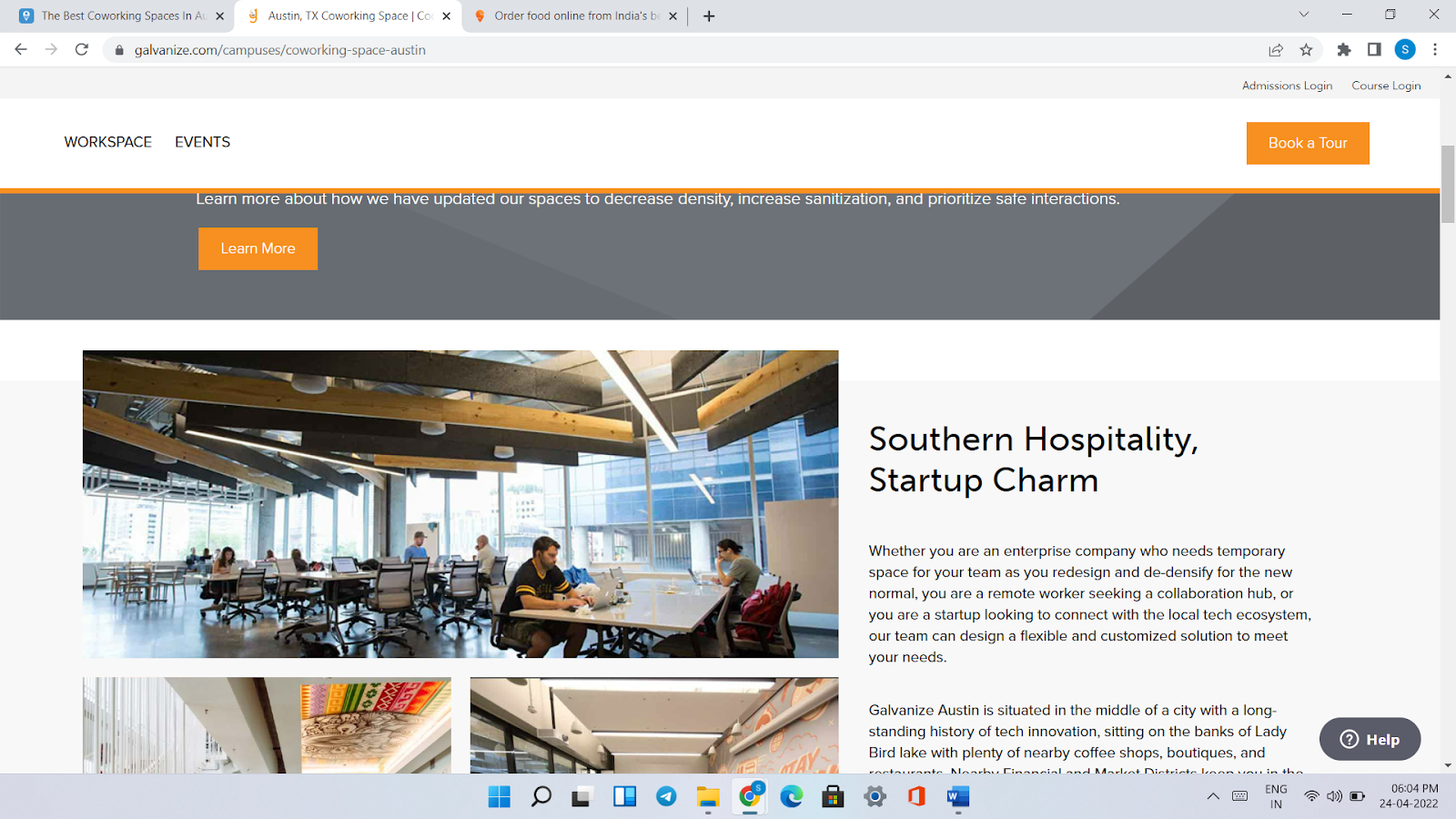 Austin's Best Coworking Spaces with their websites:
FAQs about Austin's Best Coworking Spaces:
What amenities or perks do the best co-working spaces have?
Caffeinated and Non-Caffeinated Beverages. Every traditional office has at least coffee and water, and you should have the same amenities in your coworking space.
Snacks.
Access Control.
Wireless and Wired Internet.
Sit-to-Stand Desks.
Phone and Meeting Rooms.
Printing.
Yoga.
What are some qualities of a great coworking space?
Operational Cost. Many companies don't need an entire building or not even a complete floor to run their business operations.
Amenities. The second factor that makes a winning coworking space is amenities.
Size. The size of the coworking office matters too.
Location.
Team Building.
Kitchenette.
Work Out.
Ambience.
What makes a coworking space unique?
First, unlike a traditional office, coworking spaces consist of members who work for a range of different companies, ventures, and projects. Because there is little direct competition or internal politics, they don't feel they have to put on a work persona to fit in.
Why do coworking spaces fail?
a) The main reason for the failure is lack of proper planning, advertising, or choosing the location. b) Co-work businesses are promoting more without having any USP and hence failing to attract more customers. c) Most of the Co-work space owners are money-minded and they are losing the referral business.
Are coworking spaces noisy?
Nearly half of coworking employees (48%) say distractions and noise are a challenge in their coworking space. In an open space coworking environment, for example, there will likely be constant noise, whether it's from conversations, phone calls, or even loud keyboard typing.
What are the problems of WeWork?
The real problem with WeWork is that its whole business model is flawed with excessive leverage. There's really nothing special about what they do to provide shared office space to short-term tenants.
How do coworking spaces make money?
Coworking spaces earn the majority of their revenue, unsurprisingly, by renting out desks (61%). One in ten spaces earns all of their money from desk rental. The average space earns ten percent of their revenue from renting out meeting rooms and event spaces (10% each).
Why you should work in a coworking space?
Not only do coworking spaces provide a place to work, they also offer many perks with the space. These include anything from workout spaces, food services, conference rooms, and many more amenities. The ability to balance work and personal life increases with facilities nearby to support your lifestyle.
Why are coworking spaces popular?
They're sociable. From freelancers to small businesses, coworking spaces attract a huge range of people, meaning there's always someone to share ideas with – even if it is just over a Friday beer. Freelancers often report how lonely their job can be – especially when they're based from home.
How does a coworking space work?
Coworking is an arrangement in which workers of different companies share an office space, allowing cost savings and convenience through the use of common infrastructures, such as equipment, utilities, and receptionist and custodial services, and in some cases refreshments and parcel acceptance services.
Did WeWork fail?
Two years ago, a failed initial public offering made WeWork Inc. the poster child for startup excess and corporate governance failure. Today, the shared-office provider finally joins the public markets, having completed a merger with a blank-check firm, BowX Acquisition Corp.
Conclusion:
This digital town is beginning to stand out as a start-up and innovation hotspot for new entrepreneurs, remote employees, and freelancers thanks to its coworking spaces, which forego traditional office buildings and onerous lease obligations. With so many options, deciding which is ideal for you may be difficult.