Everyone dreams to achieve big by following their passion and very few are able to accomplish that dream. One such being is Bhuvan Bam who from being a college student to a night singer at a Mughlai Restaurant in Delhi is now India's first YouTube star who has developed fame by strong will power, hard work and good luck.
He began his YouTube channel titled BB Ki Vines (Bhuvan Bam Ki Vines) in the year 2015 and very quickly achieved nearly 13.3 million followers and 1.69 billion views as compared to his tough competitors like Amit Bhadana and many more. His social media handles are also actively followed by his followers. His Facebook page nearly receives 10 to 11 million-page views a week.
Unlike other YouTubers, Bhuvan Bam is a comedian, songwriter, singer, interviewer and an actor who has always been successful in creating diversified content. He also collaborates with other YouTubers to reach a wider audience like recently he collaborated with the International YouTuber Lily Singh. He also recently received a Filmfare Award for his role in a short film with Divya Dutta called Plus Minus.
Bhuvan once mentioned that the began the idea of BB Ki Vines as an instinctive step and not a pre-planned one. His first video satire was inspired by a Kashmir devastation which encouraged him to make more and more videos. He decided to go with the name 'BB Ki Vines' because when he was setting up his channel, the concept of Vines was very popular. He thought that we would change it later but soon realized that it was a hit and it would be a bad decision to change the name.
In the year 2017, Bhuvan became the first ever Indian YouTuber to achieve more than 2 million subscribers for his videos.
Before coming to the big details, it is significant to know Bhuvan by the small details first.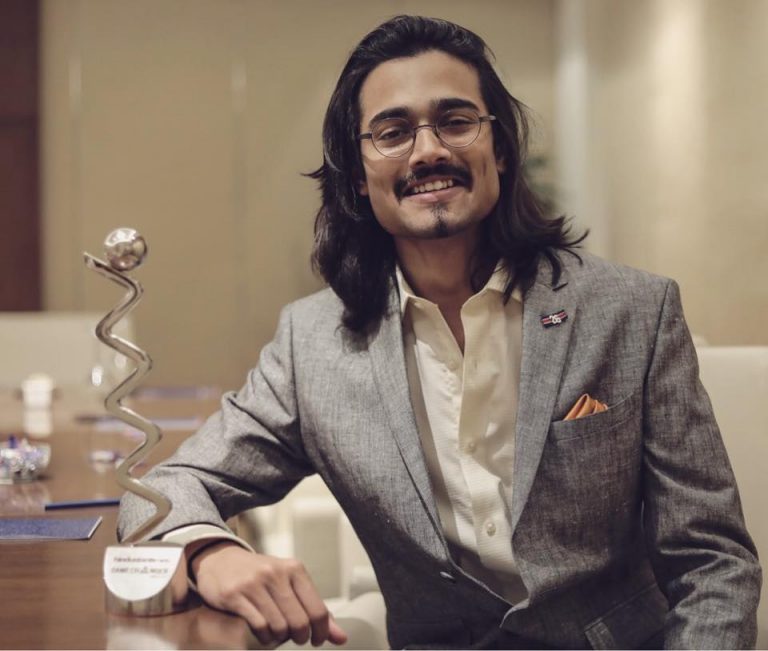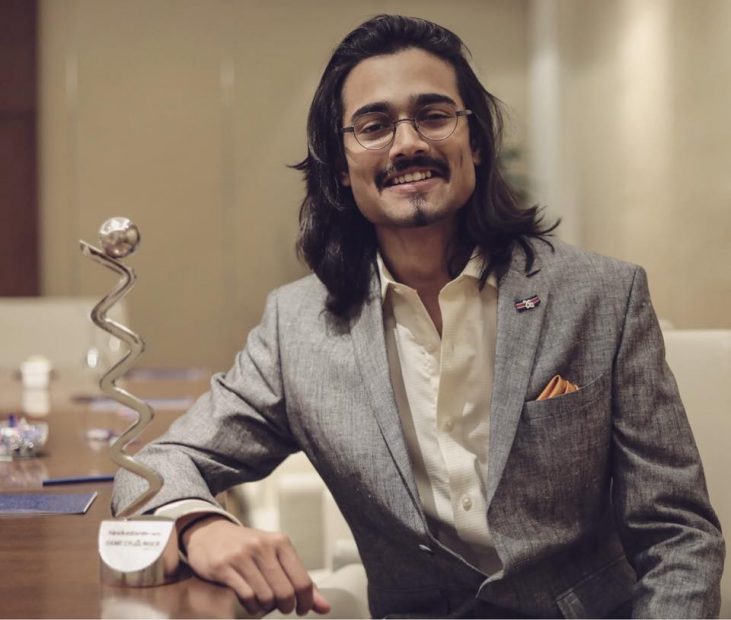 | | |
| --- | --- |
| Vocation | Singer, comedian and YouTuber |
| Date of Birth | 22 January 1994 |
| Age | 25 years |
| Sun sign | Aquarius |
| Nationality | Indian |
| Hometown | Delhi |
| Schooling | Green Fields School, Delhi |
| College | Shaheed Bhagat Singh College |
| Education | Bachelor's degree in History |
| Father | Avnindra Bam (Ex-employee of Air India) |
| Mother | Padma Bam (works in a private company) |
| Born in | Baroda, Gujarat |
| Height | 5'7'' |
| Weight | 64 Kgs |
| Body measurements | 38-30-13 |
| Eye color | Brown |
| Hair color | Black |
| Hobbies | Playing the guitar, singing, creating YouTube videos and composing songs |
| Favourite actor | Nawazuddin Siddiqui |
| Favourite singer | Shankar Mahadevan |
| Favourite filmmaker | Anurag Kashyap |
| YouTube followers | 15.2M subscribers |
| Instagram followers | 7.6 M followers |
| Twitter followers | 2.69 M followers |
Career (BB Ki Vines)
After he uploaded his satire video about a woman being asked about the death of her son due to the Kashmir floods, he gained him 15 views on Facebook which indirectly made him excited about uploading more and more videos for the audience to see. That why in 2015, he set up his own YouTube channel. She was not unhappy about the fact that he had 15 views because soon those 15 views turned 300. He saw how his videos became popular on WhatsApp groups, Facebook, his college and numerous other means. He achieved a large number of Pakistan fans especially Karachi University. He once mentioned that his videos were not that popular in India as they became in Bangladesh and Pakistan.
After six months when Bhuvan's Facebook page reached nearly 50,000 followers he decided to shift to YouTube to earn better from his videos. Once he used the medium of YouTube, his videos became hit in the Indian market as well, where he successfully accomplished one million subscribers within seven months.
In 2016, he uploaded Valentine's Week Hutiyapa which became viral among the Indian audience. In an interview, Bhuvan stated that the audience liked his videos as they could understand his Delhi accent and the youth could instantly relate to him and his content. This is why he became successful in the tough competition. Since then, he has never changed his way of shooting his videos and uploading them on YouTube. He has always been the one-man army in shooting his multiple characters in his small room in Delhi. He loves to work alone and only has his friend Rohit Raj as his manager.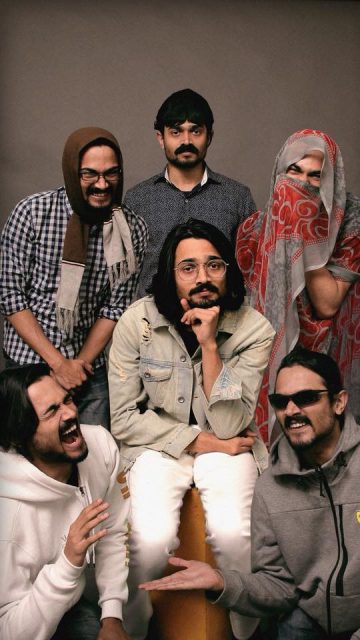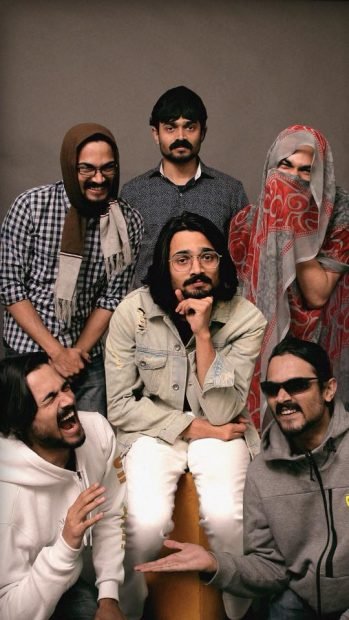 He mostly takes nearly four hours to shoot his seven-minute video which can be loved by his audience and mostly endorses products that are relatable to his content.
He has worked really hard on all the videos he uploads. He has also worked in association with some Pakistani videos like 'Karachi Vyns' and 'Bekaar Vines'. On his YouTube channel, he has uploaded various songs too like Sang Hoon Tere, Rahguzar, Teri Meri Kahaani and Safar. Since he has become an inspiration to numerous individuals, he once delivered his YouTube journey in a TEDx Talk at IIT, Delhi and also has collaborated with huge YouTube channels like The Bachelor's and TVF (The Viral Fever) and many more.
Dream to enter Bollywood
With this fame, Bhuvan strongly desires to be the Dharma Productions of YouTube. He always dreamed to enter Bollywood but YouTube has achieved him so much fame that he dropped the Bollywood idea quite early. But Bhuvan sure has left an impact on the Bollywood industry. Karan Johar once gave his page a shout out and then once also shared the stage for a YouTube Fanfest in Mumbai.
Criticism
Many times, Bhuvan has been criticized for the use of abusive language in his videos but his followers still follow him with a lot of love and affection. Various supporters emphasize that this is how the youth of Delhi speaks and this is the reason why many of them can relate with Bhuvan better.
Awards and recognition
In 2016, Bhuvan was presented with the Most Popular Channel on YouTube at the WebTVAsia Awards organized in Seoul, South Korea. Soon he was awarded by the Hindustan Times in the Game Changer Awards,
In 2019, he won the Filmfare Award for the People's Choice Awards for the Best Short Film and soon won the Global Entertainer of the Year at the World Bloggers Awards.
Well now that you are online and you know so much about Bhuvan Bam, it is time you connect with him on his social media accounts.