"We are not here for a day or two, for a year or two – we are here to change how technology, design and marketing functions in a consolidated format", Says the Team BrandzGarage.
 When and why did you start?
Advertisement and product have been in the genes of this company, and Saquib (our founder & CEO) saw an opportunity where he could bring product development and advertising under one roof, powered by great designs. Saquib with Naveen (Co-Founder) and Ankit (Passive Co-Founder) started BrandzGarage in December'15 with an unusual company incorporation date of 29th Feb 2016.
 

How did you come up with the idea? What was your inspiration?
The story started inside a 2 BHK flat where the founders started working on the project. BrandzGarage has niched itself into the startup space and works exclusively with budding or well-established entrepreneurs. The idea has two parts to it:
• Consolidate technology, design, and marketing under one roof so that our clients connect with just one agency for literally everything their brand needs.
• It's targeted towards startups who need "BEST RESULTS AT THE MOST AFFORDABLE PRICING".
BrandzGarage covers both of these aspects and hence, positions itself as "YOUR INNOVATION PARTNERS".
One of the most inspiring things for us is that our first client still continues to work with us, and 92% of our sales happen through referrals (this in itself talks about the quality of our work).
 

How does this company setup work?
 BrandzGarage

is a dynamic team of enthusiastic developers, designers and marketers putting all their skills and efforts in bringing the best for a brand. From website and mobile app development to branding and digital marketing or UI/UX Design, we cover all important aspects of your business' identity.
We have a special startup solution service where our founders directly interact with the upcoming ventures and assist them in building the right product roadmap, marketing strategy, and growth hack . 
Our founding members include: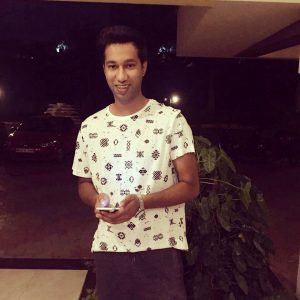 Image Credit/ Source: Saquib Jawed (Founder & CEO) BrandzGarage
Saquib Jawed (Founder & CEO)
a college dropout with over 8 years of experience in business analysis, product management, and marketing. His passion is a great design. He has worked in companies like TastyKhana (acquired by FoodPanda), Sokrati (acquired by Dentsu Aegis Network) and Calsoft.
LinkedIn Profile – www.linkedin.com/in/saquib-jawed
Blogging on – https://thedeepdiver.com
Naveen Dhiraj (Co-Founder & CMO) 
Naveen has spent over 9 years in the industry working for Four Fountain, TastyKhana, Hathway and is responsible for the company's growth hacks. He boasts great negotiation skills and has the marketing experience to back it.
LinkedIn Profile – https://www.linkedin.com/in/naveen-dhiraj-59a1ba30/
Pradeep Singh (Co-Founder & CTO) 
With over 10 years of experience in building scalable and robust technology solutions for companies like TastyKhana (he was the first employee), Housing.com and FreightBazaar, Pradeep looks after the timely product delivery for our clients. He has comprehensive full-stack knowledge in his field and specializes in delivering the best of any project.
LinkedIn Profile – https://www.linkedin.com/in/pradeepksingh007/
What services do you offer to prospective clients?
BrandzGarage is a 32 member strong team with its headquarters in Aundh, Pune. We also recently set up our office in Dubai.
Services offered by BrandzGarage includes:
• Technology development – website development, mobile app development and custom technology solutions
• Design – logo design, branding, UI/UX design, merchandising and other collaterals
• Digital Marketing – social media marketing, SEO, paid ads, email marketing
• Startup Solutions – investment deck, strategy building, product road mapping and other forms of startup consulting
 

What have you planned for the future of the company?
"BrandzGarage has been a lucrative bootstrapping startup. We have worked with over 110 clients (both domestic and international) during a stint of 2 years with over INR 10 million in revenues. We are targeting to have over 225 clients by the end of 2018-19 with offices in south-east Asia and European markets.
We recently revamped our brand position and now use the hashtag '#unfoldingmagic' and that's what we aim for – helping other startups to unfold magic with great technology, design, and marketing support. Check out the website to get a glimpse of our defined passion and love for our work: (https://www.brandzgarage.com)"
BrandzGarage believes in magic and as Saquib says "Magic happens, but it only happens if you believe that magic can happen" and this reiterates the fact that nothing can be done without dedicated passion and perseverance.
Naveen who looks after the company's revenue mentions that "We were able to crack deals when we had no work to showcase at all. Our USP was forging great relationships and continuous follow-ups. We have had some closures which took more than 9-10 months but we never gave up on any potential lead."
And as we develop and deliver products, Pradeep (our CTO) says that "We just have one person who looks after business development and yet we are never short of projects. This in itself tells a lot about the quality of our work and honest deliveries."
What ideologies form the basis for BrandzGarage?
We follow a set of ideologies which define our company's culture:
1. It is not the destination so much as the journey – and each team member intends to enjoy this journey at BrandzGarage.
2. The design is like your partner and a partner is of 3 types – one who is a turn-off, the second one with whom you enjoy hanging out with and the third with whom you want to spend the rest of your life. We strive to be that third type.
3. We are not a team, we are a family – and whatever we do or face, we do it together. BrandzGarage is focused towards the team members for they are the ones who have helped in building this organization, and as our website states "Salute Mi Familia", which clearly indicates the fact.
 Do you have any advice for budding entrepreneurs?
Entrepreneurship is a fascinating arena – don't fall for the allure. Keep your head down and keep working hard every day and success will be yours. Perseverance is the name of the game.
Some of our prominent clients include
• Box8
• CarOK
• The Mesh
• Dial-a-Meal
• HausKhaas
• Zaaykedar
• Garage2Ghar
• Qtrove
• The Moustache Laundry
• HealYos
• Phynart
• Wamaco
• PayMe India
• Mobikon
• Dineout (Times Group)
• Meds on Way and many more
So are you planning to start a new venture or change things in your existing business? Unfold magic for your brand with BrandzGarage. Beer is on us!
How can an interested party contact you?
Website: https://www.brandzgarage.com
E-mail: [email protected]
Phone: +91-9172259087, +91-9049226837