As of today, "Byju's – the learning app" has entered a $6 billion assessment, which makes Mr. Byju Raveendran the newest billionaire in India. He is a son of mathematics and physics teachers based out of Kerala. Byju is extremely intelligent and has a high IQ. In free time he used to teach students preparing for the Common aptitude test (CAT). Once during his work breaks in 2003, he also decided to opt for the CAT entrance exam. Unbelievably he scored 100% in the exam, despite hardly studying. To be sure, he sat for it again the next year and for his fate, he scored 100% again.
He continued to help more students to pass this entrance exam. In a short time, the word spread about his teaching and positive results. He started to do this full-time in no time and started to teach hundreds of students in big auditoriums and also take classes via video calling. In 2015, he virtually launched the "Byju's – The Learning App" and in less than four years, it became the country's leading Edu-tech company. Scroll down to know more about this guy.
Personal Details:
| | | |
| --- | --- | --- |
| Name | : | Byju Raveendran |
| Occupation | : | Entrepreneur (Founder of Byju's – The learning app) |
| Age | : | 39 years |
| Date of Birth | : | 1980 |
| Birthplace / Hometown | : | Azhikode, Kerala, India |
| Lives in | : | Bengaluru, Karnataka, India |
| Nationality | : | Indian |
| Religion | : | Hinduism |
| Height | : | 5 feet, 7 inches |
| Weight | : | 70 Kg |
| Hair Colour | : | Black |
| Eye Colour | : | Brown |
| Highest Education | : | Degree in Mechanical Engineer |
| Father | : | Raveendran (Physics Teacher) |
| Mother | : | Shobhanavalli (Mathematics Teacher) |
| Marital Status | : | Married |
| Spouse | : | Divya Golkulnath (Director at Byju's) |
| Children | : | No child |
| Favorite Celebrities | : | Prabhas and Alia Bhatt |
| Favorite destination to visit | : | Ooty, India |
| Favorite sports | : | Tennis, Football, and Cricket |
| Favorite Food | : | Dosa |
| Favorite Cars | : | Skoda, BMW, Honda city |
| Net worth | : | Rs. 3300/- Cr. |
Table of contents
Personal Life
Professional Life
Awards & Net worth
Less known facts about Byju
Personal Life:
Byju was born in 1980 at a Malayalam family in Azhikode, Kerala. His father was a physics teacher, whereas the mother was a mathematics teacher and they both used to teach at a local school. He has one younger brother named Riju.
Byju met Divya Gokulnath (his wife) joined as a student in his classes. Divya joined Byju's classes for GRE preparation. Soon she dropped her dream to go to foreign for further studies and joined Byju's classes and started working with him. With time they both fallen in love and got married and have one son named Nish. Currently, Byju is residing at Bengaluru with his family.
He did his schooling from a local school at Azhikode. Since childhood, he was enthusiastic about sports. Though his parents were teachers, they always encouraged him to go into the sports field and emphasized him about the importance of sports in one's life. In his school and college, he used to play various sports such as cricket, football, badminton, and Table tennis. However he was doing great in sports, he always wanted to pursue his career in Engineering or medical. Finally, he chose to do Mechanical engineering from the Government engineering college of Kannur. He used to teach students and prepare them for various entrance exams in his free time.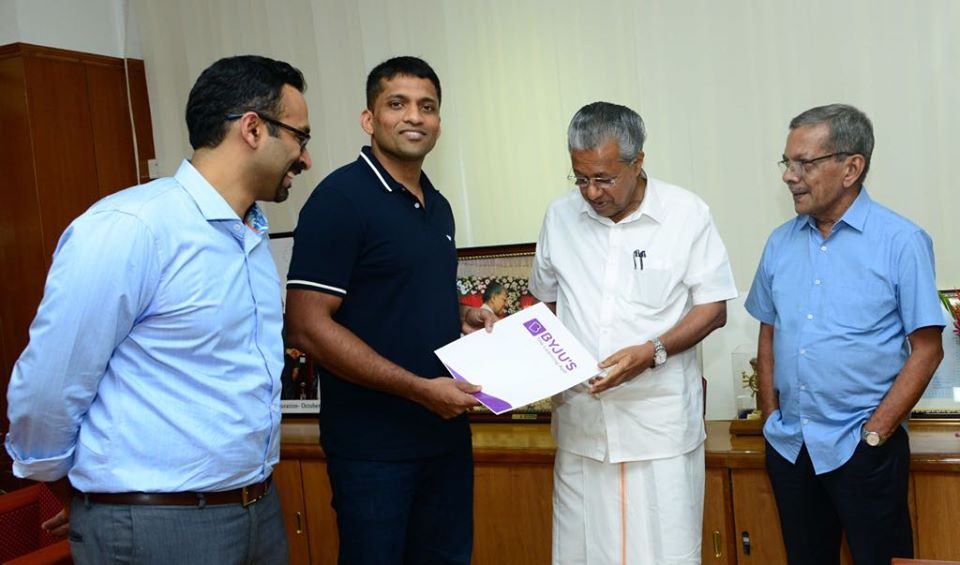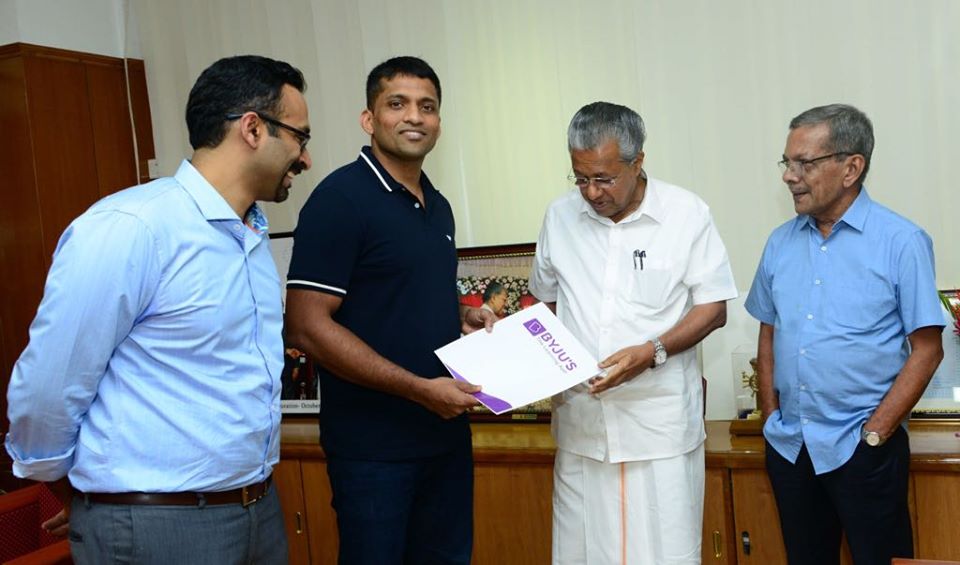 Professional Life:
After finishing his graduation in Mechanical engineering, he joined a multinational shipping company as a service engineer. Once he was on vacation at his friend's place in Bangalore. His friends were preparing for the MBA entrance exam (CAT). As Byju was a bright student and was good at Mathematics, he helped them prepare. Just for fun, he also registered for the exam. He got amazed to see that he scored 100% in the exam without doing any formal studies. Just to get sure, he again attempted for the exam but for his fate, he once again got 100 percentile.
Seeing Byju's talent, his friends suggested him to teach students aspiring for competitive examinations. To which he agreed and on initial days he started to teach students on the terrace of his friend's home. Initially, he used to teach and guide only MBA aspirants and help them with tips and tricks that can help score more marks. With less time, he got mouth publicity and his students increased. In a short period, he shifted his class from his friend's terrace to the large auditorium. He became so popular that, once upon a time he used to take a class of around 20,000 students across various cities such as Mumbai, Delhi, Bangalore Pune, and Chennai.
In 2009, he decided to record his lectures to make it available for students over 45 cities in India. In 2010, Byju met few IIM graduates, who proposed an idea of taking Byju's classes to new heights. They together formed a company named, Think & Grow, focusing on creating an education-based content for aspiring students. Later in 2011, they came up with its website and mobile app to reach maximum users and named it as "Byju's – The Learning App". The app got popular with no time because of its unique idea and concept. As of 2019, the app received over 10 million downloads with 5+ lakhs of annual subscriptions.
In 2016, Facebook founder "Mark Zuckerberg" funded $50 Million in Byju's, making it the first start-up in whole Asia funded by Chan-Zuckerberg Initiative.
Awards & Net worth: He has received numerous awards for such an incredible start-up, few of them are listed below:
In 2016, he received the Future of India Awards.
In 2016, he again received Education awards at Global Mobile App Summit & Awards.
In 2017, he received Express IT awards
In 2018, he received corporate excellence, Business standard Annual award.
In 2018, he again received the start-up award for EY entrepreneur of the year.
Net worth :
As per the various online resources, his net worth is estimated to be Rs. 3300 Crore and the source of his income is Founder and CEO of "Byju's – the learning app".
Less known facts about Byju:
Byju's app has replaced the official sponsor, "Oppo" of the Indian men's cricket team.
He is the newest billionaire in India with Byju's $6 billion valuations.
He holds more than a 21% stake in Byju's – the learning app.
As of 2019, the Byju's app has monthly revenue of Rs. 200 Crore with an estimated yearly revenue of Rs. 3000 Cr.
Byju's has acquired Osmo, a Palo Alto-based educational game making company.
He loved to play Football and badminton
He does exercise every day in the gym to be fit.
Byju's – the learning app is now a part of case studies learned at Harvard University.
Shah Rukh Khan is the Brand Ambassador for Byju's app.
The Buju's App offers educational content mainly to students from class 1 to 12 and provides training for examinations such as IAS, IIT-JEE, CAT, NEET, GMAT, and GRE.
The app as over 35 million registered users as of 2019.
Byju's app topped in Google India Rating 2016 in the self-improvement category.
Byju is planning to start courses in his regional language by 2019.
If you want to know more about him, you can follow his Social media handles by clicking on below links: