When and how did you start?
I am Tripti Tiwari, CEO & Founder of "CloudTrains Technologies" formerly known as "CloudTrains Systems". After incorporation, its name as "CloudTrains Technologies Infosoluciones Pvt.ltd". I started my Entrepreneurial Journey in 2014. First time I heard the name of Entrepreneurship when I got selected as Microsoft Student Partner & reached to final selection process " Microsoft BootCamp at Dehradun".After returning from there, I started thinking about how I can start my own service-based IT company.
How did you come up with the idea? Your inspirational moment
As I (Tripti Tiwari ) mentioned my Inspirational Moment started in 2013 when I got selected for the Final Round of Microsoft Bootcamp, here I listen to many speakers and their journey and I decided that I want to do something for my own rather than to do 10-6 Job. I know I am good at Technical things and at that moment I discover that I have an ability of management, risk-coverage, and work under pressure.
Brief about organization and founding members
CloudTrains have two Core Founding Members, Me (Tripti Tiwari) & Aditya Chaturvedi(Cheif Operation Officer). He is handling Operations & finance of CloudTrains. He worked with Yash Technologies in the initial days of his career and when we met in one startUp MeetUp, We started working together. His Ideas & Skills give CloudTrains a new level of growth, apart from this he is a wonderful team leader.
We as the duo were tackling three major challenges: no exposure to a thriving startup scene like the one in Bengaluru, Delhi or any other metro city, a lack of acceptance from their families, and a shortage of funds and connections. Every day we face a new page of Entrepreneurial Journey and only we know that each page and chapter is full of learning & adventure. At initial days we faced a lot of rejections, a lot of hurdles in Team Building and after that Work Culture.
As a CEO I am handling complete Management, Sales is my core skill, Developing Network & Connections & Build Strategies. At the Initial days of my career, I worked with 2-3 Startups for 1-2 Years to gain Experience and Learning.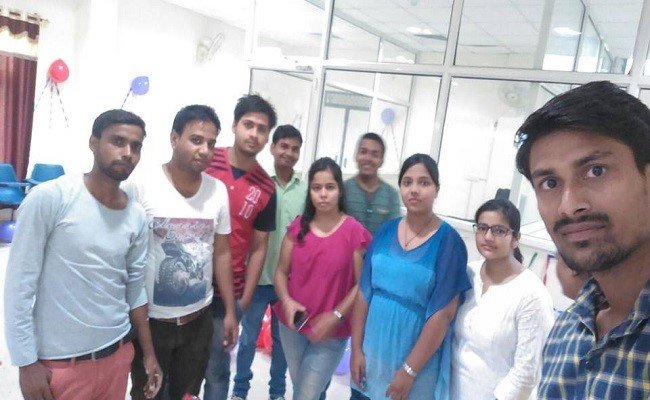 The detailed journey, like what all you want to share with readers.
I started my business in a room in my house. Hired 3 people on the internship. I always believe that if you have a true Entrepreneurial spirit and believe that you are dedicated towards your dream 100%, then no matter where are you working, only one thing matter how many dedicated people associated with you. I am following the same concept in my entrepreneurial journey.
We started getting clients, We worked for more than 50 clients in the first 6 months, this was a very huge success for us because all of us belong from tier-3 city of India "Gwalior". After that in 2015, We moved to Software Technology Parks of India-Gwalior, in 850 sq.ft office and set a target to increase our client base from just double from the past. We did it, We moved to the next 1500 sq.ft office space in Software Technology Parks of India. We build a lot of products E-Commerce based, CRM, ERPs, Hyperlocal products, Education Products and many more.
Why I started IT Service based Company rather than Product Based?
personally, I always believed that IT Service based Company is also a product based company because we as IT Service build multiple products and I choose this idea for my Journey because I want to learn about multiple Industries and give them solutions that help to increase their growth and revenue and We are doing that. We worked for many product-based companies and just because we successfully Integrate & invest technology in their business they are doing extremely well in their Market. We have grown from a team of 3 to 60 since last 4 years. Moved from Tier-3 city of India-"Gwalior" to IT Hub of India-Pune. Still, we are in our growing & learning phase.
About funding, plans for growth
CloudTrains has completely Bootstrapped Company, We always believe that only your paying customers keep your business alive. We raised funding from our customers by investing in technology in their products. We don't want a fast run in this startup world. We grow slow but make our root and foundation strong. As per the growth plan, we create more valuable and dedicated resources for our team & customers, Currently, we are working on new technologies like Blockchain, AI & IoT.
Challenges and Opportunities/ Marketing Strategies
There are many challenges in StartUp Journey, But Number of Challenges is always equal to your learning. Challenges make you strong & give a chance to you to get the best version of yourself. IT Service Industry has a very vast market space in today's era. Each & every industry depends on technology for their success, growth & revenue.
A startup is not only about ideas, it is much more than that. It is about team building, paying salaries, creating a healthy & innovative work culture, working on new technologies on time irrespective of all the difficulties you face, being accountable to a lot of people, compliances, and so much more , says Tripti Tiwari .
We spend a very less amount of budget on marketing, we are using content & customer marketing as our strategy. We got our first client by one of my friend's reference after from that 1st client to 800+ Clients value all we got on our trust & commitment basis. Whatever we commit to our customer we fulfil them. Client Reference, Meet Ups & Networking are our key marketing strategies.
Future plans and funding
According to Me, As a CEO- I never create future plans, I love to live in present, Whatever the things, clients, growth I have, I want to execute them successfully, after their execution I know the future will be best. Soon We are expecting to get more than 2000+ customers around the globe. Our StartUp is totally bootstrapped, We invest technology in our customer's existing business or idea and give them a new growth.
A quote from the founder on the journey
Never try to become Plastic Flowers. The Business or Start-Up world is "Full of Professionals" who wear the suits & all and try to see perfect. In reality, they just come off as stiff & boring. Don't be afraid to show your flaws. Imperfections are real & people love to respond to real. That's why we like real flowers that full of thrones, not perfect plastic ones that never change.
EXCLUSIVE: Founder's advice to budding entrepreneurs
According to Me as a Founder -"StartUp is a very Fancy Term, there is nothing like Startup, from a day one when you see your idea as a business, it's business and Business is all about Your Passion, Relations, Customers, Commitments, Profit & Loss and You are the Starter of that Business". Anyone who creates a new business is a Starter. You just need an idea, a touch of confidence and a push to get started.
I always follow this statement, I never treat myself as an Entrepreneur, I am doing business, I convert my idea, my passion into a business.
Provide some statistics like revenues or clients acquisitions etc.
In 2018, We have a Revenue of approx 1 Cr. CloudTrains have more than 800+ Clients around the globe. We worked with TIZEN and officially announced as a Top 16 Partner in Shangai, China.

Your website / apps / and contact details
Contact Details : +91 8085249070 | +91 8871411497 | +91 6261740270