How IT- professionals Turned Social Entrepreneurs Today and Disbursing Millions Of Pocket-Money to Student body.    
How it started and inspiration moment
In mid-year 2016, two techies boarded an auto to their respective office which was located in same Tech Park. In the mid of the journey, the auto driver who was aged around 50 receives a phone call. At the end of his conversation he stops his auto and broke down to tears, those scenes were very disturbing to any human.
Out of courtesy they did enquire him, the auto driver was shot of 2500-3000 INR for his son's college fee, he adds saying he had lost his first son as they couldn't afford his education expenses and he also couldn't afford to lose another son for the same reason.  Eventually, he did ask the techie's for the money and promised to return it back in 2 weeks' time.
This incident struck the two techie's really hard and made them think hard to find a solution to overcome this problem. They needed the entrepreneurial zeal and passion to hunt for a solution without which it would have been difficult to find a solution in this ever challenging world.
In a country with 1.3 billion people, India has one of the largest student body (which makes the USA's overall population, the 4th world's biggest country with 315 million !!! ) in the world  are all not getting right and equal quality education due to lack of finances. After the market study, they realized that the solution for this problem was the problem itself. "Earn to learn" & "Learn and Earn".
This brought them to the concept of "Part Time Jobs". These two guys started with Facebook campaigning "part-time job seekers in Bangalore –Students" and surprisingly they were overwhelmed with the response in one month which was more than 1000+ forms. This response made the two guys to harden their mind to swim in entrepreneurial journey, but the journey was not a cakewalk as the biggest problem was providing genuine part time jobs for all these applicants. Also, on the other side providing hardworking and trustable employees to the clients.
Then the two techies started doing survey, research and hunting for a platform where these temporary job seekers will fit into. It didn't take much time to realize a fact that how important part-time and temporary workforce to startups, branding agencies, marketing agencies, event management and market research companies. This realization made these two guys to quit their high pay software jobs and started working on a platform of their own.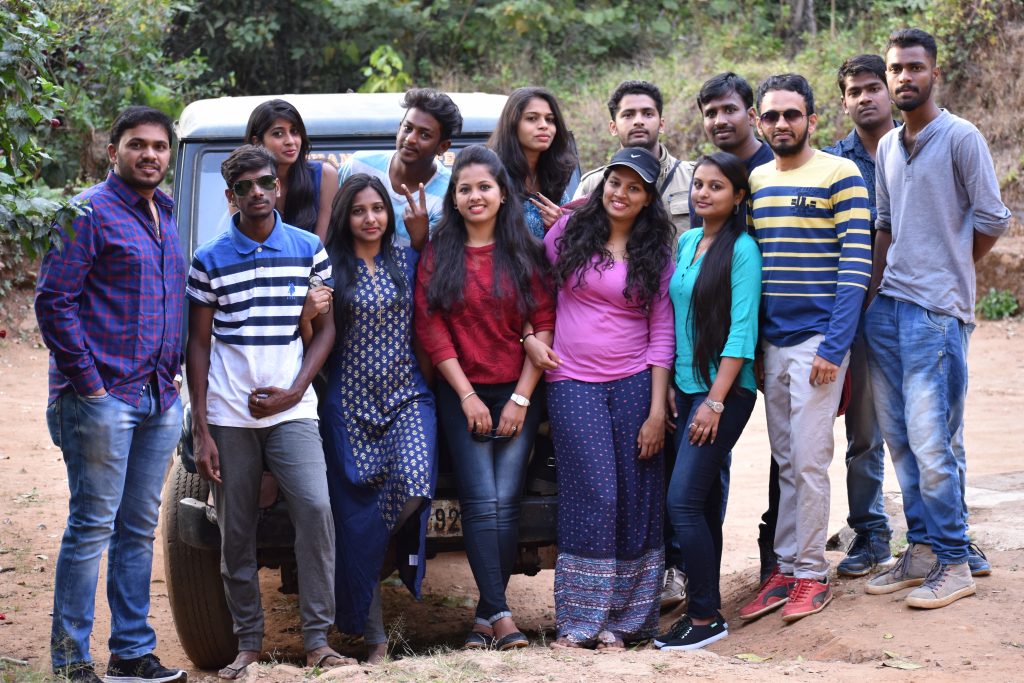 Image Credit/ Source: FeedmyPockets
Eureka Moment :
A Platform was built and named it as "FEEDMYPOCKETS", the two techie's were "Naveen Ramachandra" and "Prashant Janadri" who are the Cofounders and Directors of one of the trending startups in Bangalore today.
In one year, "FEEDMYPOCKETS" has been bootstrapping by its own and has got 75000+ users, served 125+ companies (startups, branding agencies, marketing agencies, event management and market research companies), and disbursed 7.5 mn of pocket money with nearly 10000+ part-time jobs staffed.
Naveen Ramchandra, heads the operation and finance narrates This is a unique platform where students can utilize their free time, apply for jobs based on the location and other job criteria, gets education loan, internship and also gets an opportunity to be crowned as student ambassador to shape their leadership, communication, and entrepreneurial skills.
The time driven algorithm is keenly structured to notify students of part-time and temporary jobs through an app which automates the process right from applying for the job till its completion and payments. This creates trust among the students as their complete process is online.
Today

"FEEDMYPOCKETS"

is No 1 student engagement platform with its disruptive innovation in Youth Empowerment and Employment by grooming and boosting students financially, socially, economically, academically and non-academically 
With this FeedMyPockets is also supporting Youth Skill Development also. In Spite of several hardships and hurdles in the course of their journey, they believed in "Teamwork" and "Never give up" Manthra's. They would also want to take this opportunity to thank all their dedicated employees of this firm for all of their hard work which led to the success of this startup.
Quote from the founder on the journey
Naveen Tells "It takes strong and firm determination and passion to follow entrepreneurship, needless to say on the hurdles you get in this journey but it's all The PASSION which drives you over the show".
Future plans
Prashant tells "With a social initiative of Youth Empowerment and Employment, FeedMyPockets is targeting to generate /provide 10000 jobs by this financial year and hence supporting students, graduates and dropouts to finish their education and course without financial barriers. We are targeting to operate PAN India by March -18, however, we are planning to reach Tier 2 cities by 2019"
"Every hour, one student commits suicide in India!!
India has one of the world's highest suicide rates for youth aged 15 to 29, according to a 2012 Lancet report, which illustrated the need for urgent interventions."
– Hindustan Times May 8, 2017
With utmost effort and enthusiasm, we endeavor to provide opportunities to all students who are passionate to work and eager to improve their skill set and confidence, which in turn help students to build their resume very stronger and tuned with the competitive ecosystem.

Website –       www.feedmypockets.com
                        www.fmphire.com
Application –  FeedMyPockets and FMP Hire
(Android only)
Facebook: https://www.facebook.com/feedmypockets/
Google+ :    https://plus.google.com/u/0/102738514479072031110
Twitter: https://twitter.com/feed_my_pockets
LinkedIn :    https://www.linkedin.com/company/feedmypockets/