When and how did you start?
France by French is a delightful story of two friends who are deeply passionate about travelling, discovering new places, authentic experiences and learning more about various cultures.
Their travel across India was made even more memorable due to the friendships they developed there. Having a local friend take you around is a whole different way to travel compared to tourist guides. They wanted to bring the same enriched experience to all those who wish to travel to France and that's how France By French kicked off in 2018.
While the Indian traveller is exploring more and there has been a significant amount of increase in outbound travel. France By French believes there is a dire need to shift from the cookie-cutter Euro trip itineraries where 80% of traveller's time is spent in a bus/train or check-ins from one European country to other, just in the pursuit to tick off European countries from their check-list.
We want to show and educate the travellers that France is so much more than just the Eiffel tower, any kind of personal interest and destination or location can be explored. We want them to enjoy the holiday and explore in-depth rather than rushing.
Brief about organization and founding members
France by French curates unique travel experiences and packages to France. We are the first Indo-French company which is fully dedicated to Indian consumers who wish to travel to France.
We have a functioning office in both the countries that allow us to control the quality of our services and the cost of our trips. Our brand values are rooted in making our clients discover through the French lens, with the locals. By sharing knowledge, cultures, history and more, we aim to bring you the authentic French experience.
Apoorva (Co-Founder) has 8 years of experience in branding & marketing. She has successfully executed and conceptualized a plethora of campaigns during her tenure in PUMA India, some of which have also broken Guinness World Record and nominated for Cannes Lions. Having done her Masters in Milan allowed her to do projects for brands like 55 DSL, Deborah, and Max Mara and gain knowledge about the European market, life, and culture. She has always lived a nomadic life due to her Army background and is extremely enthusiastic to learn and adapt to new cultures. She is merging her passion and knowledge in marketing with her love for travelling.
Paul Martin (Co-Founder) obtained his degree of mechanical engineering in Bordeaux in one of the top 10 French Engineering university. He started his career as a statistical process engineer in the aerospace field. After 3 years he was approached by a big German automotive company (Continental) to take care of the coordination and the project management of mechatronic team in Bangalore. During his mission, he organized internal training to ensure after his departure the team will become fully autonomous to coordinate projects by themselves. After two years the goal was accomplished and he joined France by French adventure full time.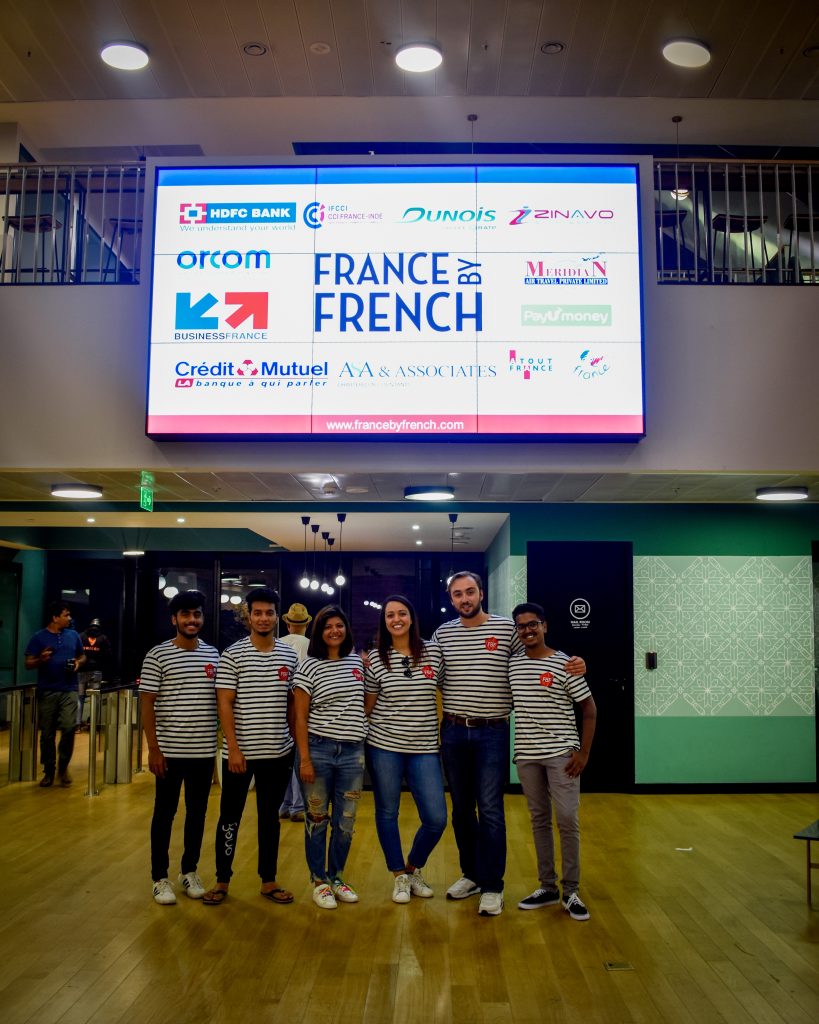 Our journey as a company started in the startup hub of India- Bangalore. Being a team of 2 founders in this entrepreneurial adventure has helped us a lot. We complement each other's strengths, have the common mission of running a successful company and have deep trust & acceptance for each other. Although coming from different cultures did entitle us with a few basic communication hiccups at the beginning which we successfully did overcome. We believe in working hard and make it look like a cakewalk. Since we are a start-up we are ready to give in those many extra hours to our work but also ensure that every minute spent is efficient and takes us closer towards our goal.
Currently, we are 4 member team, who work full time. We have another 5 members from India and France who work on the project to project basis with us. We have ensured that our team is well balanced between French and Indian nationalities to deliver what we believe in.
About funding, plans on growth
We are a self-funded company at the moment and in an ideal situation would like to maintain it the same way. We will revisit our expansion plans by end of Feb 2020 to evaluate if we need any external funding.
Challenges and Opportunities/ Marketing Strategies
In our pursuit to promote France as a mono-destination to the Indian consumers, France By French realised that the consumer needs to be educated about the various beautiful regions France has and all the hidden gems that can be explored beyond Paris. Our upcoming campaign with Shakti & Mukti Mohan is slated to launch on World Tourism Day – 27th September. The campaign showcases the royal beauty of the region of Loire.
A quote from the founder on the journey, or dealing with the challenge, or any inspiring moment
I strongly believe that the Indian travellers will find an array of destinations, locations and experiences in France which can match their taste and requirements. I see a great potential growth of France as a mono-destination, where the travellers come and soak in the culture and experiences beyond Paris. – Paul Martin. 
Coming from branding and marketing background, I always believe that brand values are not just for communication and marketing purpose but should be imbibed in the team structure, thought the process and in the final product or service the brand provides. Our brand values are deeply rooted in providing the consumer with authentic local French experience, all our itineraries are created by locals who have well-travelled the country and ensure you explore much more then what is given in your guide books. – Apoorva Uniyal
EXCLUSIVE: Founder's advice to budding entrepreneurs
We would suggest gaining some corporate experience before you deep dive into entrepreneurship or you have relentless drive and loads of patience to see your business succeed.
3 key skills to have as a budding entrepreneur:
Being truthful to your team and your consumers.
Your website / apps / and contact details