A BITSian Startup"GnomikX" trying to change the healthcare industry by providing affordable genetic testing 
" I address you in my capacity as a member of team GnomikX, a healthcare startup based in BITS Pilani that has been constantly and consistently growing for past few months. It all started around 18 months ago in a small room of Malviya Bhawan, BITS Pilani by three students who were poised to improve the Indian healthcare. Later, one of us, Mr. Surbhit Johri, was awarded Khorana scholarship and he went to Massachusetts Institute of Technology, USA. Along with his project, he spent many extra hours on the idea to make most out of this invaluable opportunity.
One of the Scientist at MIT joined us in this venture and from that moment GnomikX's technical aspects grown even stronger " Says Surbhit Johri one of the C0-Founder
Vision and Mission Statement
Vision: 
Empower people towards a better life by providing access to their genetic information. GnomikX will lead the way to future of personal genomics and a healthier India.
Mission:
Providing a range of affordable genetic tests, ensuring the access of personal genomics to everyone.
Offering an accurate and excellent service, customized for the Indian population.
Building Indian genetic database.
GnomikX consistently works to bring the power of personal genomics to the common Indian.
India, which is sometimes called as the 'diabetes capital' of the world, has as many as 70 million diabetes patients right now, and this number is increasing at an alarming rate. Apart from diabetes, India is also a  hub for hypertension and obesity. These diseases are now highly visible across all sections of the Indian society and pose enormous economic burdens on Indian families. A study conducted by American Diabetes Association (ADA)* concluded that Indians are spending $245 billion annually just to tackle Diabetes but still there seems to be no hope for these numbers to go down. This means there is something wrong with our approach to tackling these lifestyle disorders. The problem is that we assume these lifestyle disorders are something that strikes us at an age of 45-50 and we never pay attention to them at early stages of our lives. Once we are affected by these disorders, we are left with no choice but to seek continuous medical assistance and to bear its high economic cost. We tend to disregard the fact that lifestyle disorders can be easily prevented by bringing some simple changes in our lifestyle. In order to reduce the economic and social burden caused by these lifestyle disorders, there is an urgent need to shift from a curative mindset to a preventive one.
GnomikX genetic testing harnesses the enormous information hidden in our DNA and lets us predict our chances of getting Diabetes/Hypertension/Obesity(DHO) well before we actually get them. Thus, knowing our predisposition to DHO well within time, we can easily prevent them without any medical intervention. Based on the results of our tests, we provide genetic counseling and a personalized prevention plan for tackling these diseases. Our genetic testing and health awareness programmes are small steps towards encouraging Indian people to choose prevention over medication.
We've been receiving great response from Business plan competitions and investors. We are the only Indian startup to have been selected for the globally prestigious International Business Model Competition (IBMC), which is co-hosted by Stanford, Harvard and Brigham Universities. We gained a direct entry into the quarterfinals of the competition, and are given a sponsored trip to Silicon Valley, California, where the competition is to be held this May. We qualified for the competition after being selected winners of Empresario 2018, Empresario is one of the most popular International Business Model competition organized by entrepreneurship cell of IIT Kharagpur. Out of 1500+ startup entries, the winner's position was grabbed by GnomikX.
Additionally, we are among the very few teams that have made it to the pre-incubation stage of Nexus, an ongoing incubation programme which is run in collaboration by U.S. Embassy and IC2 Institute of Technology, Texas. As of late, we have been in constant contact with a number of venture capitalists and investors, and have attracted significant amounts of funding.
About Team: Our team leaders are composed of well-organized and hard workers and have the strength to face any challenge.
Image Credit/ Source: GnomikX ( Left to Right Surbhit Johri, Attya Omer, Aditya Chauhan, Raja Shukla) 
Surbhit Johri:

CoFounder and CEO: Khorana Scholar at MIT, M.Sc Biological Science and B.E Electrical & Electronics at BITS Pilani, Pilani Campus.

Attya Omer:

Co-Founder: Ph.D. at Whitehead Institute, MIT.

Aditya Chauhan:

Co-Founder : BITS Pilani, B.E Computer Science & Masters in Biological Sciences.

Raja Shukla:

BITS Pilani, B.E. Electrical & Electronics and Masters in Physics.
Strategic Plan
By studying and screening an incredible amount of scientific papers we were able to focus on the most relevant gene subset. By narrowing down to the pertinent information, we are cutting the price down and aim to dominate the personalized medicine market. Our strategy to approach the market can be simplified to few important point, explained in figure 1.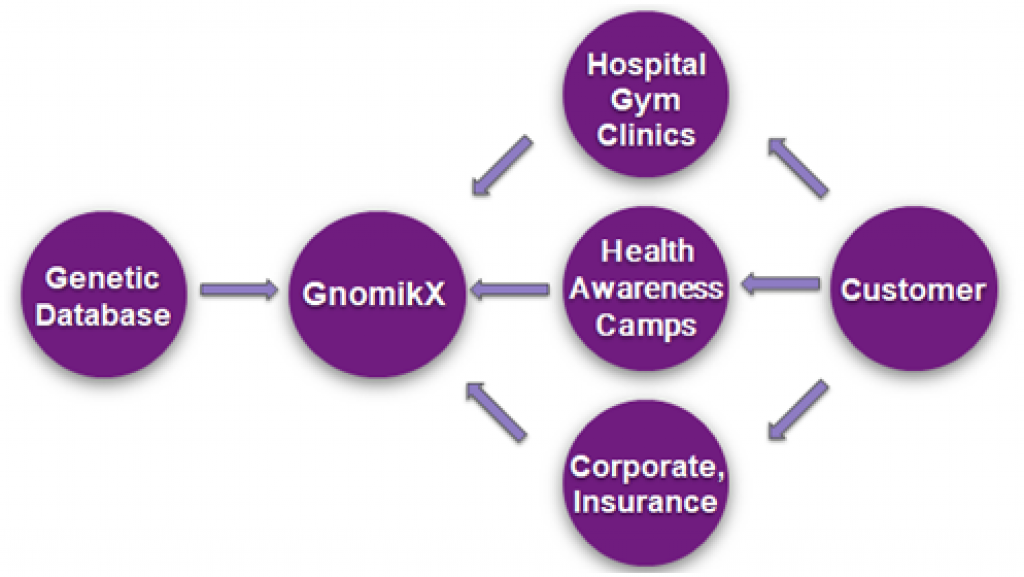 Image Credit/ Source: GnomikX
"We have multiple collaborators that are ready to be involved Says

the Founding Team "
Gyms and health clubs: Person classified as high-risk will be forwarded to collaborating gyms and health clubs, which will promote and provide special

GnomikX

Health plan.
Hospitals and clinics, on an incentive-based model for product sales.
Health awareness camps, which will increase the reach of our product
Insurance companies, who will include our tests in their policy.
Pharmaceutical companies, interested in an Indian database to design drugs according to our genetics, which could revolutionize Indian medicine.
"Changing healthcare is not easy, we know we're on the tough path but team gnomikx works unconditionally to meet the expectations," Says the Founder Surbhit Johri
To young entrepreneurs, I would like to say that, the most important thing for your idea to succeed is to be able to explain it in very simple terms. If you can just make people understand what you are trying to do, this simple thing can take you places. Effective presentation of your idea can help you build partnerships, get investments and what not.
 

"The only thing that you need to do is to build something that's useful, rest everything is gonna follow" Surbhit Johri, CEO Gnomikx.

URL : https://gnomikx.com/
Email : [email protected]
Contact : 7742512111, 7568001600