Currently valued at $130 Bn, around 15%-21% of the logistics market is in the intra-city space. It is also estimated that 1.7 Mn small commercial vehicles complete millions of transactions daily, across the country. Portflip is an innovation in the intra-city logistics space providing on-demand & fixed basis trucks and tempos to SMEs and Individuals in Mumbai & Pune City, Says Ms Sangeeta Yadav, Co-Founder of Portflip.
Always wanting to do something of their own, husband-wife duo Amarjeet Singh & Sangeeta Yadav planned to enter the logistics space as they felt that there was quite a lot that they could do by integrating technology with the old age transportation methods. In 2016, they started doing a market study for the same. It is rightly said that "logistics is the most unorganized sector". They realised this when they shared their idea with the local transporters and met with negative feedback as the local truckers felt that technology would take up their business.
"It took us a lot of time to make them understand that the integration of technology would actually make the lives easier for the drivers". For instance, while surveying the market they got to know that the truckers used to get up around 3 to 4 am in the morning to stand in local naka queue system which operates on a first-come first-served basis. So, the first order goes to the trucker who comes early. But what about your quality of life? Asked Sangeeta, to which the driver smiled and replied, Madam, if we don't come early, we may end up with no booking for the entire day and that will be a big problem, as we work a full day to meet our daily ends.
Portflip couple knew that by using their app, drivers need not come and stand at local naka queue at 3 am. They might as well have a peaceful sleep and get orders assigned to them at the comfort of their homes. Though reluctant in the beginning at least 1 or 2 drivers from every naka showed interest to be part of the partner system of Portflip.
"We started small, but we never gave hope". Also, thanks to companies like Ola it was not difficult for us to explain our business model to the partners. Another challenge we faced was maintaining the supply. In the early stages when only a few orders were coming in, the partner drivers would go offline from the partner app leading to non-availability in areas where customers needed them too.
The industry here is not just about keeping customers happy but keeping your supply happy as well. We had to keep up with the trust of the partners that we were giving them on regular basis orders. Initially getting the partners attached to our network was a tough job.  Some of the partners were uneducated and getting adapted to technology was tough. It was essential to keep them motivated and maintain the highest quality of service that Portflip thrives to deliver to its customers.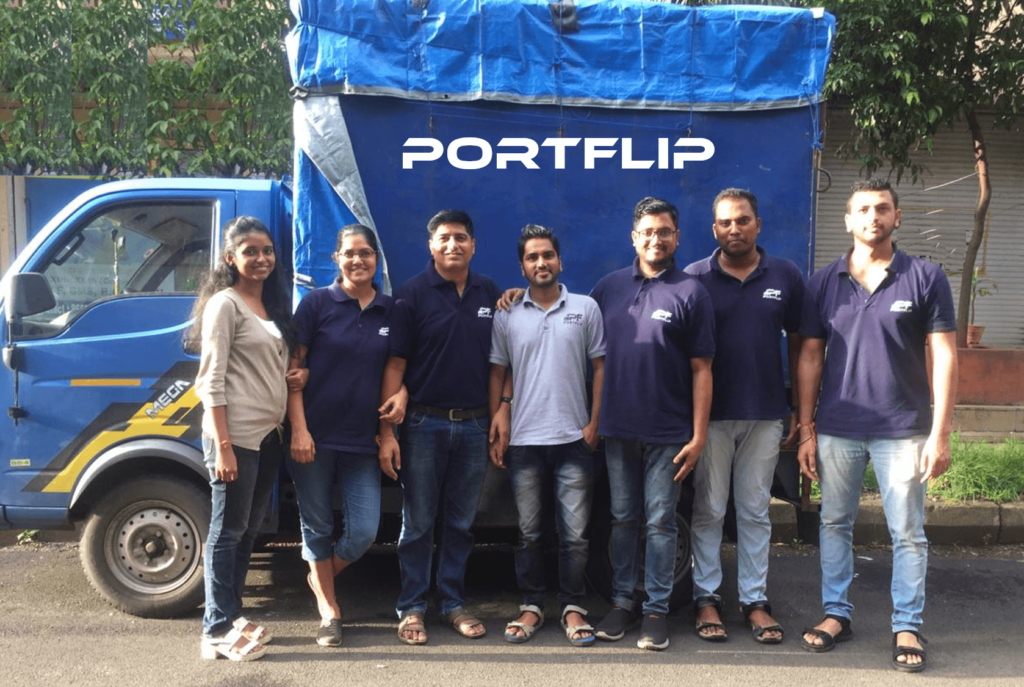 Along with the market study, the Portflip team had also started building the MVP. So almost a year later, when the MVP was ready, we launched it in the market. We got a good response from the market. Slowly and steadily we have a good spread of clients across most of the industries. The App has more than 21000 downloads so far and is growing exponentially. At present Bootstrapped, Portflip, has fair traction and is doing 350-400 orders per month and has annual revenue of around Rs 50 lacs.
Portflip is trying to create an eco-system which is convenient for both the customers and the drivers, Where one hand customers would be enjoying the benefits of accessing a large fleet of light commercial vehicles at economic pricing with GPS tracking facility; on the other hand, our partner drivers have more business.
"The Co-founders are life partners as well as business partners." – "We complement each other while it comes to the smooth running of the start-up". Where Amarjeet handles the entire technology part, Sangeeta takes care of Marketing & Operations. Sometimes we do peek each other's expertise as well when looking for ideas, discussions etc. Our favourite quote for wannabe entrepreneurs will be "Ideas are easy. Implementation is hard. Stay Focussed. Validate the idea as quickly as possible and "just do it."
We are lucky to have great initial hires as the team is fresh and full of ideas. Instead of focussing on one domain the Portflip employees are cross-trained in all verticals and are able to execute their jobs much better than any other hire of a company of similar nature. In the first year, based on the performance, the employees get a hike every quarter. After one year, the company has a program of Quarterly Incentives which again is performance-based.
We wish to grow in other cities in the near future. So, we are looking for dynamic business partners who have financial resources, industry connections, client list, specific credentials and expertise, who can help us to increase the value of our business.  People who can help us to grow using our existing tech infra to create something new.
Website / apps / and contact details
Two apps are currently live on play-store
Customer care: 9987855544
Partner Support: 9833197550