When and how did you start?
" We have just started out at the beginning of 2018. We started because we want to be a catalyzer in the advent of the fourth industrial revolution. Because we bring a unique perspective to Innovation as a Journey in Excellence. We map this against the frameworks/approaches we have built around Design Thinking, Digital Transformation, and Talent Management" Says the Founding team. 
How did you come up with the idea? Your inspiration moment
Our business is not born out of any Eureka moment. It is based on the experience of 32 years of International consulting and leadership that has delivered significant transformative engagements across the globe in different Industry Segments. At the core, we are inspired by the need to drive growth now more than ever, mindful of the social context that contributes to a higher quality of living.
 Brief about the organization and founding members
Hreemm is a design-led Digital Transformation enterprise and building an Innovation platform facilitate the creation of Intellectual Property from conceptualization till commercialization through engineering & industrialization.
Mission: Facilitate Innovation that dramatically improves the Quality of Living in every sphere of life.
Current Product/services:
  1. Learning solutions: Certification learning programs on Design Thinking & Digital Transformation including but not limited to DEV-Ops, Agility, leadership & program management.
2. Designing solutions: Designing solutions which cater to Human Capital, Value capital & intellectual capital creation. (What frog design or Ideo is for Silicon Valley)
Talent solutions: We also provide end-to-end talent solution.
More details can be found in the attached
Hreemm_corporate Presentation
    Click  the Link Below  For our
 Chief Executive | HREEMM | Seeding Transformative Growth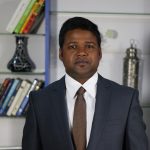 Chief of Business | HREEMM | Seeding Transformative Growth
 

The detailed journey, like what all you want to share with readers
As we are building an Innovation Platform, our intent in engaging now is to mature the marketplace with the right kind of users. We would like more entrepreneurs and intrapreneurs to be successful in leading transformation in enterprises and societies. They need to have the right tools and mechanisms to accomplish success with their initiatives and we are working towards those goals.
About funding, plans for growth
Currently, we are bootstrapped and at a phase where we have realized early revenue. We are yet to seek to fund. We first want to create maturity on the topics of Transformation and Innovation in our societies. We are taking the approach of Learning and Consultative Participation for the same.
 Challenges and Opportunities/ Marketing Strategies
The biggest challenge and therefore an opportunity as well as the hubris of corporations and the relative immaturity of both Intrapreneurs and entrepreneurs on the topics of Innovation, Transformation, and Talent. The advent of the fourth industrial revolution compels individuals, enterprises, and societies to think and act differently not just for the sake of being different but to distinguish and stay relevant.
Future plans and funding
We are planning to raise funding next quarter but after we reach our revenue milestone. We are establishing strong global partnerships and in the process of expanding our market reach.
Video Credit/ Source: hreemm 
EXCLUSIVE: Founder's advice to budding entrepreneurs
"Disrupt your thinking to remain relevant in the marketplace" 
Provide some statistics like revenues or clients acquisitions
We launched our website last month and we have already started generating revenue. We cant provide the revenue numbers at this point of time. We are working with clients from both B2B space (start-ups and enterprises) and B2C space. It will be difficult to share the numbers or names of the clients as of now.
Your website / apps / and contact details
Website:

https://hreemm.io




Contact details:




Address: WeWork Galaxy, 43, Residency Road, Bengaluru


E-mail ID: [email protected]