This post was most recently updated on August 19th, 2019

Riti Das, Founder of Pranshakti Organisation, the top spirituality club in Kolkata imparting meditation into everyday lives of people. We are going through the times when the United States of America filed the patent for our own Pranayama as "Cardiac Coherence Breathing" and the Yoga day is celebrated internationally boosting the same in our homeland seems to become outright. In her words "It was easy and call of the
destiny"
Raising the younger siblings when mother felt bed-ridden, travelling by local train of Howrah to college, earning two bachelors degrees, driving down the kids to schools, trekking in Kashmir or climbing the stairs of forts in Rajasthan. All seems doable unless you are on crutches. Yes, she is on crutches for more than 35 years now, and that is the positive spirit called Riti.
Born as the eldest into a family of four siblings, very early in her life, Riti took up responsibilities on her own. She was born like you and me. Like an enthusiastic child, she climbed trees and caught fishes in the pond of their house in outskirts of Kolkata. However later she developed this congenital problem in her left knee hence cannot apply pressure holding her back to stand upright. It is a painful condition that makes movement difficult but as in her own words "I never cared", Says Riti .
After finishing her studies she married to Amitava Das, a banker by profession and a social worker himself. She was very upfront in clearing up the cloud about her medical conditions and subsequent challenges, she said "There is no hopes for my recovery in the future.
As she says enthusiastically sitting at her Kolkata residence and centre for Pranshakti "Keeping doubts about our abilities in mind is humiliating ourselves". When she joined college the condition of her leg deteriorated and the doctor advised her to wear braces. The heavy cricket pad kind support made it uncomfortable but she was unstoppable.
When the pain made it impossible for her to keep going she simply removed the braces and hopped around. Hopping during the pregnancies with two kids made her develop back pain and that is when she discovered yoga and meditation. Being benefitted herself immensely she decided to spread these to others and help the society and Pranshakti Yoga club was born in 2017.
Pranshakti is a yoga studio having followers from all religions and faith, helps people to overcome mental and physical hindrances, live a healthy life and make yoga a lifestyle choice. They celebrate different religions and national festivals. Along with that, they have started conducting camps to rejuvenate and practice Zen meditation, the recent camp to Darjeeling in the Himalayas was a great success. They aspire to have their own campus somewhere in the lap of Himalayas someday. Currently focused at Eastern India slowly they would be spreading through India and international.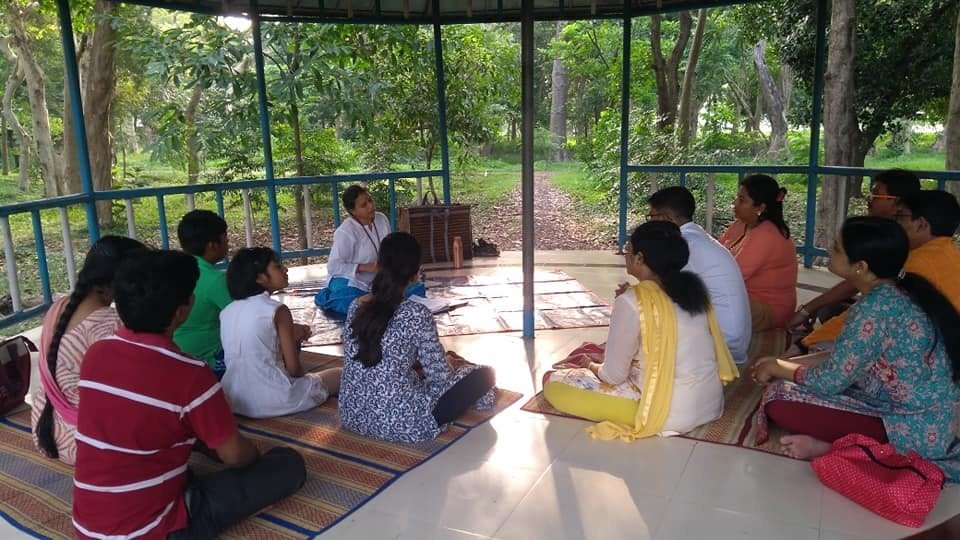 Riti is not only an inspiration to her kids Ritabrata and Oishika however to the entire family. Ritabrata is actively involved with Pranshakti and aspires to be a Yogi himself is working on animated videos on the thoughts of Riti to receive a larger reach out. He features regularly on the vernacular television channels helping people with their queries on how to overcome challenges of life through yoga and meditation.
Oishika is an aspiring Isha Hatha Yoga trainer and an awesome chef herself says "Mamuni is an everyday inspiration". Riti had let her kids follow the path they chose for themselves.
Riti believes in facing the problems of life hence rather than escaping from problems. she prays to the Universe to make her fearless to face the problems. She believes in "The Secret" of Rhonda
Byrne, an avid reader herself.
Being a frequent traveller, she travelled through many parts of India and around the globe too. Road trips to the interiors of Bengal are her favourite breaks round the year. Be it the camel ride in the deserts of Rajasthan or climbing the Ranthambore's hill fort everywhere she carry her spirit of not giving up. At the Maldives, she even took up snorkelling. "At Vatican City, the tour guide insisted I remain on the bus as you will not be able to walk around. I refused, saying I had paid as much as the others and had a right to roam free," says Rita.
In Kashmir, the Indian army stopped her to climb the 242 steps to the Shankaracharya temple but she disregarded them too. "And when
Mamuni (Riti ) descended from the temple after darshan, the soldiers saluted her and even clicked photos with her," says son Ritabrata.
Riti's life is a tale of "Where there is a will, there is a way". After reading this what excuse will you have?