This post was most recently updated on May 9th, 2021
Joanna Gaines is a well-known personality for the "Fixer Upper" TV program of HGTV's in which she hosts the show along with her husband, Chip Gaines. Apart from this, Joanna is a co-founder, co-owner, and chief designer of "Magnolia Homes" and has her showroom in Texas.
"Fixer-upper" is a reality show, featuring home design and its renovation. In this show, the couple would start by showing a set of three potential homes available in central Texas for buying to a respective family/ couple (client) and then suggest the required repair and renovation for the homes.
Once the client decides about which home they want to buy, the couple (Joanna Gaines with her husband) would go ahead and re-furnishing it as per the requirements of the client.
In this work, Joanna acts as a Designer whereas her Husband Chip acts as the lead contractor. The show is based out of Texas, US, and has become a sensation in very little time, drawing recognition to both of them.
This show has made Joanna a very famous household name and most of her fans draw a big inspiration from her "rather die-hard nature". Joanna is a mother of five and it is such a surprise for the whole world, how beautifully she can balance between her motherhood (personal life) and this demanding professional life.
Read below to uncover more about the life of your favorite star, "Joanna Gaines" and know her early life, family, professional life, her net worth, and many more things that will surprise you.
Personal Details:
| | | |
| --- | --- | --- |
| Name | : | Joanna Stevens Gaines |
| Profession | : | Author and Television presenter |
| Known for | : | Renovating homes of poor people along with her husband (Chip Gaines) |
| Date of Birth | : | 19th April 1978 |
| Age | : | 43 years (as of 2021) |
| Birth Place | : | Kansas, United States |
| Hometown | : | Waco, Texas, USA |
| Nationality | : | American |
| Zodiac Sign | : | Aries |
| Height | : | 5 feet, 7 Inches/ 1.73 meters/ 173 centimeters |
| Weight | : | 60 kg/ 132 lbs |
| Body Built and size | : | Slim body / 34" – 28" – 35" |
| Eye Color | : | Brown |
| Hair Color | : | Brown |
| Ethnicity | : | Half-German, half-Lebanese, and Korean |
| Father | : | Jerry Stevens |
| Mother | : | Nan Stevens |
| Siblings | : | 2 sisters – Teresa Criswell and Mary Kay McCall |
| Education Qualifications | : | Schooling from High School, Texas, USA and Graduation from Baylor University, Waco, Texas, USA |
| Religion | : | Christianity |
| Mother Tongue | : | English |
| Marital Status | : | Married to Chip Gaines |
| Children | : | 5 kids – Emmie (Daughter), Ella (Daughter), Duke (Son), Drake (Son), and Crew (Son) |
| Current Relationship Status | : | Married |
| Favorite Actor / Actress | : | Robert Downey Jr and Brad Pitt/ Emma Watson and Anne Hathaway |
| Favorite Singer | : | Taylor Swift |
| Favorite food | : | Japanese Food |
| Favorite Color | : | Blue |
| Favorite Place to visit | : | London |
| Hobbies | : | Traveling, Reading and Shopping |
| Net worth | : | $750k (as of 2018) |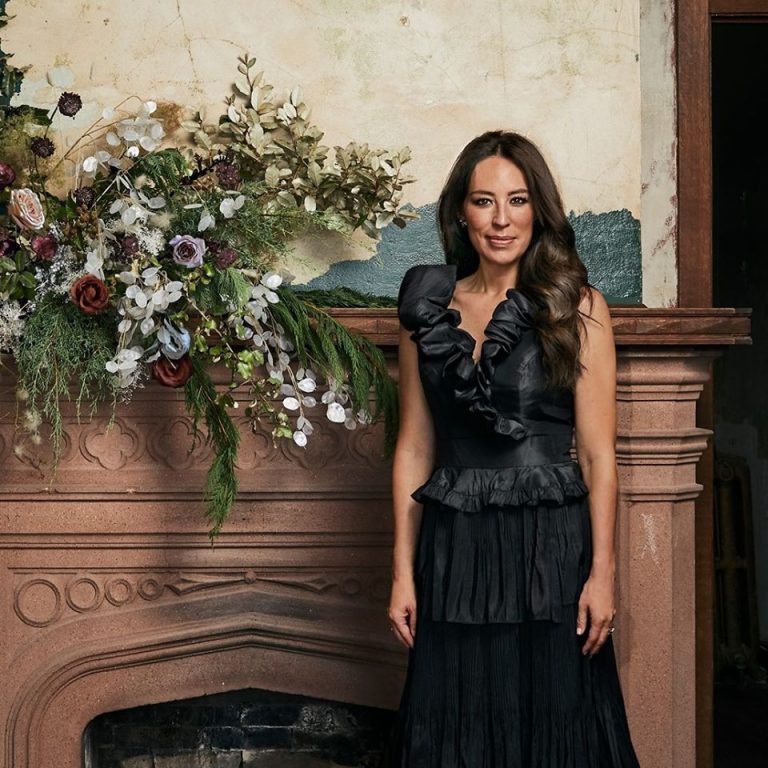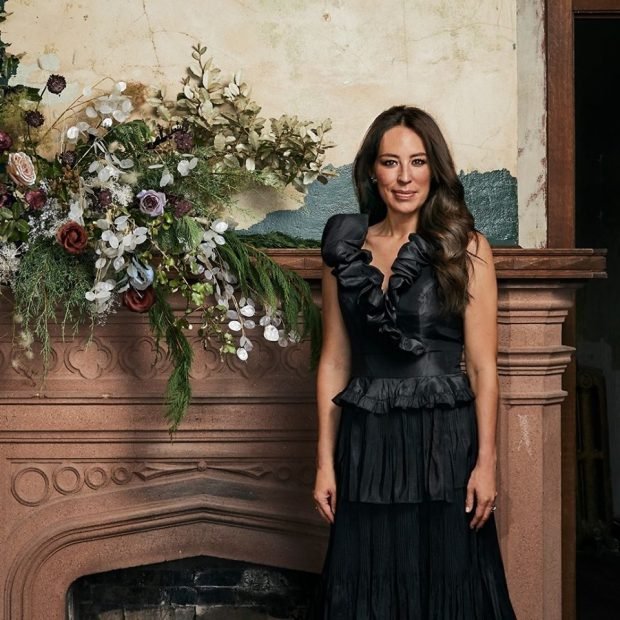 Personal Life:
Joanna was born on 19th April 1978, in Waco, Texas, the US to Jerry Stevens and Nan Stevens. She has a mixed ethnicity, because of her parents, who belong to different ethnical backgrounds.
As per various sources, it is said that her father is half German and half Japanese, whereas her mom is Korean. She is a beautiful woman and sometimes many people mistakenly consider her as a Native American, which is not the case.
Joanna has two sibling sisters identified as Teresa Criswell and Mary Kay McCall and she shares a very close bond with both of her sisters. Joanna has also worked on her sister's homes in the fifth season of her reality show, "Fixer Upper". Joanna's father had a Firestone Tire store, and in her free time she used to go and help him in the store.
As fate, one day when Joanna was at work, she incidentally met Chip (her husband), after his car had a brake failure. At the incident, they both felt a spark and decided to meet again and very soon start dating and later fell in love and eventually got married.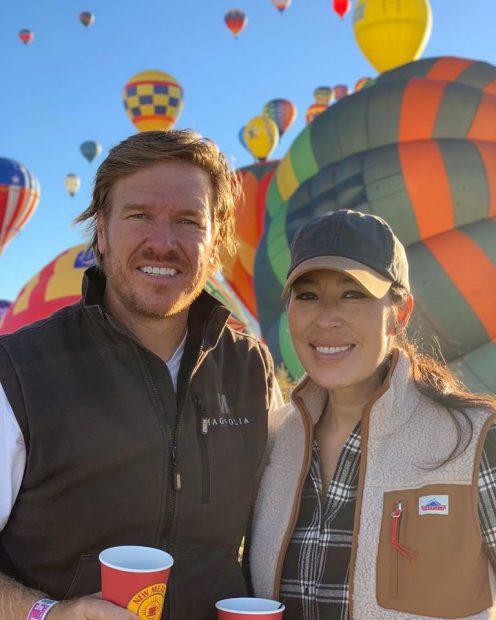 Education:
Joanna has done her schooling from high school in Texas, where she has spent most of her childhood. After completing her schooling, Joanna moved to Waco for doing her further studies and enrolled herself at Baylor University situated in Waco, and later came back to Texas for pursuing a degree in the communication domain.
Professional Life:
As you can see there are no roots in her education that links to interior designing work and she had also never expected that she will take such a drastic shift in her career. Joanna has explained this mystery in one of the interviews, where she explains about this twist in her life. This is when she was doing her internship in the New York internship program and there she got inspired by this work and decided to venture into this field and leave behind her communication degree which would have led her to be a broadcast journalist.
Joanna and her husband Chip are very distinctive in nature, as Joanna is quite a hard worker and Chip has an entrepreneurial mind. This fantastic combination is what has made the eventually lead to their professional life flourish.
During the first year of Joannas' marriage, her desire to open her boutique for interior work came true in 2003, and this venture followed by many other businesses and products to her partnership with Chip. Out of all these, the remodeling and tossing homes were the most notable venture, which had put them into the limelight and drawn recognition from the "Fixer Upper" show on Television that was produced by Jim Berger and Scott Feeley.
This passion of the couple also led to the rise of Magnolia Market, which is a shopping complex located in the downtown of Waco, Texas.
Unknown Facts about Joaana:
Joanna's mother is Korean and her father is half-German and half-Lebanese.
Joanna and Chip have studied in the same university but never knew each other, until they met at the car store when Chip's car got a brake failure.
The couple has written a book named "Magnolia Story"
Even though Joanna has a degree in communication, she got inspired by the interior work and decided to choose for this extremely challenging field.
Net Worth and Lifestyle: As per the various online sources, Joanna has a net worth of $750k and her major source of income is the HGTV's "Fixer UP" TV show, her boutique and writing work.
If you want more insight into her life and other details go check and follow her on her social media handles from below links: