This post was most recently updated on August 19th, 2019
Transgender – how did this community go from revered to living on the fringes of society? That is the plight of India's estimated 5 million "hijras." Respected by the Mughals, but considered criminals by British colonisers, today many live as sex workers and beggars.
India's Trans women community, or Hijra, has been a part of the subcontinent for about as long as civilization has. With a recorded history of over 4,000 years and being mentioned in ancient texts, the Hijra community is a testament to the sexual diversity that is integral yet often forgotten in Indian culture.
Although some attempts are taken for the hijras by government and some non-governmental organisations who work for conserving human rights, those are really insufficient. We cannot step forward leaving these people having diverse gender identity far behind. Obviously they have the ability to serve various sectors, but at present they are not playing that role just because of not getting opportunity. They could become talented doctors, engineers, intelligent scientists, scholars and what not?
The plight of the Hijra Community (Third/Neutral gender) is not hidden from anyone but still no action has been taken towards providing a sustainable employment/ income source for them. They are left with a choice to either beg on the roads or to indulge in Skin Trade. It was surprising to see that the grants too were only focused in ways of distributing condoms or taking HIV/ safe sex sessions. Which we feel is just another way of labelling/ approving their indulgence in skin trade.
Kineer Services Pvt. Ltd was formed with a vision bringing about a Paradigm Shift for the members of the sexual minorities. We are not only working towards creating dignified employment opportunities for the members of the sexual minorities but is also working towards ensuring the mental and physical health of this neglected community is taken care of. We at Kineer believe that our community has gaps where the Hijras can fit perfectly.
Kineer Packaged Drinking water :
'Give a person a fish and he would eat for a day – teach him how to fish and he can feed himself for a lifetime' – we at Kineer believe that the only way that we can bring about a change is to create Sustainable business models to empower this neglected community, Says Mr Manish Jain.
The first Phase was initiated with the launch of our Kineer – Packaged Drinking water (Blessed to quench your thirst) plants at Delhi. Manned and managed by the members of this community, Kineer packaged water is the first of its kind in the world.
The response has been overwhelming and we partnered with procurement platform ProTaiga with a 200 million contract. Reputed companies such as Barclays Bank, Vistara Airlines, The Lalit Hotels, ISS facility management, Artemis Hospitals and many more have extended their support by pledging to procure Kineer water for their establishments.
We are in the process of getting registered as vendors with Compass Group, JLL, Sodexo, Radisson Hotels and many more who firmly believe that Right actions for the future are the best apologies for the wrong ones in the past.
We have currently tied up with four factories at Delhi, Haryana, Pune and Mumbai and have been able to empower dignified employment of 18 community members. The plan is to replicate these models PAN india and work towards a future where this community lives with their heads held high while being mainstreamed and contributing to the country's economy. Kineer was formulated in July 2018 and has been able to contribute around 6 lakhs towards GST already.
Kineer is formulated with the vision that every human comes with a skill set and can contribute towards the nation's growth. Apart from placements with our own facilities, we have also been able to place community members as employees with Sodexo, ISS facilities, The Lalit Hotels and TV9. We are also in talks with many other corporates to not only place members but to also take intervention sessions and sensitisation sessions. A few companies have approached us to take over their facilities management too. There are many such avenues that Kineer services is working upon to ensure we empower this missing community.
Initiatives been worked upon :
Kineer Cosmetics and washroom amenities range, Kineer Education platform, Kineer Mental health Helpline, Kineer National Cricket league, Kineer manpower Placement and Diversity inclusion platform, Kineer corrective surgeries helpline, Kineer Security Services, Kineer Dance and fine arts academy, Kineer BPO, Kineer apparels and lifestyle accessories, Kineer Beauty pageants, Kineer Spices – Flavour of India
The Team:

LAXMI NARAYAN TRIPATHI :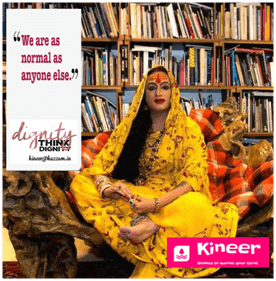 LAXMI NARAYAN TRIPATHI is the Acharya Mahamandaleshwar of the Kinaar Akhada, a transgender rights activist, dancer and actress. She was the first transgender person to represent Asia-Pacific at a UN task meeting in 2008 and represented the region again at the 20th International AIDS Conference in Melbourne. She works with numerous NGOs, including the Astitva Trust, the Asia Pacific Transgender Network and Maharashtra Trithiya Panthi Sangatana, to promote the equality of transgender individuals. She was one of several petitioners in the Supreme Court's landmark judgment recognising the 'third gender' and is a member of the core committee set up by the Ministry of Social Justice and Empowerment for Transgender Rights and Upliftment. She is the subject of two books, Me Hijra, Me Laxmi (written by R. Raj Rao) and Red Lipstick: The Men in My Life (written by Pooja Pande).
Manish Jain –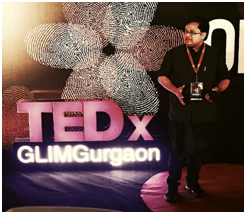 A hospitality professional, trained at The Oberoi School of Management, with extensive experience in the field of accommodations operations and Cleaning sciences. Has headed the facilities department for reputed 5-star establishments and Hospitals. Has been part of the cleaning machine industry and has developed the first ever SAAS housekeeping software – Kazzam
Served as Executive Housekeeping manager for – InterContinental Hotels Goa, Ista Hotels Bangalore, The Lalit New Delhi, Apollo Hospitals New Delhi, The Coral Strand Seychelles
Specialties: Accommodations Operations, Hotel/ Hospital Housekeeping, Sales and Marketing, Brand Building, Team Building, Resource Management, training, Infection control, Patient safety, Cost actualization
Deepak Goel –
Has been in the trade of retail for over two decades and comes with an excellent field experience of selling FMCG products and brand building. Has handles the sales and distribution of many well-known brands and has developed unparalleled understanding of the market pulse.
Aryan Pasha –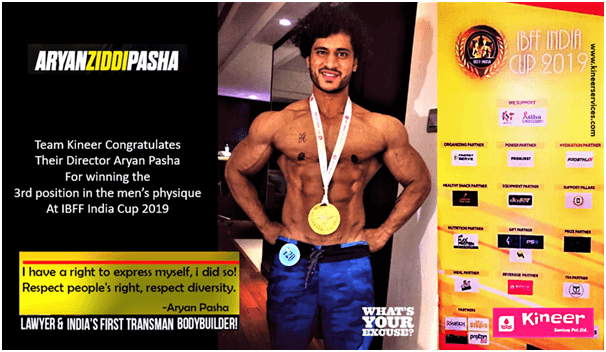 Indias first transman body builder and a lawyer by profession, Aryan brings with him not just his experience of fighting thru prejudices but also the strength and determination to win against all odds.
Zainab patel –
Zainab is a transgender person & is one of the petitioners in the National Legal Services Authority v. Union of India case on transgender rights. She holds an MBA in Human Resources & is the National Manager of Health & Human Rights at UNDP country office in India.
Zainab also works as a Diversity & Inclusion (D&I) consultant, coach, facilitator & supports companies in various industries in change processes towards more diversity in leadership. She has in-depth knowledge & expertise in the design, implementation of programs, strategies that foster diversity, equality & inclusion on LGBTI issues & gender. Zainab also conducts interventions on mitigating unconscious bias in hiring & promotion, diversity target setting & other inclusion practices. Zainab is well-versed with supporting the development of required Policy & Operational Guidelines, Training provides analysis & research to support Mobilizing, Fostering & Strengthening Strategic Partnerships.
She has been exposed to insightful partnerships across multiple types of organizations like, the United Nations, external partner institutions (including governments), National Human Rights Institutions, private sector, academia, NGOs & CSOs, gives her the strengths of versatility, leadership & skills of a facilitator. She is a woman with great conviction, known for her strong opinions, passion & ideas to bring the much needed change in the culture of aspiring business houses & perspectives of top leaders. Zainab is a powerful, articulate speaker who converts her life's adversities into wonderful stories of inspiration, hope, faith & survival.

Know more about us –
http://www.gaylaxymag.com/exclusive/a-startup-by-trans-activist-laxmi-narayan-tripathi-is-empowering-transgender-community-and-providing-them-employment/
https://www.youtube.com/watch?v=Ne9JBIU2woc&feature=youtu.be