Image Credit/ Source: Founder's: Luxury Stays
When and how did you start?
"We started Our journey when We found our jobs are at risk and just sitting and thinking in our apartment in Bangalore. We took some time to decide on the domain and then termed it Luxurystays.in from Wildstays.com, " says The Founding Team of Luxury Stays.
How did you come up with the idea? Your inspiration moment 
One Fine day we had gone to Goa to find cottages as our previous work was on finding cottages and stays in Ooty and our Current boss wanted to expand their work to Goa also, for the same we met a person Maryna who guided us to Start our Startup Journey.
Brief about the organization and founding members. 
We are 3 Co-Founders Deepak. A ,  Santosh.S, Aakash.M  and We all are friends Since our Colleges Days.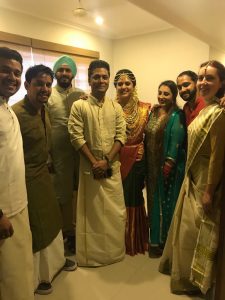 Image Credit/Source : Luxury Stays Team
 

The detailed journey, like what all you want to share with readers. 
We would be restricted on the budget part and were in high rents and we didn't inform at home about the quitting the job so we were really in a difficult situation when our dear friends used to put in the extras for us. Slowly we started doing word of mouth marketing and then on the facebook page also.
"I still remember our first clients were looking for a service apartment

and we did it for the mere profit of 200Rs. Today we have about 20+ Luxury villas in our direct management and we have a turnover of more than 10cr a year" says Mr. Aakash.M
Co-Founder and Director-Sales: Luxury Stays. 
About funding, plans for growth
We are looking for a huge round of Funding because the industry is just growing and the
space is super big for us and we are a bootstrapped company.
 

Challenges and Opportunities/ Marketing Strategies 
Competition is definitely a challenge but since we do not have deep pockets
we are still not able to get there but we are trying our level best to Achieve the destination.
Future plans and funding
We will continue to service the luxury segment and our future plans are to invite
new destinations like Lonavala/Bali/ Phuket, as people are still more looking for that.
A quote from the founder on the journey, or dealing with the challenge,

or any inspiring moment. 
IF there is no challenge then there is no fun.
EXCLUSIVE: Founder's advice to budding entrepreneurs 
The world is very big. try and even if you fail to try again someday there is the success.
Provide some statistics like revenues or clients Acquisitions etc. 
We are growing at the rate of 300% per year. 
Some of Our Clients :
Classic Polo
Shahi Exports
Freecharge
UST Globals
Your website / apps / and contact details 
www.luxurystays.in 
Ph: + 917899401199 
[email protected]
[email protected]
Visit :