This post was most recently updated on May 9th, 2021
A spiritual leader (Guru) – I know we all get little scared when we first hear about any Spiritual leader or Guru and it's obvious because of the many fraud cases many of us have seen and experienced in our past lives. But some leaders are genuine and working towards empowering individuals and society and one such guru is Mahatria Ra.
He is lovingly called Mahatria by his followers, but his real name is T.T. Rangarajan. He is born in 1965 in the capital city of Tamilnadu, India. He follows a mission to rouse humanity in this world on the path of holistic profusion and since then, he is persistently working towards enabling the living to embrace richness in all aspects of life whether it's a personal or material, or spiritual life.
This is doing through various means such as public programs, live events, digital webcasts, outreach initiatives, videos, and books and has reached millions of people spread across more than 8000 cities over the whole world and it's growing on a day to day basis.
Mahatria who is also affectionately stated as the 'Voice of Love', is a diviner and spiritualist, gifted with deep connectivity to life. With his gift, he guides people who are in quest for self-realization and looking for breakthroughs for their problems. He has made the common man know what meditation is and thousands of people have experienced the zeniths of silence. Let me now take you through the personal life and his spiritual journey in detail:
Personal Details:
| | | |
| --- | --- | --- |
| Name | : | T.T. Rangarajan or Rajan or Mahatria |
| Occupation | : | Spiritual Leader |
| Organization | : | Infinitheism |
| Age | : | 54 years (as of 2019) |
| Date of Birth | : | 23rd May 1965 |
| Birthplace | : | Chennai, Tamilnadu, India |
| Hometown | : | Chennai, Tamilnadu, India |
| Nationality | : | Indian |
| Religion | : | Hindu |
| Hair Colour | : | Black |
| Eye Colour | : | Black |
| Popular Books (written by him) | : | Unposted Letter, Clarity is Power and Most and more… |
| Father | : | T.T. Durai Rajan |
| Mother | : | Vanaja |
| Marital Status | | Married (in 1991) |
| Spouse | : | Sucharitha Rangarajan |
| Children | : | 2 children |
Educational background and Early Life:
He was born on 23rd May 1965 to a middle-class family based out of Chennai. His family members used to call him "Ranga" with a lot of love.  
He has done his schooling from Chennai and after his schooling, when he was doing his graduation in maths, he had to drop it in between to take up a job to fulfill the financial needs of his family. He came to Pune at the age of 16, to take up his first job as a software Trainer, and here he got a new name as "Rajan" from his colleagues.
Further, he has grown in his career as a Software consultant and moved to various places such as Delhi, Mumbai, and Dubai in this journey. Later at the age of around 23 years, after he had established himself in the software market, he came back to his hometown, Chennai from Dubai to set up his own consultancy business in Chennai and named his firm as "Greymatter". He got huge success in this endeavor and went on to receive more and more.
Personal Revolution:
It was a time when his career was touching the heights of success and everything in his life was going smoothly, until one day he came across the situation where his friend committed suicide.
This incident extremely affected Rajan and he was not able to accept the fact the even though his friend was highly educated and well aware of the world, he took such a decision of suicide only because he was not able to handle his emotions.
All this made him question himself about the significance of our education system if it can't teach us how to be happy and lead a good life. This thought ever left him and made him think about it day and night. One day he read a Chinese proverb "Give a man a fish, and you feed him for a day. Teach a man to fish, and you feed him for a lifetime" which made him realize various aspects of life and shown him a new way to work on.
Alma Mater – Evolving consciousness: With so many thoughts bombarding him every day, as a result, he left his software consultancy firm to his successors and started "Alma Mater" in 1995, an organization to teach life skills to people looking for guidance and support. With Alma Mater, Rajan's major aim was to improve the quality of life through various training programs.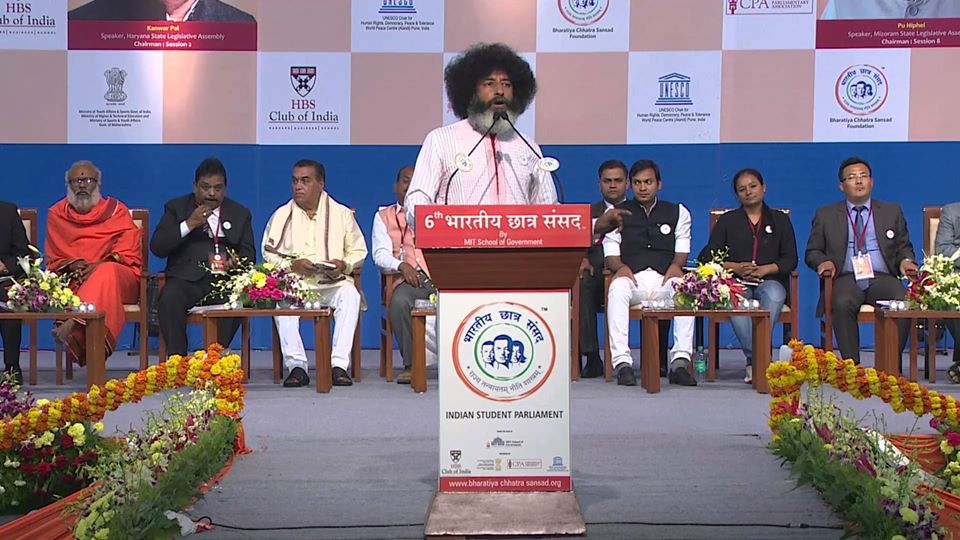 At the start, he initiated with communication skill development program and slowly added many more programs beneficial for the overall development of an individual such as leadership, soft skills, relationship handling, health, personality development, and spirituality.
With time, one day during an annual spiritual retreat (an 8 days program), he realized that the spiritual evolution of human being has the best of solutions for every problem as this spiritual program had created a significant revolution on the well-being of the followers (Almanites) of Alma Mater.
Start of Infinitheism and Mahātria Rā:
After the success of Alma Mater and in this process when Rajan Realised the biggest need the whole world is seeking for human endeavor on an emotional, materialistic, and spiritual level, he decided to let this help reach to every life on this earth and modified the complete model of Alma Mater by choosing the new path called infinitheism on 11th November 2011 at 11:11 am IST in Chennai, India. The vision of this organization is to inspire lives to breakthrough through any of the issues an individual is facing.
In the creation of infinitheis, Rajan deliberately removed the past traces of Alma Mater to bring the new consciousness and in this process, he also changed his name from Rajan to "Rā". The word "Ra" basically represents the undefinable cosmic and many experienced it through his speeches and the annual retreats he has conducted till now, which is named as HDB (Higher, Deeper, Beyond).
Hence this cosmic presence that people have experienced through him is referred to as Mahātria and when we put these two words together, it becomes "Mahātria Rā" which is what everyone calls him today.
Impact of Mahatria Ra's Teachings on an individual's life:
Mahatria Ra has a very unique way of teaching. He inspires people with his contemporary, experiential, wit, and humor-woven style of speech and this has no bound on age, geographic boundaries, or any social strata. Celebration, acceptance, happiness, and responsibility are some of the core values that make his teachings so unique.
With his talking style that appeals to both your heart and mind, he explains to every why and what you have in your mind for all the absurdities and mysteries of life.
He deliverers his speech with real-life experiences that immediately strike your emotional chord. Today Mahatria Ra has hundreds of organizations and volunteers to experientially make people understand that "Life is Beautiful and one should live it".
His presence makes all the people, spiritually enlightened and protective irrespective of their gender, geographical locations, age, color, creed, religion, and caste and provide life-changing breakthroughs.
As a fact, today's youth also loves to be in his presence and admire his unconventional ways to deal with any of life's issues, the science behind spirituality, and arising to the endless possibilities that lie ahead of them.
He has done these teachings at many national and foreign forums and has addressed big entrepreneurs, industrialists, professionals, sports persons, educationalists, students as well as award-winning musicians.
Books are written by Mahatria Ra: With such strong thoughts and will to do good for the human being, Mahātria wanted to reach every individual living in all the corners of this world, and to do so, he decided to write books. Following are the books he has written which gives an impactful message to its readers:
Unposted Letter – Available in English, Hindi, Marathi, Spanish, Telugu, and Tamil.
Clarity is Power – Available in two languages that are English and Hindi.
Most and more – Available in English, Hindi, Tamil and Telugu languages.
Apart from being an author, he is also the Chief Editor for growth magazine named "infinithoughts" which is published by "infinitheism spiritual foundation Pvt. Ltd.".
Popular messages from Mahtria Ra: Mahatria is also an expert in explaining his thoughts through storytelling and potential one-liner messages. If you see, these one-liners are very strong and have transformed so many lives till now. Have a look at few of his most popular messages:
What is, is; What is not, is not
The spelling of LOVE in a relationship is T.I.M.E.
Life is Beautiful
he belief you hold at the beginning of a journey defines your journey
Energy + Intelligent Efforts + Faith in the Energy = Miraculous possibilities
Faith is above god
An hour a day of investment in health, 23 hours of freedom to enjoy life
Pray as if everything depends on God, Act as if everything depends on you
Initiatives are taken by Mahitrai Ra: Rajan believes in assimilating personal good with a greater good. He with his team try to always thrive towards this through the various projects to inspire breakthroughs with the help of public orations, providing education/ empowerment to students/ employment opportunities, Wellness, and tree planting. There are many initiatives these people have taken up till now, have a look at a few of them:
Subject+: Applied Moral Science (7 sessions for children)
BLUEtiful World: Personal good with a Larger good
Weekly Growth Sessions: infinipath
Public Programs: Free programs for fundraising
You can also get detailed information about these initiatives from the following link: https://www.infinitheism.com/initiatives
If you want to know more about his work then you should check and follow his Social media handles by clicking on below links:
Videos Of Mahatria Ra: http://motivationalgyan.com/mahatria-ra-infinitheism-videos/
Facebook: https://www.facebook.com/mahatria