When and how did you start?
It's been 4 years now that I am into organic-natural farming after coming back from Singapore. All it started with a kitchen garden and now a model farm is shaping its area to be identified and benchmarked by many farmers and youngsters. Reading tons of books, kinds of literature, traveling to the various part of the country to meet farmers and learning there farming practices helped to gain initial knowledge.
How did you come up with the idea? Your inspiration moment
I don't expect anybody to have an inspiration for me to convert the idea into reality. My mother was diagnosed with cancer and that changed my life. How valuable life is I understood during her treatment. I saw kids of 5 years of age having cancer and multiple head surgery which resulted in an imbalance in the face (Though the kid was handsome).
"Having much of debate with the doctors came to a conclusion that we need to have access to pesticides free vegetables. I had never done anything in farming before I started with kitchen garden to have access to healthy and pesticides free vegetables. I started believing and getting connected with Mother Nature read tons of literature, visited farmers far across and learned from them and use to follow the organic farming practice for the small kitchen garden. During the same time, I was also pursuing a course on entrepreneurship. Gaining the academic knowledge about it I proposed a business model to replicate the small kitchen garden to the farm (family owned). Now I am a proud farmer" Says Yash
               Brief about the organization and founding members
Heer organics is an organic/natural farming venture in Palanpur of Gujarat State. The farming practices carried out at the farm is based on various traditional and modern methodology which includes Jivamrut, Agnihotram, Amrutmati, Mulching, Micro-irrigation (for irrigation) etc. The total land is close to 4 hectors owned by the family. All the seasonal vegetables, food grains, pulses, cereals, and fruits are been cultivated.
Myself Yash J Padhiyar; the founder of "Heer Organics" I am a farmer cum an academician, founder of "Heer Organics" earned Master's Degree from Singapore have pursued various executive courses from the prominent institution which includes, Indian Institute of Management, Bangalore (IIM-B), Indian Institute of Management, Kozhikode (IIM-K) Massachusetts Institute of Technology (MIT), etc.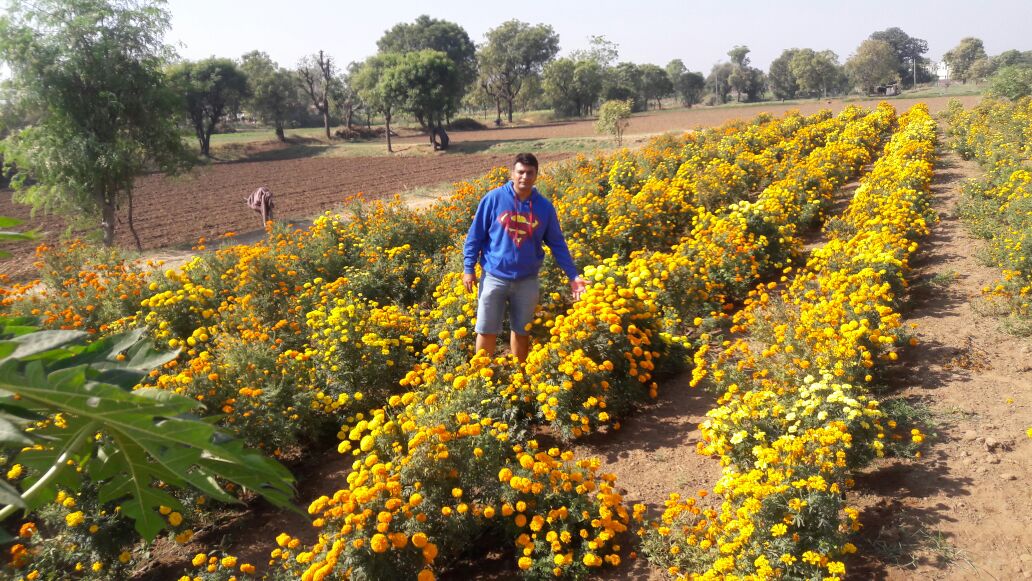 Image Credit/Source: Heer Organics
We are eating food as a product and not like food these days. Most of us are not aware of the source of the food one consumes, do we? For example, do we know the amount of pesticide used to produce the vegetables served on our plate? This means we are knowingly or unknowingly eating 0.001 % of pesticides a day. Just imagine that 0.001% stay in your body for next one year; cancer will be a very common disease in days to come. What matters to people nowadays is the taste for which we also don't deny, but not at the cost of the health. We live in a society where when selecting a life partner elderly looks for the ગૂણ (character), youngsters look for appearance but we don't care what we should look that is served into our plate.
About funding, plans for growth
It's all self-funded and we have created 2 phases out of which phase 1 has been attained and working for phase2 is in progress. We are willing to target those medium income families to have an access to healthy and pesticides free vegetables.
           

Challenges and Opportunities/ Marketing Strategies
With the land of 4 hectors; Heer Organics has attained the highest level of production with different agricultural produce to handle the existing customer base. Harnessing the new customer base is challenging as the demand for the product is high and the venture is eager to grow but facing the issue of an existing product which is almost consumed by the existing customers. How could the venture address the new customer?
We are B2C business venture; we educate our agricultural practices and its products by social media to ensure easy and cheap marketing and handsome returns of our efforts.
                                         

Future plans and funding
We are targeting to harness more farmers to create awareness and empower farmers. Efforts are towards bringing farming in limelight and attaining more respect for an entire farming fraternity.
   

A quote from the founder on the journey, or dealing with the challenge, or any inspiring moment.
Know what you eat and eat what you know
                                             

  Product photos 
Image Credit/Source: Heer Organics
        Exclusive: Founder's advice to budding entrepreneurs
Look into the potential of what demand is to be accomplished and attain it through customer's satisfaction and education. Because education plays an important role to sell your products and giving an access to your consumers to be a part of the process which will help you to win their faith/trust
   

Provide some statistics like revenues or Client Acquisition
Heer Organics is earning around 80K a month from just 4 hectors of land with a variety of service to the end-users.  The venture has a premium customer base where price hardly matters and now shifting to the next phase i.e phase 2 where the medium income customer base will be targeted.
Your website / apps / and contact details

Company Name: Heer Organics
Contact Person Name: Yash J Padhiyar
contact number is- 9662918787