Now no more Lack of Communication between you and you Miss Callers, Try Msgdroid – Your prerecorded Individualized           Auto-Responder
When and how did you start?
I had this idea early in 2016 and refining it further we started working on it in August 2016 with the help of my co-founder and childhood friend.
 

How did you come up with the idea? Your inspiration moment
Actually, basic idea about the Android App came to me around April 2016 because of some incidents happening in my life. I realized that there is still a lot of scopes to improve the communication between two people. What happened have I received a very bad news on February 21st about the passing away of my grandfather. And as I wasn't in my hometown I was called several times by my parents but I wasn't able to receive the call cause of unavoidable circumstances. After actually receiving the news I felt very bad and started to imagine a device or an idea to remove this communication gap between the callers. After this incident, I would always call back immediately to any of my miss calls if I was unable to. Then it occurred to me what if there was an app that would act as a responder in case I have any Miscalls and would relay to them a pre-recorded message which is set by the user and do it for multiple contacts. And thus, the brainstorming began.
Brief about the organization and founding members
MsgDroid Features
Msgdroid helps you auto-respond to your missed-call or un-received call through Text Msg via the various medium. Apart from default Text Msg, you can also configure different Text Msg for different contacts. One can choose from 3 ways to send a text notification to your selected miss-callers.
3 Ways of Responding
Traditional SMS, MsgDroid SMS & APP Msg
GPS Location
Area Name based on your GPS Location is included in your Msg.
Multiple Modes
Personalize Modes as per your requirements.
MsgDroid SMS
Cheaper SMS charges compared to most service providers.*
Counter Msg
Single Reply to Auto-Received Msg.
And many more features and updates to come in the future.
So, I and my childhood friend collaborated together to form this Startup. With him doing the coding part and me doing the working/structure of the app we created "MsgDroid" Android App. We both contributed to the creative and functional part of the app & solved all the logical aspects of it.
 

Keyur Pandya (Co-Founder, Myself)

Devanshu Shah (Co-Founder)
The detailed journey, like what all you want to share with readers.
So, after starting to actually work on MsgDroid in August 2016 it took us around 1 year to complete the App Development and change a few functionalities and improvements. Finally, after a month of internal testing and clearing errors, we launched our App in October 2017. And we went to a pitch only once all this time, as the idea was unique and required patience to understand the working of the app. Luckily, we got few feedbacks where we could improve our app even further and then we reached to our final update of the app with better functionalities and simple UI that is easy to use for anyone of any age.
 About funding, plans for growth
Currently, we are seeking Funding and dream to make this venture successful on the global platform. Also launch an iOS version worldwide.
Challenges and Opportunities/ Marketing Strategies
We mostly shared the App with few close friends and on Social Media but fully fledged marketing is still a costly issue and we are trying hard to reach to more crowd.
Future plans and funding
We want our App to be available in All the countries with the collaboration of most of the network carriers in those countries. The App to App SMS feature will still be accessible but other components might require few collabs. We have still a long way to go for the app in view of updates as the current version is just 70% of what we imagined to implement. Few drastic functions will be included once we acquire the necessary funding required to develop our App. We applied for funding around 1.5 Cr for our Project and are in talks with few Investors. But until now as of March 2018, we do not have any Investor. So, In short, we are still searching the right investor for our Startup as only money is not important in selecting the Right Investor.
A quote from the founder on the journey, or dealing with the challenge, or any inspiring moment.
"There is still room for improvement in the field of Communication, Msgdroid can be the answer." – Keyur Pandya
"The simplest way of getting started is to stop quitting and start doing" – Devanshu Shah
EXCLUSIVE: Founder's advice to budding entrepreneurs
"Never quit on your dreams no matter you achieve it tomorrow or a year later, feel proud of having a dream"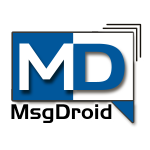 Your website / apps / and contact details
For further details about the App
App link: https://play.google.com/store/apps/details?id=com.cuttingedgeinfotech.msgdroid&hl=en
Contact: 7016251923, 9638500043
Vadodara, Gujarat