This post was most recently updated on February 1st, 2019
When and how did you start? How did you come up with the idea? Your inspiration moment
" I started MyCeiling in June 2016 whereas research on the innovative product began since December 2015. Six months of R&D and prototyping before quitting my job as project manager at Livspace.
It all started during a brain storming session with my college friend where he recommended to watch the movie "Steve Jobs" for inspiration and right after that movie, I found everything changed around me and things were crystal clear. I worked on a business plan presentation for a couple of months and approached my senior ex-colleague for a general consultation review on my presentation. Point concluded was that there should be some unique feature in my business which can't be easily replaced, replicated and create a demand as much of a need (not a fancy item). By May 2016 I applied for own company registration, managed some funds, filed patent and trademark and quit job next month", Says Mr. Jay Sah Founder MyCeiling.
Brief about the organization and founding members
Founder: Jay Sah
Design Graduate from NIFT, Bangalore 2007-11 batch
Freelance designer 2011-12
Proprietor @ J'lus décor 2012-14
Project manager @ Livspace.com 2014-16
Founder & CEO @ Myceiling Pvt Ltd since 2016-Present
Co-founder: Rohit Kumar R
B.com Shri Bhagawan Mahaveer Jain College, EDI Ahmedabad, Dual degree (2007-2010)
Senior Associate at KPMG India (2010-2012)
MBA Finance, Alliance University (2012-2014)
Financial consultant @ Rise FinconnectPvt Ltd (2014-17)
Co-founder & Business head @MyceilingPvt Ltd since 2017- Present
The detailed journey, like what all you want to share with readers.
It's always a high risk and most important move in career to take the first step towards own startup. It needs to be a full proof plan with all basic elements like R&D, prototyping, business model, consultation, funds etc. Even after all these, you hold just 1% chance in this crowd to prove your concept, make it work and acceptable in market building own brand. Its one's determination and dedication with passion & madness to reach the goal which assures you that you will turn that 1% chance into 100%. Although I prepared well before quitting my job and managed some funds, soon after 6months I realized that it didn't go as per my plan and prediction. You need to be steady at tough time no matter what stage of your startup you are at and always hold the stubborn attitude of "never give up". With the support of family and friends, I could manage to get office space and develop a live sample product with all legal documentation ready to proceed with production and sales. Then only I could somehow find co-founder Rohit over social media and both of our frequencies matched and got started with production, promotion, and sales. It's been the same kind of risk even for Rohit who belongs to a finance background jumping to home décor market. Even though he comes from a business background it was a new game arena for him and it took 6months to actually get started and find acceptance. And now when we look back Jan-Aug 2018 seems to be a magical journey.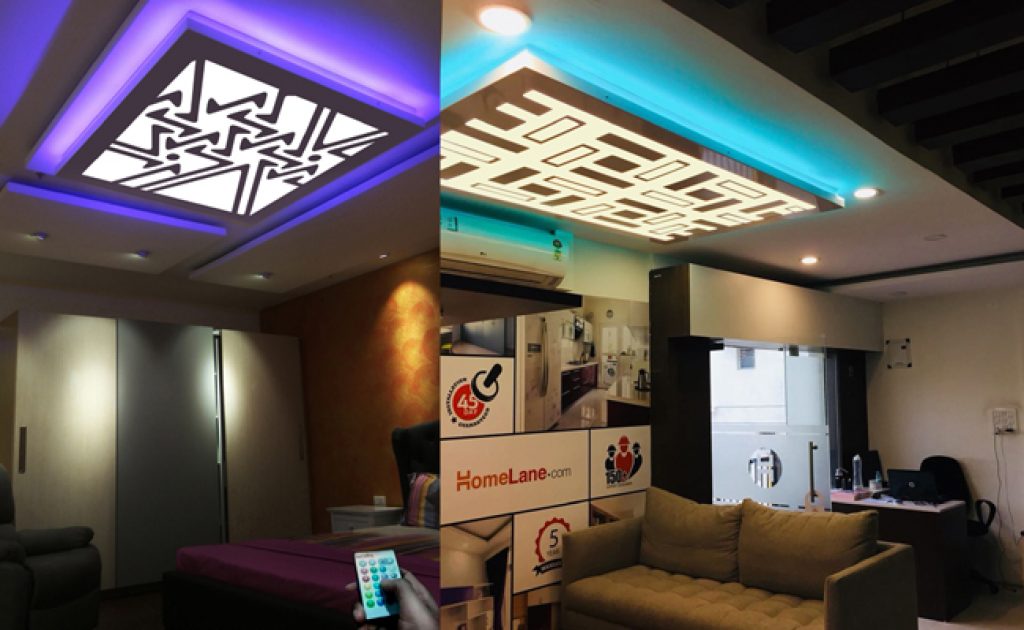 Image Credit/Source : Myceiling
About funding plans, growth, future plans
MyCeiling is a self-funded startup where both the directors have invested their own funds. We are looking forward to launch our next product upgrades which will be game changer in the home décor market. It will become a trend for every home as well as existing homes also upgrade to the new upcoming trend. In a way, you can say that we will unlock a huge untouched client-group. We may look out for funds in terms of team building, expansion and brand promotions in near future but for sure it's not a money-driven game as we hold the IPR of our products to restrict the competition. We would like to partner with global brands to pitch in a global market which will definitely change the world and make life of people easier & hassle-free.
Challenges and Opportunities/ Marketing Strategies
There is a huge market for Smart ceiling if our innovation hits the mind of customers. You can simply understand that if one is being offered a ready-made Smart ceiling product which substitutes false ceiling overall lighting of a space, fan, music system and aesthetics then is there any second thought? It becomes HOT CAKE and TALK OF THE TOWN once our next product launch gets into eyes of customers. We have chosen the B2B model as a new premium product always requires a good live display with a good presentation by a designer. Hence, we tied up with home décor companies who are our channel partners for sales across Indian cities. Promotion, marketing, and product launch become easier to reach the right clientele with such a model.
A quote from the founder on the journey, or dealing with the challenge, or any inspiring moment.
Madness while doing business, craziness in your drive and belief in your vision is all you need to keep you steady in rough times and moving forward even against the flow of general ideology and mindset of people for your startup. A crazy entrepreneur with a practical mindset never lasts forever as such people back out or settle down at tough times making a wise decision. One needs to be mad enough to give it all and even sacrifice life as it's not about becoming rich & successful. It's about making the impossible happen and change the world for good. Madness brings discipline, dedication, productivity beyond limits in you and that's the secret which differentiates you from others.
MyCeiling LIVE DEMO: Easy ordering!

We bring you our first animation video to make it easy to understand "Now ordering ReadyMade false ceiling is so easy with MyCeiling" !Thinking of getting a FalseCeiling done? But tensed about the mess it creates and time it consumes?How about a ReadyMade FalseCeiling ?We at MyCeiling bring you a hassle free experience and smart substitute of traditional pop FalseCeiling.SmartCeiling is trending.Its MyCeiling !! <3

Posted by Myceiling on Sunday, July 1, 2018
Video Credit/ Source: My ceiling
EXCLUSIVE: Founder's advice to budding entrepreneurs
I always suggest preparing well before you start. It should not be an unplanned sudden jump in HIGH MOMENT of one's career. Take your time as you are not in competition with anyone and everyone has own life clock. Age is just a number. Prepare the best you can do with the guidance of experienced people but once you start just never look back. There should not be PLAN B. Do it till you make it happen. Take a leap and jump. either you fly high or fall down-learn -again take a leap. You are not a failure until you give up…
Provide some statistics like revenues or clients acquisitions etc.
Starting with 1st product sales in Jan 2018, there has been exponential growth in sales and brand promotion across India. Last month we sold 15 units and moving forward we are expecting 4times higher sales with the upgraded product launch. As it's a new product, it's taking time for people to understand and accept but the way it's being sold right in first place, we are now sure about our future projections.
Starting from Livspace experience center @Lavelle road, Bangalore in January 2018, now we are live at various studios across cities namely: Livspace @Bangalore, Gurgaon, Mumbai, Okhla
Homelane @Bangalore (Hebbal, HSR, Gopalan mall), Mumbai, NCR, Hyderabad.
Designcafe @MG Road.
Finemake interiors @HSR.
Squarefurnish, Ideal décor, Aakruthi interiors are also our partners in Bangalore.
We are also live at Pepperfry online.
Your website / apps / and contact details
Website: www.myceiling.co.in
Facebook page: https://www.facebook.com/MyCeilingPvtLtd/
Linkedin: https://www.linkedin.com/in/myceiling-private-limited-b44986148/
Office: 2296, 16th cross, 24th main, HSR Layout Sector 1,
Bangalore – 560102 ,Contact no: +91 9538383840