This post was most recently updated on August 28th, 2019
At a glance:
Founders: Balaji Kaisetty and BS Sangeetha Thulasi
The year it was founded: 2017
Sector: Vehicle marketplace
Problem solves: Buying new vehicles
Sitting at the comfort of the couch in the living room urban India decides to buy a vehicle, whether it's a sense check with friends or a reality check with spouse all is on fingertips. Choose the brands or take a test drive, everything can be at the doorsteps in the Tier 1 cities of India.
From the domestic brands like Maruti to international ones like Mercedes, Audi, etc. all are accessible to them through technology at extreme comfort within a few kilometres of the radius or on the mobile handset. Whereas in rural India forget about the purchase of vehicles for leisure / social status/income for livelihood buying Autorickshaws, Taxi or tractors itself is a difficult ball game altogether.
Coming from a place Thadukupeta village, at Chittoor District, Andhra Pradesh Balaji Kaisetty ( Founder and Ceo NayaGaadi ) while working in the IT sector of Garden city, Bengaluru identified the gap in the automobile market accessibility gap.
Together with Sangeetha Thulasi, the techie couple came up with the solution in the shape of NayaGaadi. Sangeetha's core expertise is Infra Tools, Technology implementation and support and Balaji's core expertise are in Infrastructure, Project and Program Management, Innovation, Governance, Fair market practices, management, Consulting and Research, Transformation and IT Services.
Balaji's passion is about rural problems and using technology for the benefit of the common man. He is Mentor of Change at Atal Innovation Mission, He is a Technology and Innovation panel member for Govt of Karnataka from CII. Panel member of the National Committee on Ecommerce from CII. Balaji is an alumnus of State University of New York (SUNY), Buffalo, USA and pursuing his PhD from Vignan University
NayaGaadi is rural India's first Multi Utility Online market place and Rural Multi-Brand Experience Center for all brand new vehicles – EV's and Non-EV's (Autos, Bikes, Scooters, Cars, Tractors, Lorries, Passenger Vehicles, Commercial vehicles, SUV's, MUV's, etc). The business model is based on the Technology-Driven Marketplace model, Aggregating dealers, OEM's, bankers, Insurance companies and value add players with Rural Entrepreneurship and Franchising the Experience Center model, creating job opportunity for thousands of educated rural youth. First, Rural Multi-Brand Experience Center started in Nellore, Andhra Pradesh, NayaGaadi crossed first half-century sales in the two months. With a gross merchandise value of INR 33.73 Lakhs and an INR 1.14 Lakh direct savings to rural customers.
Currently, they are operational in Bangalore (Karnataka), Behrampur (Odisha), Nellore (AP), Hyderabad (Telangana).
NayaGaadi.com's vision is to provide Service and Delivery personalized to the End Customer via a Technology-driven platform to reach out to the auto consumers across India. A Unique Platform for India specific Automobile Industry , NayaGaadi's solution addresses the automobile needs of the rural consumer by connecting them to all brands, all categories of new vehicles under one platform. Its technology-driven marketplace connects dealers, automobile manufacturers, banks, financing companies, and insurance companies and consumers. The platform facilitates test drives, vehicle loans, and insurance assistance and aids the last-mile delivery of the vehicle , Says Mr
Balaji Kaisetty , Founder and Ceo of NayaGaadi.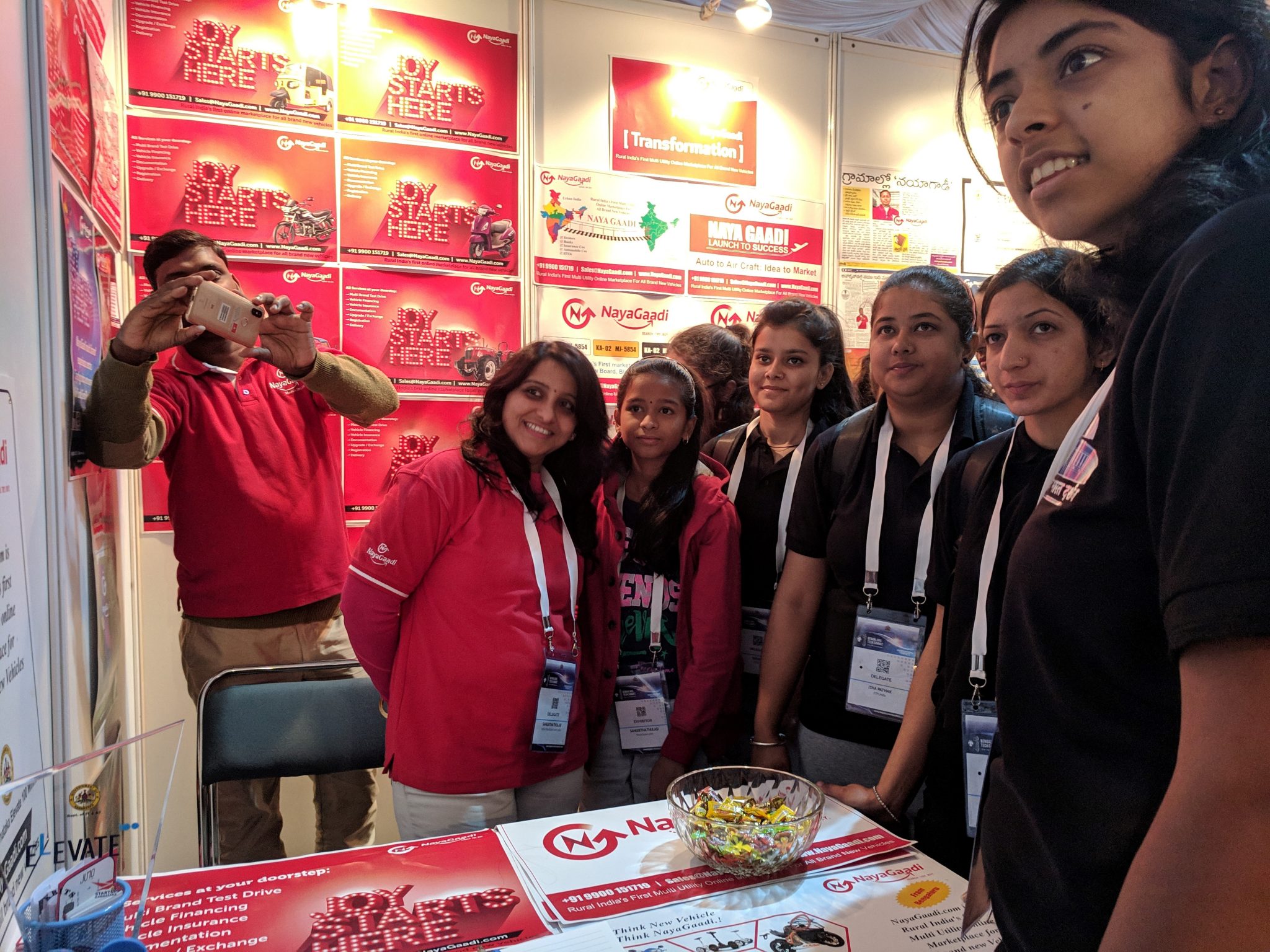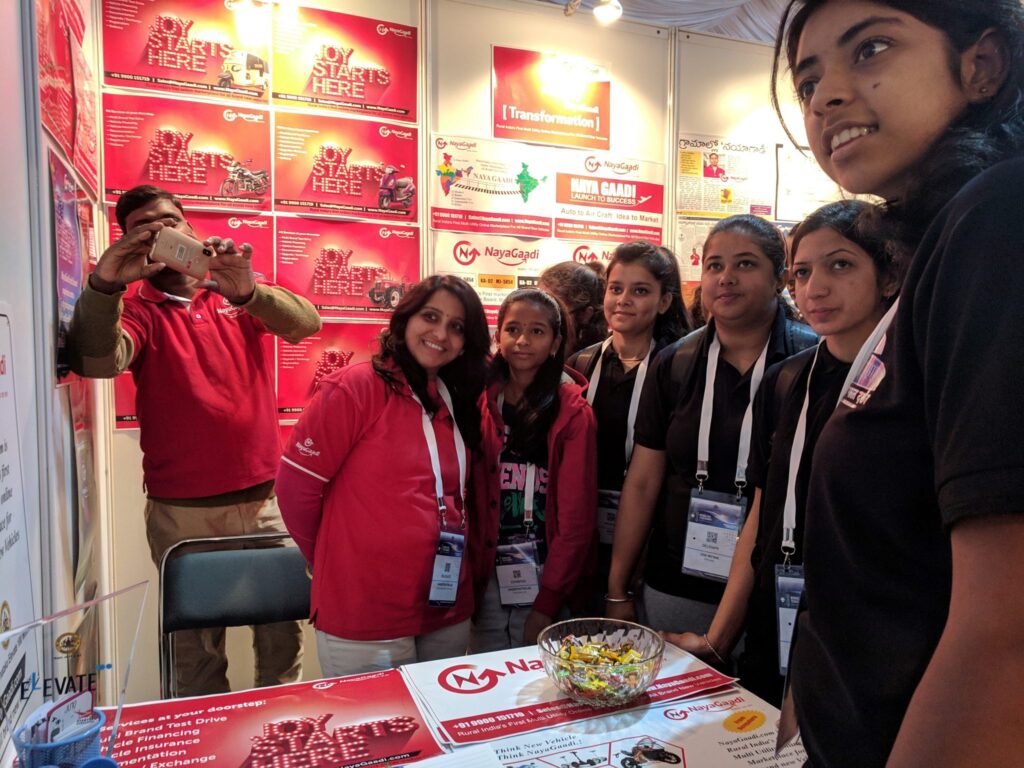 The solution is a new vehicle marketplace focusing on four major rural consumer's needs:
• a model to serve sentiments of rural consumers, and changing the digital landscape.
• reducing the establishment cost of the dealers, NayaGaadi is also slowly moving the dominance of family business in an automobile dealership.
• create Trustworthy Rural Agents for conveying information and maintain transaction transparency.
• Be a single window for all services and products related to the new automobile buy.
• Establish Rural Multi-Brand Experience Centres to serve the unserved rural consumers.
• Be a launchpad for introducing Electric Vehicles / Mobility solutions before reaching the offline mode.
• To attract a significant market of online customers looking for the best deals.
• be an avenue for dealerships to improve sales by creating an online sales channel.
Coming from an agricultural family and later as salaried techies, their initial challenges were immense. Founded in 2015 from the IT hub of India Bangalore, Balaji recalls it became a norm to hear "No" from all the channels since the business model was entirely new, apart from even the employees in the auto industry feared losing jobs because of this platform. However Balaji values the micro-entrepreneurship among the rural youth, NayaGaadi is an emerging social enterprise as well. Empowering thousands of youths by allowing them to be the franchise of NayaGaadi by setting up Multi-brand Experience centers exclusively for brand new vehicles.
The huge challenge was capital, Government of Karnataka Elevate 100 winners, currently self-funded with the family savings and looking to raise capital from Angels, High-net-worth individuals, and other investors.
Balaji recalls the quote of Einstein "I am thankful to those who said no. Because of them, I did it myself". He advises not to lose hope if the tide is not favourable, sailing through unfavourable tides makes you more efficient.
Balaji wishes if the process of building a new business with a pioneering idea can be made a little easier so that from the VC Communities to the probable business partners are more open in listening to the thought. The information banks are built for easy access to entrepreneurs like him to understand whom to reach out for mentoring, funding, discussing and more start-up clubs to share the challenges and lessons from failures.
What is offered to the end customers is as unique as a result – "the hassle-free ownership of vehicle". The experience centers run by local youths as part of the business model promoting entrepreneurship enables the customer to come and get introduced to the eCommerce platform. It is much easier for the local youth to convince them of visiting the center because mostly they would be knowing each other. Further, the experience center facilitates –Every Experience center is designed to support and cover consumers in 100 villages.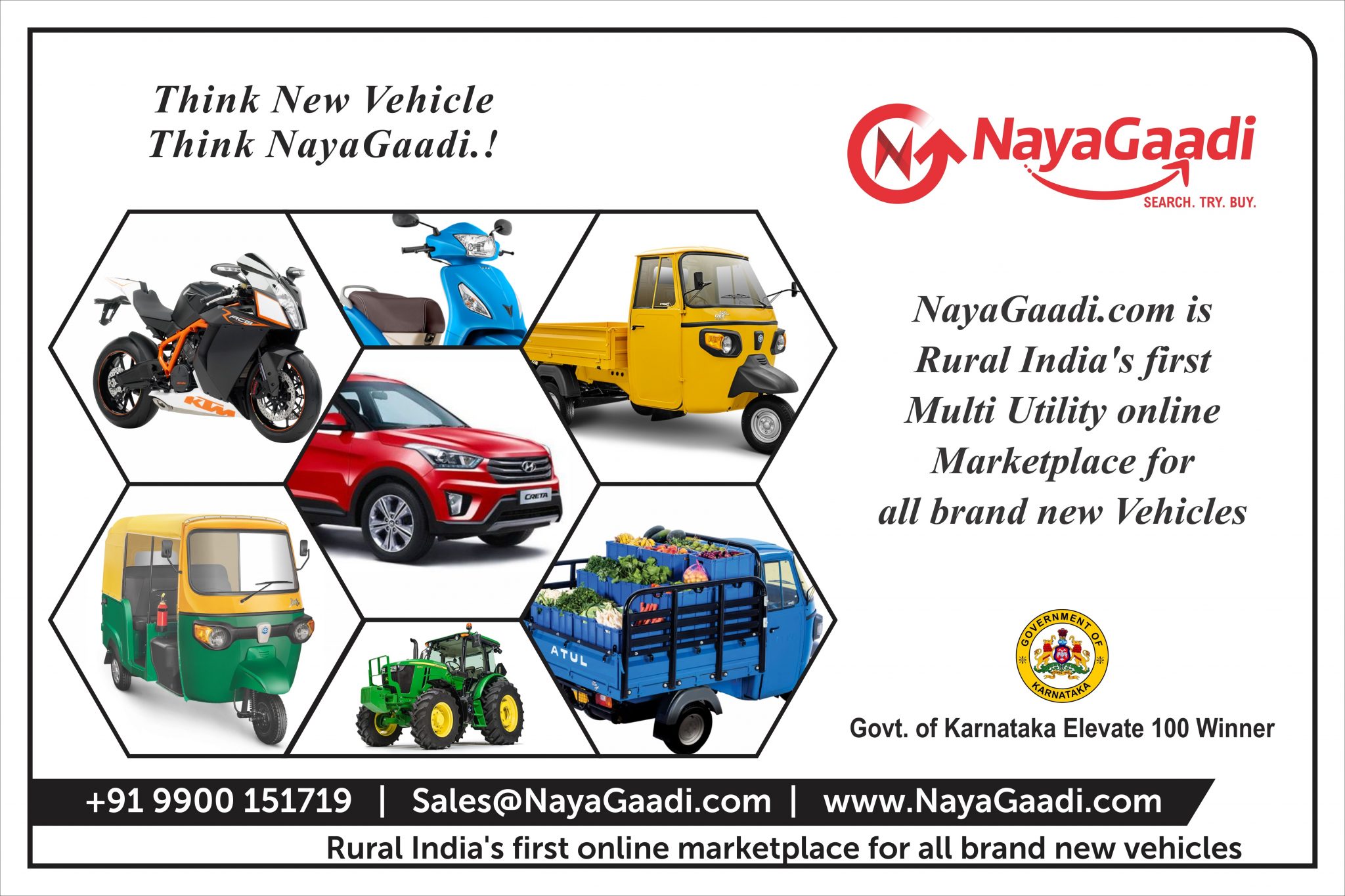 One-stop center Providing advisory and guidance on New Vehicle, Models, features and pricing Info. Works seamlessly with the NayaGaadi Marketplace eCommerce platform model and NayaGaadi Rural Auto Agent Apps.
Multi-Brand Test Drives at the doorstep.
Vehicle Finance assistance.
Vehicle Insurance assistance.
Documentation, Registration, and Delivery at the Doorstep of the customer.
A Launchpad for Electric Vehicles and Mobility solutions before they reach offline consumers.
Additionally offers Customization needs of the New Vehicles.
After four years of operations, there are still not many competitors in the domestic market ensuring the probabilities of becoming the Large player / Unicorn sooner or later Balaji hopes highly about helping rural India with NayaGaadi. Today when still better half Sangeetha is financing the home, NayaGaadi managed to bag many feathers for its cap,
• Indian Institute of Management Bangalore – NSRCEL launchpad startup.
• Govt of India DIPP Startup India recognized Startup.
• Govt of Karnataka Recognized Startup.
• Govt of Andhra Pradesh Recognized startup.
• Selected in Incubated by the Govt of Karnataka (GOK) IAMAI's Mobile 10 X Bangalore Incubation.
• Nasscom 10k warehouse startup, IIITB Innovation center and STPI incubated startup.
• Govt of Karnataka ELEVATE 100 Winner.
When the automobile industry in India seeing an unprecedented slow-down NayaGaadi is fresh air to breathe some life to the industry if the platform is used to the fullest by the manufacturers and the dealers. In July, market leader Maruti Suzuki reported a 36.3 percent drop in its domestic PV wholesales, while Hyundai saw a dip of 10 percent. M&M sales were down 16 percent, Tata Motors PV sales fell 31 percent while that of Honda Cars India Ltd (HCIL) also came down 48.67 percent during the month. NayaGaadi is lending a solution to each major reasons for the slowdown as below,
A good cause of the slowdown is due to the slowdown of income in the nonbanking finance sector. NayaGaadi is offering the solutions of vehicle loans through its partners to the end customers resolving the financing issues.
Stiff competition from a growing organized pre-owned car market is another reason why the new car sell is seeing a fall. The solution of NayaGaadi is bringing in all the facilities organized under one shelter to ease out the purchase of new cars.
Dealers are forced to shut down the showrooms due to the steep real estate market over the last one year. Almost over 300 showrooms have seen closures. NayaGaadi's online platform relieves from the costing of real estate.
Over three lakhs resources lost jobs in the automobile industry in the last three month's where NayaGaadi is offering entrepreneurship to the rural youth to cut down the unemployment.
The rural market is less explored by the market leaders and can be treated as an extension to revive the industry where NayaGaadi can handhold the manufacturers and the dealers to swipe in there. The purchasing power of rural youth is on the rise due to an increase in productivity and better price commanded by agricultural products. By and large, this rise in purchasing power remains unexploited and with the growing reach of the television and internet, it is now quite easy for the marketers to capture these markets.
There is an improvement in the conditions of roads and connectivity as well in the rural region.
NayaGaadi strives to diminish the marginal cost by reducing the establishment and transport cost of selling the vehicles.
As unanimously requested by the Society of Indian Automobile Manufacturers Balaji is also expecting to see a cut down in GST, registration and other compliance costs of the vehicles.
Better half Sangeetha holds the saying right "There is a woman behind every successful man". She is the real woman behind the success of the man, with the corporate job she is managing two kids, and entire household including finances, where Balaji keeps travelling throughout the country bringing new partners as the entrepreneurs, manufacturers, dealers, banks for vehicle loans, and insurance brokers under one name of NayaGaadi.
Satya Nadella CEO of Microsoft said I quote, 'Today, digital technology is transforming every place, every industry, everything. This rapid change is being driven by massive technology shifts – across the intelligent cloud and intelligent edge.'
As India is getting transformed into New India, NayaGaadi will also help transform the Auto Industry into Naya Auto Industry.
We shall wait to see the rise of NayaGaadi in the coming days and wish the best to Balaji.