When and how did you start?
Technically I have been writing since 2010, however, in terms of my personal blog (http://www.nimsstylefile.com) I started this from the beginning of the year 2017. I always had an interest in Fashion, Lifestyle, Food, and Travel. I have always been known as an explorer who loves traveling to new places, exploring to new restaurants, trying unique cuisines, loves experimenting with my clothes, Mix and match the on-going trends.
" In short, I am a 'Voyager' who is always in a search of something unique," says Nimisha Arora.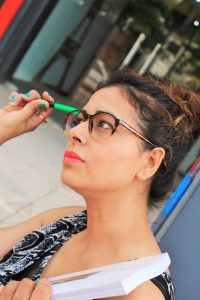 How did you come up with the idea? Your inspiration moment
As I said I have been writing since 2010, but at that time I was not able to give my complete attention towards blogging because I was working too. But then in the year 2016 when I had a baby, I thought of sharing my "Being a Mom" experience with everyone. And since then I didn't turn back.
 Brief about the organization and founding members
Although I started up my blog http://www.nimsstylefile.com by my own which included everything starting from-
• Domain Name Selection
• Blog Designing
• Website Development
• Content Writing
• Content Publishing
• Getting Pictures
• Editing Pictures
• Making Videos
• Spreading the word across
However now, I have a team of 2-3 members, who help me with all this.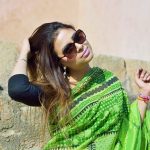 The detailed journey, like what all you want to share with readers.
I am a fun loving person, positive thinker who accepts everything that comes in her plate with immense positivity. I had faced so many hurdles in my life, even at the initial stages of my job search I had been rejected several times, but it didn't stop me. And I never let the negative pressure harm me from inside.
Just to name few of the companies I have worked with – Wipro (Marketing Manager- North), Acer India (Business Development Manager), Lime Labs, Sister concern of Lime Wire (Marketing Manager), Bharat Chemical Products (GM-Marketing)
I always thank god for protecting me from what I thought I wanted and blessing me with what I didn't know I needed.
 

About funding, plans for growth
The huge investment requires in Blogging is your Time, which is really precious. I realized the value of it bit later, however now when I know its value, I make sure anything that comes to me has to be worthy of my time and efforts.
One who may be interested in being a blogger can start up with buying a domain name of their choice and develop their site. You can even design your own site by downloading some awesome WordPress themes. There are plenty of videos on youtube that can be of great help.
And for me the only Mantra I stick to is "Consistency" there will be days when you think, that it's going No-where and that will be the time when you have to make it from  NO-WHERE TO NOW-HERE.
 Challenges and Opportunities/ Marketing Strategies
People think anyone can be a blogger which is actually not wrong however it's just the partial truth. Anyone can be a blogger but not everyone. You first have to figure out what's your basic interests are. Is your primary interest is in writing and collecting memories and sharing it with others. If, yes then this is the platform for you.
However, if you like dressing well and love getting clicked behind the bushes. Love exploring new places but writing is a big no-no for you. Then you can be an influencer for some but you are not made for blogging.
As blogging requires lots of efforts, money and time. I also used to think that blogging is an easy source of income, but I was wrong. I have worked with multiple companies so I can easily compare this, your daily job is quite easy then blogging. In the job you have been told about your key areas, you get trained; however in blogging, you learn through your own experiences, there is no one to guide you. You have to invent new ideas every day to entertain your followers/readers and that's the challenge in itself.
Blogging these days have become so competitive that you have to be on your heels every time to grab the opportunities the time they come. I usually get collaborations through Emails or Instagram DM's and sometimes I do get calls too. And I don't think there is any particular marketing strategy for this. You only get noticed for your work if you are being consistent, that's it.

Future plans and funding
Currently, I have collaborated with some photo shoots, so be ready for some
Fashion posts soon. I also want to be regular with my youtube channel as I feel the visual approach is also required in terms of reaching to your audience.
And, I don't think currently I need any funding as I myself is capable of getting paid for the collaborations.
A quote from the founder on the journey, or dealing with the challenge, or any inspiring moment.
" Just be yourself, you are your own boss. Don't let anyone else show you the path, make your own path. That's why I am doing blogging" Says Nimisha.
 

EXCLUSIVE: Founder's advice to budding entrepreneurs
My advice to upcoming bloggers will be, don't just follow anyone blindly. Choose your interest appropriately; your choice of niche is quite important in terms of blogging. For eg., If you are a foodie and have immense interest in experimenting with new recipes or menus then your Niche is Food or if you love to explore new places and love writing your experiences and sharing it with others then your Niche is Travel
Also make sure before starting a blog you have to ask yourself a question why you want to do this, if you are doing it for passion then I can assure you, you will not be disappointed, but on the other hand, if your focus is towards getting freebies or money then my friend, nothing comes for free and for that you have to be passionate towards writing. And just like any other business, you have to invest your Time, Money and loads of efforts.
Your website / apps / and contact details
My Blog http://www.nimsstylefile.com is my another baby I have to take care of, and I love reading emails I receive from my readers who take out their precious time and write me at [email protected]