When and how did you start?
"We launched the search engine website initially ( Rhymly.com ) on 24th December 2017 – where one could search rhymes & meanings of all Hindi words. Eventually, after 3 months of beta, we launched our app on the

Android

 platform

where apart from searching for rhymes, one could also create & discover new content every day", Says  Mr.Arpan Khosla CEO at Rhymly. 
 

How did you come up with the idea? Your inspiration moment
I (Arpan Khosla) have been a poet & creative writer for more than 11 years & the only thing I have realised is that less time & more creativity are the only ways of warming your bread in this field. I used to struggle with vocabulary, rhyming words & had a lot of incomplete artistic pieces which led to continuous writer's block. That's how I decided to start this venture "Rhymly",  so as to help creative writers overcome all the above pain points.
Brief about the organization and founding members
Rhymly is a one-stop content tech platform that helps budding creative writers search rhymes & meanings of Hindi words, create original couplets while rhyming on the fly, discover & share awesome content & also get themselves featured on the app every day.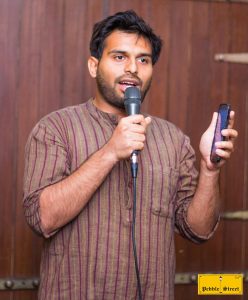 Image Credit/ Source: ARPAN KHOSLA ( CEO at Rhymly )
ARPAN KHOSLA: A Professional Hindi POMEDIAN ( Poet + Comedian), Engineer from NSIT & CEO at Rhymly.
Image Credit/ Source: VISHAL KALRA ( CTO at Rhymly )
VISHAL KALRA: An NSIT undergraduate, Vishal is a technology enthusiast, a travel freak, foodie & the CTO at Rhymly.com. He believes in finding uncommon digital solutions for problems faced by common people. Although he isn't much of a writer, yet all his coding work is done in the wee hours of the night.
Image Credit/ Source: AAKANSHA AGGARWAL ( Designer at Rhymly )
AAKANSHA AGGARWAL: Aakansha prides herself on beautiful and intuitive user interfaces she designs. She believes in experimenting & tries to work in multi-disciplinary fields. She handles the Graphic, Web & App design at Rhymly.com.
The detailed journey, like what all you want to share with readers.
Our whole journey stems out of the fact that we wish to help Poets, Shayars, Songwriters, Rappers, ad agencies, jingle writers, etc. save a lot of time on their art pieces, break their writer's block, create more & a better quality of content & concentrate only on creativity while leaving the Vocabulary part to us. We want writers to use their personal digital writing assistant "Rhymly" & become writers of the 21st century who rely both on creativity as well as internet tools to enhance their writing experience. Also, a lot of users, apart from using our app fro standalone rhyming, also have been using it for new content discovery & also for knowing talented writers.
About funding, plans for growth
We are bootstrapped as of now but are actively looking for seed funding.
Challenges and Opportunities/ Marketing Strategies
There was a major challenge in the market that no one app was catering to all the needs of a creative writer i.e. rhyming, writing, vocabulary, content creation & sharing on a single platform & a writer had to go to multiple platforms for all these things. Eventually, this challenge turned into an opportunity for us & we created Rhymly. Our marketing strategies include single line prompts which users convert into beautiful couplets, social media memes, partnering in several open mics by running open app poetry contests, etc.
 

Future plans and funding
We are working on the iOS app which will be there in the market pretty soon. Also, we will be going vernacular by incorporating more Indian & foreign languages in our database & also make it an out & out social platform.
A quote from the founder on the journey, or dealing with the challenge, or any inspiring moment.
" Apni naakamyaabi ko
Bass ek hi baat samjhaani hai
Ki jal hi jeevan hai
Aur safalta paani hai "
Now, Anybody Can Rhyme with the new Rhymly App!
EXCLUSIVE: Founder's advice to budding entrepreneurs
Don't disregard or look down upon your corporate friends in your entrepreneurial journey. They are the first ones to teach you how exactly networking works.
Provide some statistics like revenues or clients acquisitions etc

.
We are a 14000+ community of passionate rhymers who are budding writers, seasoned & even non-writers. We believe that ANYBODY CAN RHYME. If you also do, then start rhyming now!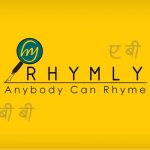 Your website / apps / and contact details
App link: http://bit.ly/RhymlyAppSE
Website: http://www.rhymly.com
Facebook: https://facebook.com/rhymly4writers
Email: [email protected]