OnlyPaithani: An Online Store for Paithani beautiful Saree
Inspirational moment to start OnlyPaithani
" Sarees symbolizes cultural pride and it represents style and grace. I have grown up seeing my mother's care for sarees. She is a huge lover of sarees and wears it daily. This also made me fall in love with fabrics, especially sarees. The time came when I had to shop sarees for my wedding back in2006. It was so hard to find a nice Paithani saree in Mumbai. The biggest of the shops had no more than 10-12 options available, in very common, boring colors. This made us come up with OnlyPaithani.
During our research on the Paithani, we realized a very sad thing that Paithanis had barely any recognition outside of Maharashtra. That's when we decided that the Paithani needs to be reintroduced to people around the world. My brother-in-law, a US resident insisted me to consider the online saree market for the sale of Paithani sarees " Says the Founder Ms. Arati Baandal
Brief about the organization and founding members
Ms. Arati Baandal is the Single Founder of  OnlyPaithani
As the name suggests, we at OnlyPaithani create and source the finest of the authentic Paithanis & Handlooms to make them available to you. Paithani is an art, an heirloom of Maharashtra which every lady of this great land wants to own, every daughter wants to get married in and every mother wishes to pass on hers to the next generation. We at OnlyPaithani hope to get to you the Paithani you have always desired along with some other traditional handlooms you will be proud to own.Though we seem quite biased towards Paithanis, we love all handlooms, especially silks and would present them on our website some of the most exclusive creations from time to time. You will surely come across some of the most exquisite Gadwals, delicate Maheshwaris and Chanderis, royal Banarasis and more from time to time on OnlyPaithani. As the age of machine weaves take over, we at OnlyPaithani believe that not all things need be modernized and the romance of a traditional handloom stays forever. Like the love in a handwritten letter can never match that of a proposal over chat, the beauty of handwoven fabrics will never fade away by the onslaught of the power-loom.
What all you want to share with readers?
Handlooms are one of the greatest inheritances of your rich culture. We need to understand the efforts that go into creating a handloom fabric and preserve these unique weaves. I certainly hope more and more people begin to appreciate and start wearing the various Handlooms of our country. We have just opened our Bengaluru boutique. We wish to stay in touch with our dear clients and we would continue our exhibitions in other cities to showcase our rich heritage through Handlooms, especially Paithanis.  This helps us to meet them personally.We would continue to spread the word about the fabulous Paithani weave and other lesser known Handlooms through our online portal too.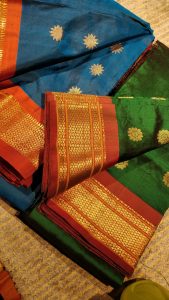 Image Credit/ Source: OnlyPaithani
About funding, plans for growth
At the moment we are self-funded.
Growth plans: We would be focussing on exhibitions in more cities and introducing other Handlooms like the Maheshwari and Gadwals too. In March, we opened our boutique in Bangalore We do plan to open stores in other cities, though haven't finalized on the locations yet.
Provide some statistics on the number of clients.
We have more than 5000 online clients. Apart from those, On a monthly basis, we cater to about 200-300 clients at our stores.
Challenges and Opportunities/ Marketing Strategies
" A lot of fake products being sold as real ones to unsuspecting buyers is our biggest concern. Too many online fly-by-night sellers pop up offering Paithani sarees for rs. 2000 and fool people.We try to educate our clients about how to identify fake and real products. We are also promoting and educating through social media"
,
SaysThe Founder  Ms. Arati Baandal .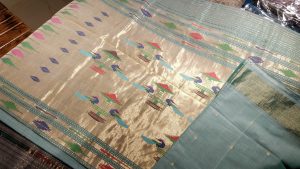 Image Credit/ Source: OnlyPaithani
 A quote from the founder on the journey, or dealing with the challenge, or any inspiring moment.
It's been a great experience, and I feel privileged to be able to witness and participate in the creation of Handlooms, which can be termed as art. To be able to work closely with the weavers and make them realize too that what they are making is nothing short of genius and getting them to step out of their comfort zone to create something new is a reward in itself. Clients from across continent calling up to let you know that you got her the Paithani which she always dreamed to get married in or calling up to say thank you for bringing so much joy to her mother and mother in law when she gifted them sarees from OnlyPaithani. Moments like these make the journey worthwhile.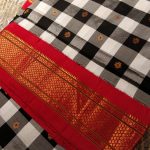 Saree was looked as a tedious garment to wear on a daily basis. This mindset is changing these days. The Paithani, a well-revived tradition is gaining popularity even among young generation. The artisans weave motifs like lotus and asawali and also weave peacocks on Paithanis. The exclusive and awesome collection of Paithani sarees has wonderful contrasting borders. Paithani sarees are a must buy for every woman.
EXCLUSIVE: Founder's advice to budding entrepreneurs
"If there is something that you believe in with all your heart, please drop everything else and follow that dream.  You need to be focused on one thing and give it you're all. Whatever you do, think of the impact on the environment. Care and value the natural resources that we take for granted. Contribute to the betterment of the society too in any way that you can,  also much cliched it may sound, there is no shortcut to success" Says Ms. Arati Baandal. 
Your website, apps and contact details
We have our boutique in Mumbai and have recently started a boutique in Bengaluru as well. More stores would definitely be in our future plans. We also sell the sarees through our website, www.OnlyPaithani.com. We also have exhibitions in different cities through the year.
Contact details: 9820516447/98337.67750