" According to a report from Zion Market Research, digital photography industry is expected to grow to $110.79 billion by the year 2021. The same study states that the Asia Pacific is expected to represent the greatest regional market growth during between 2016 and 2021. Photography services in India have grown by 42% in the last decade and its projected contribution to revenue from worldwide photography services is 379 Million US dollars (Source: Statista)".
Understandably, therefore, a number of individuals are venturing into this field. To bring in the sense of professional learning and serious implementations, an innovative concept was considered by Photoshala to unite and organize this trade. The team believes that photography is an art that connects "Humans through Humanity". Photoshala aspires to give a platform to those who are passionate about this art, want to take it up professionally or as a serious hobby, but issues like lack of finances, family support, proper understanding or ideal mentoring become a barrier in their growth.
About the Founders:
Dr. Amit Chawla is one of the first few Doctorates in Photography in India from MCRC Jamia Millia Islamia. He is also an Internationally Certified Trainer from ITC-Netherlands and an Alumni of IIM. His book titled 'Commercial Studio Photography in India' was recently released by renowned filmmaker Sh. Mahesh Bhatt.
In the years 2005, Amit stepped into the professional world after completing his post-graduation in Mass Communication from Jamia Millia Islamia, New Delhi. He found his calling in academics and his passion for photography. Thus, he blended the two and started teaching photography and video production at various prestigious universities.
How Photoshala Begun?
During his days as an academician at Amity University, Dr. Chawla realized that there are numerous popular institutes flourishing all over the country where Photography is taught within the four walls of a classroom like any other theoretical subject. He noticed that teaching within the classroom was a matter of rules, and art-forms like photography and filmmaking should not be treated like science or medical subjects. He also realized that such students face difficulty when they enter the professional world. It was then that the idea of 'Photoshala' struck him and he discussed this with his filmmaker buddy and colleague –Vishesh Azad. With a vision to give 100% practical knowledge about Photography, they conducted their first practical photography and filmmaking workshop in 2009 at Mc Leodganj, Himachal Pradesh. They received successful responses from nearly 30 participants. This was followed by more workshops in Goa and many more within NCR. They also held an exhibition and Photography seminar with Padmashree Raghu Rai Ji as the guest of honor. These were followed by many shoot requests. Though both, shoots and workshops, delivered by the duo under the brand of Photoshala received standing ovations, they were unable to make sustainable profits due to lack of financial backing and business sense. Further, being the sole bread earners of their families, they had to maintain their professional careers as well. The corporate rules and regulations restrained them from pursuing their dream project. And, thus, Photoshala took a backseat for 4 years before it was revived in March 2018.
Reviving Photoshala
With the support of Dr. Chawla's wife, Ms. Sayani Chawla, Photoshala was restructured as a registered company with defined goals, strong values, immaculate vision and more experienced team members. Apart from her and the actual founder duo, this time 'Photoshala' received support from Mr. Pulkit Garg, a highly experienced television producer, and photographer; Mrs. V K Chawla, a veteran from Doordarshan with over 36 years of experience; and Mr. Dharam Singh Azad, an independent filmmaker, and ex-member of Central Board of Film Certification.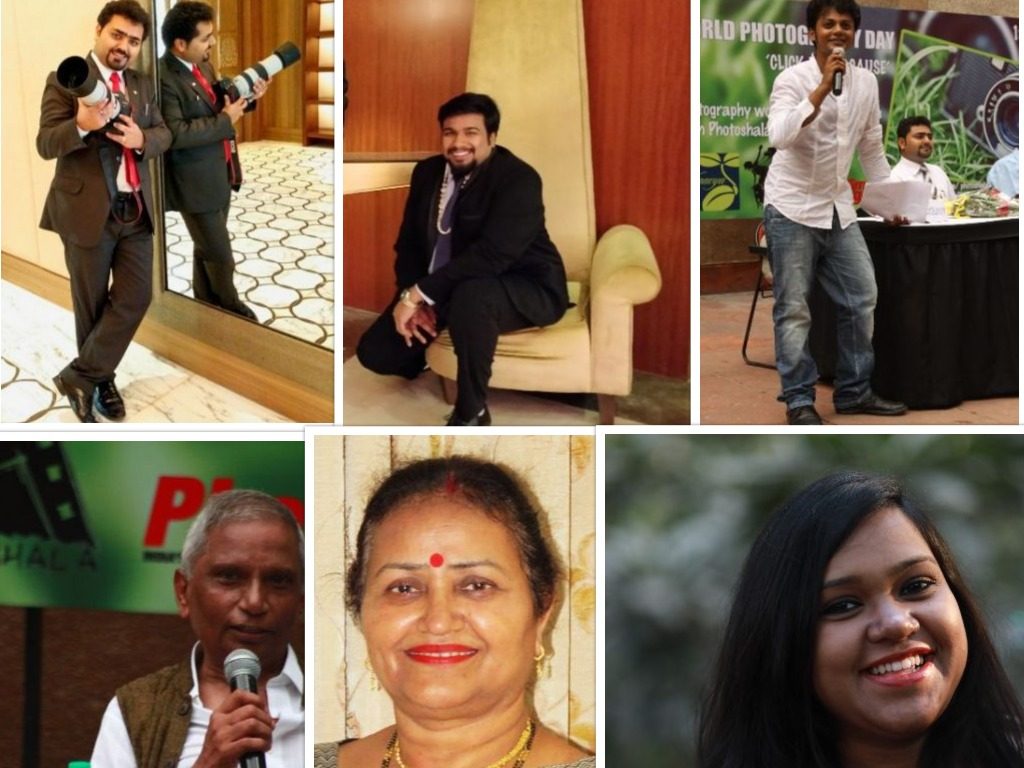 Photoshala Team From Left to Right (Mr. Amit Chawla, Mr. Pulkit Garg, Mr. Vishesh Azad, Mr. DS Azad, Mrs. VK Chawla and Ms. Sayani Chawla )
What we aim at?
Working on the dream of Dr. Chawla, PHOTOSHALA thrives to offer quality services pertaining to imaging in three verticals: Shoots, Education, & Consultancies. Photoshala's mission is to be the preferred choice for clients seeking quality services in all sectors mentioned above and beyond.
For shoots, the team focuses on providing solutions to all possible needs in both still shots and video shoots at the best quality under one umbrella.
The intense focus of Photoshala's education wing is on conducting practical classes on-location, studio, or in participatory labs. Photoshala takes imaging education not only to Schools, Colleges, Corporates, and Hobbyists but also to NGOs and underprivileged sections of society where workshops are offered at the highly subsidized or free-of-cost basis. Designing tailor-made courses to suit individual needs is a goal Team Photoshala always works on.
The challenges we have been facing
The biggest challenge any start-up faces is about making a recognition in the market. Although the concepts of "100% practical on-location training" and "Providing all photography and videography needs under one umbrella in an organized manner" are still fresh, yet convincing the mass to get out of the conventional notions is quite a challenge.
Future Plans
Photoshala

plans to build a strong self-sustaining team across all major Indian cities with students trained by their able mentors so that the culture of

Photography

can be propagated not just as a hobby of riches or as a side profession, but as a

career

option for talented candidates from all sections of the society. With a young, energetic and positive team, their ambition is to implement

Photography

as a subject at school level (K-12 education system) and bring it at per streams like Medical science or Engineering. Photoshala realizes that there are innumerable un-nurtured talents throughout the country. They look forward to seek help from the government and private sectors through various CSR activities to be able to reach these talents.
Quote from the Founder
"Photography is an art that connects Humans through Humanity" – Dr. Amit Chawla

Contact Details
As for a start-up, Photoshala has come up with a self-made website, http://photoshala.com, where you can get to know about their services, upcoming events, past events, read about the team and the company, but tickets, etc.
A highly responsive team is available on calls at +91 9560534969, e-mail [email protected], and Chats on their Facebook page https://www.facebook.com/photoshala/.