This post was most recently updated on April 29th, 2019
Ridobiko – North India's largest motorcycle rental marketplace
 When and how did we start?
RidoBiko's fate was written when the idea to rent bike penetrated Rajat's mind. In late 2015, Rajat started the concept of renting bikes making the lives of many youngsters and bike trip enthusiasts in IIT Roorkee easier. The initial process was through a mobile application and the remaining link was connected manually. Noticing the chance to do good for the society and the potential the concept had, he decided to make it big. He was in search of a team of like-minded individuals with varying skill sets, which he found in IIT Roorkee itself.
How did we come up with the idea? Our inspiration moment
Rajat completed his graduation from IIT Roorkee, Roorkee is a place near to Haridwar in Uttarakhand. Uttarakhand & Himachal are known for their natural beauty. Rajat is a riding enthusiast. During his stay in college for 4 years, He faced many problems in bike renting system like Unavailability of bikes at the end moment (Trip ruined), Quality of bikes, 24*7 unavailability of bikes. Renters were also facing some issues like security of bikes, management of inventory and customers verification. Rajat wants to create a better and efficient motorcycle rental system for other riding enthusiasts at IIT Roorkee. He tied up with Rishikesh renters and started serving students at IIT Roorkee.
Brief about organization and founding members
" At Ridobiko, we want to make transportation 24*7 available, easily accessible and simpler. We are changing the way urban India commutes, one step at a time. You will be able to rent self-drive motorcycles with us in real time as well as secure your future booking.

We are offering safest motorcycle ride to tourists, temporary people and riders in a new city so that they can travel in their own way with the feeling, like traveling in their own hometown at the cheapest price " Says Ridobiko
Benefit for motorcycle owners: We are creating a profitable business for Motorcycle Owners. Owners may be individuals or professionals (Renters). Anyone who is the owner of a motorcycle Can earn some extra money by becoming a partner with Ridobiko.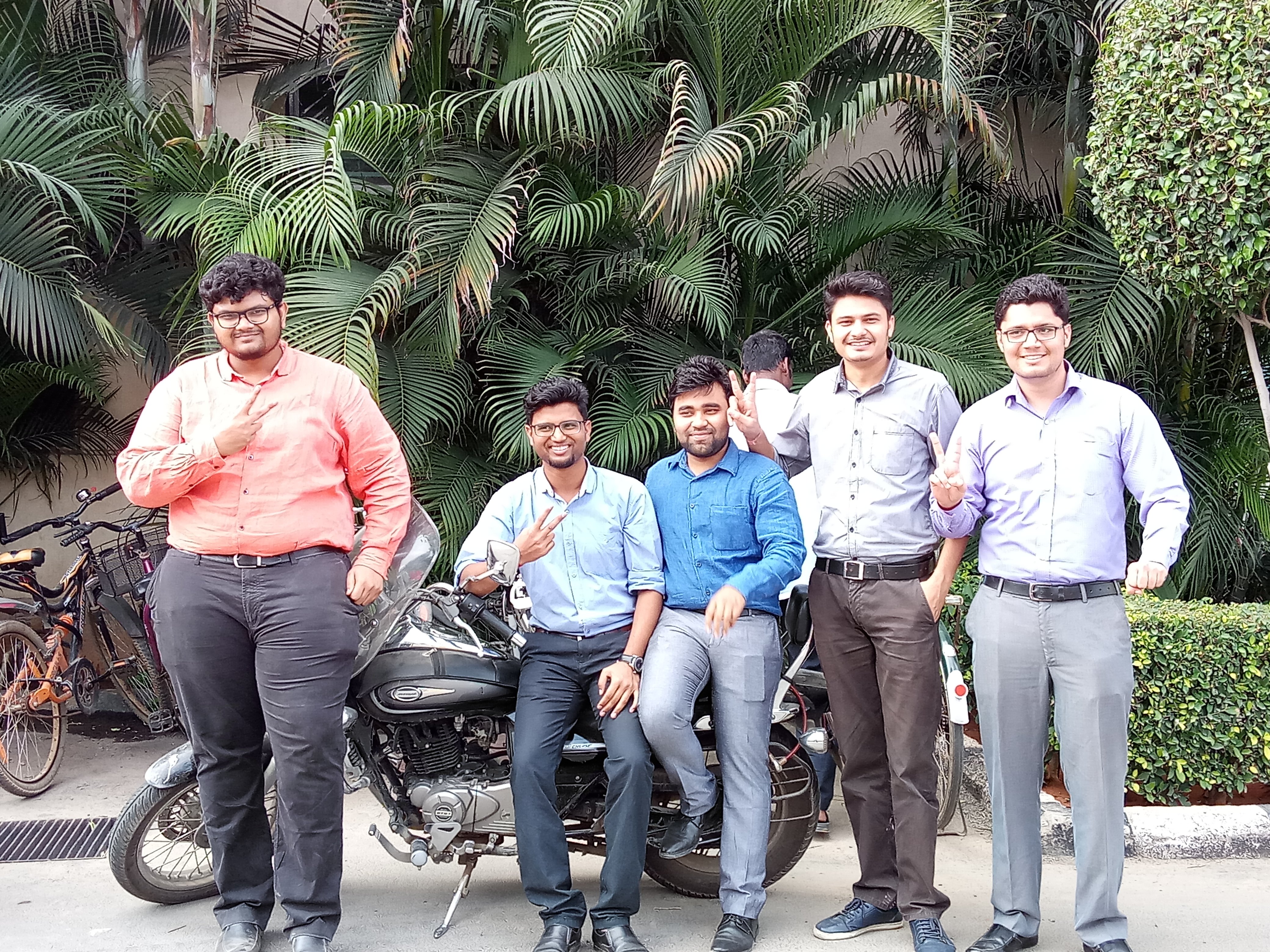 Credit/Source: Ridobiko
Founding members:
Rajat – IIT Roorkee (B.Tech)
Vishnu – IIT Roorkee (MBA)
Meghraj – IIT Roorkee (B.Tech)
Chandra – IIT Roorkee (MBA)
Sourav – IIT Roorkee (MBA)
Rajat started his journey in 2015 in rental market but after realizing its potential, growth opportunities and customer need, He wanted to make it big. He was looking for a team who can stand with him during this journey. He wanted to make a team in which every individual has his own area of expertise. He started searching like-minded individuals those believe in the idea and full filling business need. He made a team of 5 individuals.
" After building a team, we worked on market research and trying to understand customers problems and renters problems in depth. Meanwhile, we pitched Ridobiko's Business idea to an Ahmedabad based angel investor. After 4-5 weeks discussion and personal meeting, we were able to close our first round of funding for an undisclosed amount " says Rajat and Team Ridobiko Team
We launched our services on 23rd June 2017 in Delhi NCR. There was silence for next few days after launch but we were started getting a very good response from mid-July.  Customers started participating and regularly using our services. Market response fueled us. We were started expanding exponentially. Within the last six months, we have expanded our business to 24 Indian cities like Jaipur, Ahmedabad, Manali, Chandigarh, Shimla, and others.
About funding, plans for growth & future planning
Funding: We are planning to raise next round of funding from Angel investors in next few months. We are already in talks with few investors.
Plan for growth:
Ridobiko's future planning includes expanding to South and Northeast India in next 6 months.
Ridobiko is planning to launch its own fleet in Delhi soon. Ridobiko wants to make rental hassle-free for customers. We want our Riders to enjoy their rides, we will take care of the rest.
Ridobiko is planning to increase its marketing budget to gain market share and customer acquisition.
Value proposition
One tap and a bike comes directly to you
You can travel in your own way as per your needs. No need to give your steering in someone else's hands
Price lesser than existing cabs/taxis.
Minimum waiting time
Payment is completely cashless
Quote in which Rajat believe
"Dream Big and Work Hard"
I only hire PhDs. My definition of a PhD is a superstar who is poor, hungry and determined in attitude & spirit.
Advice for other budding entrepreneurs:
Learnt 2 very important things during my journey:
Learnt1: Don't wait for perfect products to enter in a market. For example, If your product has few features. Develop very first feature and deliver it to the end customer. Don't wait for all the features to get ready. Waiting for all the features to get ready will kill your important time. Delivering the first feature to the end customer will give you insights. Customer reactions can help you in making better decisions about upcoming products or features.
Learnt2: Instead of marketing your product or services by telling, how good they are. Tell customer, why they need this product/service. Make them realize that yes…they need this product right now, right here.
Stats
Ridobiko covers 24+ cities which make it accessible to almost anyone and everyone. They have over 1400+ verified bikes. Can you imagine what that means? It means this is no doubt the biggest player when it comes to renting a bike.
If you are wondering about the business partners, Ridobiko has 100+ business partners. Imagine the trust the companies have in them to earn such a huge list of business partners. They have 20,000+ bookings so far. Wow, that sounds terrific, doesn't it? It doesn't end here, Ridobiko has served 12,000+ customers so far.
We achieved 300% growth in the last quarter of 2017.
Ridobiko helped its partners (Renters) to grow their business by 150% in 2017.
The cities to rent bikes from Ridobiko are as below:
Rishikesh
Dharamshala
Chandigarh
Nainital
Manali
Jaipur
Ujjain
Shimla
Ahmedabad
Gandhinagar
Jodhpur
Jaisalmer
Mount Abu
Delhi
Hyderabad
Kolkata
Srinagar
Bhopal
Kullu
Siliguri
Gangtok
Dehradun
Roorkee
Udaipur
" The best part about Ridobiko is they have the top brand bikes like Honda Activa, Royal Enfield 350cc & 500cc, Bajaj Avenger, Suzuki Hayabusa, Honda Navi, Harley Davidson Iron 883, Ducati Hyperstrada, Hyosung 650, Yamaha KTM RC 390 and Mahindra Mojo 300 CC and more, " Says Ridobiko Team

Website: www.ridobiko.com
Facebook page: https://www.facebook.com/ridobikoIN/
Our website / apps / and contact details
Apps: https://play.google.com/store/apps/details?id=ridobiko.instabike&hl=en
Contact info:
+91 9971770131