Short films, big dreams!
My story of pursuing my passion for creating new worlds
 

When and how did you start?
" I pursued it as a hobby till mid-2017, after which I took it up as my full-time occupation. After accumulating 
a reasonable amount of money, I resigned from my job and initially joined a Vadodara based theatre group. 
It was there, where I met my current team members and co-founders of the venture"  Says the Founder
Mr. Ankur Sachdev.
How did you come up with the idea? Your inspiration moment
I developed a knack for writing in the penultimate year of my school days. I made numerous attempts to
write a novel, but my limited vocabulary was a hindrance I was not able to overcome in those days. My
moment of inspiration would be an interview of  a famous director that I saw on a music channel, in the
interview he was discussing the details of his film's script. It was then that I realized that every individual's
style of narrating a story could be different, but the most important aspect of a script is the idea behind the
story.
 Brief about the organization and founding members
Creative Tank is a sole proprietorship based in Vadodara, Gujarat. We started by making short films, but
eventually, we ventured into diverse projects such as documentaries, music videos, corporate
advertisements, educational videos, etc. Of late we have been mainly making documentaries and
promotional videos for NGOs and Vadodara based business organizations. We are a team of 3 energetic
and dynamic youngsters.
The team comprises of the following people:-
1. Ankur Sachdev– Founder and Proprietor
I helm the responsibilities of scriptwriting, direction, editing, cinematography, and also of many cores
business functions such as business development, marketing, etc.
2. S. Maninder Kaur– Co-Founder and Art Director
She handles the art department which includes set designing, graphics and preparing on-set properties.
She also contributes as a photographer, cinematographer, and make-up artist.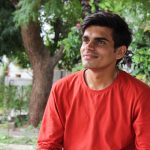 3. Sachin Popat– Co-Founder and Creative Head
He handles the creative department and also provides key inputs in writing and graphics. He has the ability
to handle multiple departments and therefore is also able to contribute by providing on-set assistance and
also courtesy his photography skills.
The detailed journey, like what all you want to share with readers
Initially, I used to write stories as my capabilities were limited. But through consistent persistence I honed
my script writing skills, thereby acquiring the ability to narrate my vision lucidly. I never went to a film
school, and hence honing my script writing skills was a huge challenge. I would do extensive research on
the internet, where I would go through scripts and analyze the vision of the scriptwriter. Courtesy reading the
scripts I gained invaluable insight regarding script writing, and then I started working on my own script as
per my convenience. The next step was to execute my script, and I gained valuable insight regarding
filmmaking by studying over a dozen short films.
" It took me 5 years to make my first short film, The Maze of Fallacy. I along with my team members 

submitted the film in the Six Sigma Film Festival, which was held in Mumbai. The film was selected for 

screening at the film festival, and we were appreciated for the film's concept. We haven't looked back since 

then and with each project that we have undertaken since then, we have sharpened our filmmaking skills. 

The biggest challenge that we had to overcome was that of financial constraints. But we didn't allow it to 

get the best of us. In order to ameliorate our financial condition, I took up a job in a Business Process 

Outsourcing firm. I took the night shift, as it allowed me to work on my projects during the daytime. I left the job 

in mid-2017 after accruing a decent amount of money " Says Ankur Sachdev. 
Throughout our pursuit, we have made a conscious decision of experimenting in some aspect of
filmmaking with every new project. We have never compromised with the music that we use in our projects,
as we have used original music in all our projects.
We have come a long way since we commenced our journey, and we now have a steady client base. Our
clients include NGO's, educational institutions and many Vadodara based businesses.
 Challenges and Opportunities/ Marketing Strategies
Our biggest challenge is to make our clients familiar with the intricacies of filmmaking. Making good films
requires patience, and many of our clients run out of patience way too quickly.
Our second challenge is to retain members of our team. We started with approximately 10 members, but
now only 3 of us remain. We contemplated about our inability to retain members and came to a conclusion
that we did not have a robust screening process before involving a new member of our team. We used to
get someone involved solely based on their interest in filmmaking, a premise that proved wrong in the long
run. Since then we have refined our process of getting new members involved in our team. Learnings from
our past mistakes have helped us, and since then we have hired an intern for our animation department
and actors for our recent productions.
Future plans and funding
By the end of 2018, we plan to broaden the scope of the creative services that we cater to our current and
potential clients.
A quote from the founder on the journey, or dealing with the challenge, or any inspiring moment.
"If you love it, then keep walking and do not give up. Life is a never-ending road with many opportunities. 
You just have to grab the right one"
EXCLUSIVE: Founder's advice to budding entrepreneurs
Pursue entrepreneurship only if you can create something which has an intrinsic value and which can help
in some way improve the well-being of other human beings. One cannot shy away from hard work, and he
or she would also need loads of patience. One would face numerous failures, and hence he or she would
need to be strong and confident. One would have to knock the doors of opportunities by himself or herself,
as no one will welcome a budding entrepreneur with open arms and a smile. One would also need a good
set of skilled team members, as no project can be executed single handily.
Your website / apps / and contact details
We have our own YouTube Channel, where we have uploaded our productions (these don't include them
productions that we have made for our clients). The link to our YouTube channel is as follows:-
https://www.youtube.com/c/CreativeTank
You can give us a phone call or drop a message through an SMS or through WhatsApp at any hour of the
day. We are at our customer's service 24×7.The phone number is as follows:-
+91 98 107 23 402