When and how did you start?
Right from the beginning of our journey, one thing was clear to us, the market scope for fitness was huge but our aim was to combine technology and fitness together, a product which can be utilized by the consumer and be part of their everyday life. Today, everybody has the urge to know their health and fitness, you can see with the rise of gyms and fitness classes. Our previous generation narrowed down fitness to healthy living but this generation has broadened the fitness horizon to yoga, dance classes, gym, marathon and much more. By interpreting the fitness market in depth, we wanted to provide consumers and fitness enthusiasts something more than a smart band or fitness tracker and that's how Soul fit was born.
 How did you come up with the idea? Your inspiration moment
We had a keen interest in wearable technology since 2015 and kept learning about it and how well it could be crafted with lightweight technology. We paid close attention to what was already in the market and what people demanded more. We undertook a series of researchers about sensors and design. Our team observed closely about the wearable tech market and what more our consumers wanted. Almost every smart band provided information on steps, heart rate; there are even health apps which provide the similar data for the users. We wanted to be more than a fitness or smart band, which can integrate into their everyday life. Our mission was to combine art and technology together. This gave way to the basic blueprint of SoulFit. 
We launched our first talk band, with on-device music and a quality Bluetooth earpiece, particularly to assist users to reach their fitness goals with a naturally enhanced product offering. The idea is to get the user to embrace technology and enjoy its wide health and fitness scope.  We also found people use their smartphones to call, listen to music and social media activities; Sonic gives you the first two activities on the go itself.
"We wanted a

smartwatch

that would unify fitness and mobile phone. We researched about human behavior and how an individual could spend more than 70 percent of their time on their mobile phones. We understood how dependent everybody was on technology," says Nikita, our CEO.
This gave us our ultimate distinctive feature. Why don't we create a smartwatch which would bring convenience even with a smartphone? What would be the output if you combine hardware of Fitbit and Apple Airport together; with this idea, the inception of Sonic took place (The First ever Talkband with Heart rate Sensor).
Our drive was coupled with the fact that majority of fitness tracking enthusiasts were interested in going for wireless headphones. It made complete sense for us to bring in our well-researched health and fitness expertise with an added opportunity of putting together a smartwatch where the user could go on an entire day with a high quality wireless sound experience.
Once we started testing the product, we received a great feedback where our potential users were awed by the product. That defined the inspiration moment for us. Nothing could stop us from going.
 

Brief about organization and founding members
Our company, Brandworks Technologies Pvt. Ltd. is a value driven company that wants to retail various cutting edge technology brands into wearable, IOT, wireless markets. Team Soulfit is working towards providing innovative wearable gadgets along with health and fitness requirements.
" The founding members include me and my husband, Ishwar Kumhar. I have completed my Bachelor's in Electronics and Telecommunication engineering and later pursued MBA from Symbiosis International Institute. I have worked in Tata Communications and later Ernst & Young for 5 years. I quit my job to start my own venture. Ishwar has been in retail, service-based business for more than 11 years" Says the Co-Founder Nikita Kumawat.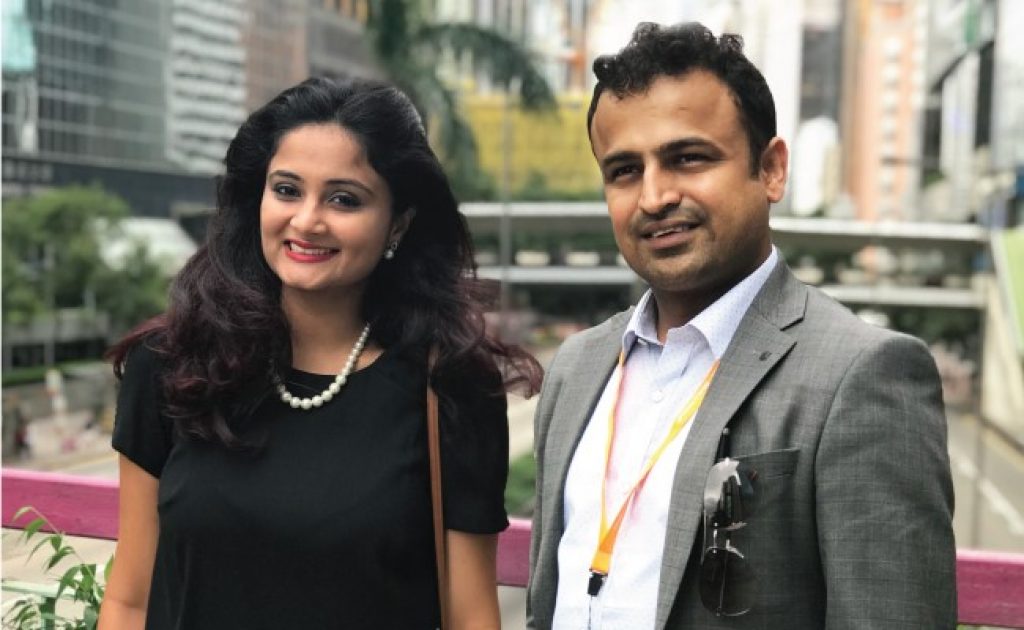 The detailed journey, like what all you want to share with readers
After rigorous R&D, we started execution on this project since a year back.  The journey started with visiting various overseas countries in Europe like Norway, Germany and Hong Kong. We learned about various sensors available in the market for precision statistics about health. We spent days and nights researching for the product design, wireless talking experience, the basic human behavior in terms of left and right ear dominance. We anticipated that the world was going to be wireless soon enough and there will be increasing demand for unified gadgets.
Our product is designed in Germany and our sensors are made in Norway. It was very important for us to understand the sensors and develop a good working relationship with our vendors. We work closely with OSRAM to ensure our technology meets each benchmark our customers set for us. Our product is manufactured in Shenzen, China. We have closely surveyed the Indian consumer market and inferred their needs.
"

SoulFit Sonic

is a health and fitness smart band offering a highly personalized experience. The focus has been to use state-of-art biosensors, OSRAM in our case, to track deeper health insights in sleep patterns, heart rate, and blood pressure monitor. The standard pedometer and GPS tracking come without saying, to analyze and improve the performance of every workout. We also put in smart features like onboard music, phone tracking, remote camera shoot and notifications on the go so that nothing is left to chance! You get a 72-hour battery life and cross-platform compatibility. The data can be synced to the H app HBAND App where users can see all their reports and stats. From our launch in January 2018, we have already sold around 600 units which only motivate us to perform better" Says Nikita 
Currently, the band is available in black. We drew our design inspiration from several sci-fi movies and technical at leisure to craft the model with a sleek and futuristic look.
About funding, plans for growth
We are a humble bootstrapped company. Since Brandworks Technologies is a group of B2B & B2C online brands, project Soulfit is self-funded by the group. When we introspect on our journey, we realize that we have chiefly focused on technology and product design. In the near future, we target every one of our products to be much more than simply an activity tracker. Our every effort will be to launch a newer product with groundbreaking features and lightweight technology. In a few years, we want our story to be titled, "From a hopeful start-up to an inspiration!" We want to ensure our product is profitable as soon as possible. Building outstanding sales funnels is our focus and secret weapon.
 Challenges and Opportunities/ Marketing Strategies
 Of course, we do have challenges; there are other brands which have been already established. We know all great companies took time to what they are now. Our challenges were to build this a product which can deliver what our consumer needed, of course, the design, the prototype was hard to create but once we knew what it could be, we tried to reach its highest quality potential and Sonic was born.
Its adaptive feature is one of its main perks, unlike other Bluetooth devices it actually adapts tour your incoming calls and disconnects with the real-time.  To create something that smart and innovative was kind of hard but it wasn't impossible and we did it. And people love our device.
"Our Marketing Strategy is to create Brand Awareness at first, later on, dive into online sales via our website, we are trying to grasp e-commerce portal too, such as Amazon and Flipkart. We have already launched on Flipkart. Within next few months, we will be launching in a multi-brand store like Croma, Reliance Digital and targeting for Corporate Kiosk. We have been talking to various corporate banks such as ICICI, Deutsche Bank and much more" Says Nikita 
A quote from the founder on the journey, or dealing with the challenge, or any inspiring moment.
 

"My personal favorite quote is "Let our plans be dark and as impenetrable as night, and when you move fall like a thunderbolt". We want Soul fit to be like Thunderbolt"  Says The Nikita
 

Provide some statistics like revenue or clients acquisitions
So if you look at the history of the wearable market, it recorded a CAGR of over 140% during 2013-2017.Even though the market has grown by 140%, still the predicted growth by 2021 is around 70% Talking about Sonic V08, we have been smartly positioning ourselves as a niche smart band or a smartwatch. The website traffic and social media response have been amazing. The only soulfit.io has drawn traffic of more than a lakh of which 38% percent are re-visiting users. In the 1st month, we have rightly focused on our target audience and sold about 600 unit pieces. The plan for next 3 months is reaching all the tier-1 cities and doubling the sales figure and making people aware of the product and help them digest the woah feature of the Talkband HR. Looking at sales we project 50 units a day.
Founder's advice to budding entrepreneurs
"I am a fan of The Fountainhead by Ayn Rand, anyone who wants to pursue their career or startup journey should read that book. For budding entrepreneurs, I would like to advise them, read a lot of good books.
Believe in yourself; believe in your dreams and your plans. Try to make it work. Adapt, change according to given situation. Never give up on your venture and on yourself too " Says Nikita Kumawat

Your website / apps / and contact details
 Email id :  hello@soulfit.io
                                                                               Contact Us : 96999 64321.