This post was most recently updated on July 12th, 2019
 When and how did you start?
" We launched first range of JURU mats in 2014. I was teaching part-time as a yoga teacher in Bangalore and found myself struggling with my mat and this leads to some research in what goes into making some of the best and preferred yoga mats by popular yoga schools and teachers. Interestingly, all the popular brands were from the USA. Around this time, the make-in-India wave had caught up and motivated me to speak to local manufacturers and brainstorm ideas of how we can make something similar, here in India
It is then when I realized that majority of the mats available in India and across the world are made of PVC – the environmental bodies are calling it one of the most toxic plastic. These mats tend to have a short life-span, they begin to flake, smell, and become really slippery which is highly risky for a practice like yoga where much emphasis is given on balance and alignment. Also, PVC can cause damage to the liver, reproductive system, central nervous system and respiratory system. Phthalates and toxic metals are used to make mats sticky and durable. Both can seep in with mat use and cause cancer. Moreover, yoga is all about improving breathing capacity for good health and close contact with a PVC mat is likely to harm the body (not benefit)
Thus we were inspired to make a mat that reflects the yogic principles, that of peace and harmony by being 100% natural and also make it in the birthplace of yoga, India. We had started with matover – now called JURU travel and meditation mat, made of jute and natural rubber
My first business partner (also a part-time yoga teacher) and I started testing the mats and got a few yogis to try the same and give their feedback. We were pleased with the mat-over's performance and started using it in our classes. Our students started to inquire. We began selling. And that's how it all started", Says the Co-Founder Ms. Puja Borker.
How did you come up with the idea? Your inspiration moment
Our first sample was a matover – now called JURU travel and meditation mat, made of Jute and natural Rubber. It is light, foldable, reversible with two unique surfaces and is ideal as a mat-overlay or by itself as a travel mat on any soft natural surface like sand or garden. It wasn't exactly a thick yoga mat, but it was a perfect solution for avoiding contact with your slippery yoga mat made of PVC. I thought the name (JURU ) reflects all that we wanted the mat to be, apart from being a portmanteau of Jute and Rubber, both indigenous resources of India, the word also meant 'joy and happiness' in other native languages. So that's how we came up with the idea of calling ourselves JURU Yoga. We started sharing more info on our page, about the harmful effects of a PVC mat, explaining how much of a difference a natural matover can make. We then started collecting customer feedback and were pleased to know that quite a few of them appreciated that we were a made-in-India brand and that as yogis we really understood there struggle with a regular mat and were committed to giving them a natural alternative.
The announcement of International Yoga Day by Prime Minister Narendra Modi inspired more people to take up yoga and also shifted the focus of yoga's origin/roots back to India. We started receiving requests from existing customers for props and yoga mats and also international inquiries. We sourced a few more manufacturers and that is how one thing leads to another.
 Brief about the organization and founding members
The inspiration behind establishing JURU Yoga – a first of its kind yoga brand from India, was to make the best yoga mats in the country where Yoga finds its roots and to ensure that all the products that are made to aid one's practice, reflect and value the peaceful principles that yoga embodies; one of which is to establish perfect harmony with nature.
Yoga is from India and our goal is to be a Global Yoga brand from India!
We are a part of the Startup India initiative, being recognized by DIPP we have grown in the last 18 months. Our products have been well received by the community we target and we are looking at growing our international distribution channel.
One of our important growth hack at JURU Yoga is to make products for our customers, listen to them and solve their problem, that has been our only growth hack till date and its working great! We had started with one product, a JURU Matover and now have over 6 different kinds of yoga mats and the whole range of yoga props.
"For the first one and half years, we were mainly selling it directly to
yogis and studios
and taking orders on Facebook. We were purely a bootstrapped business model. There was a noticeable increase in inquiries (geography and number wise) post-Jan 2015 but we were not prepared to put in any extra funds or cater to all requests (competitive shipping rates, online payments, customization, etc). My first business partner was also planning to relocate (internationally) and we were not sure how we could close/transfer operations. That is when my husband and current co-founder Sudarshan Borker suggested that we should continue without worrying about immediate returns or investments and just focus on sales. Sudarshan and I decided to move back to Chennai and register a private limited company and
JURU Yoga
was registered in November 2016″, Says  Puja Borker. 
About Founders: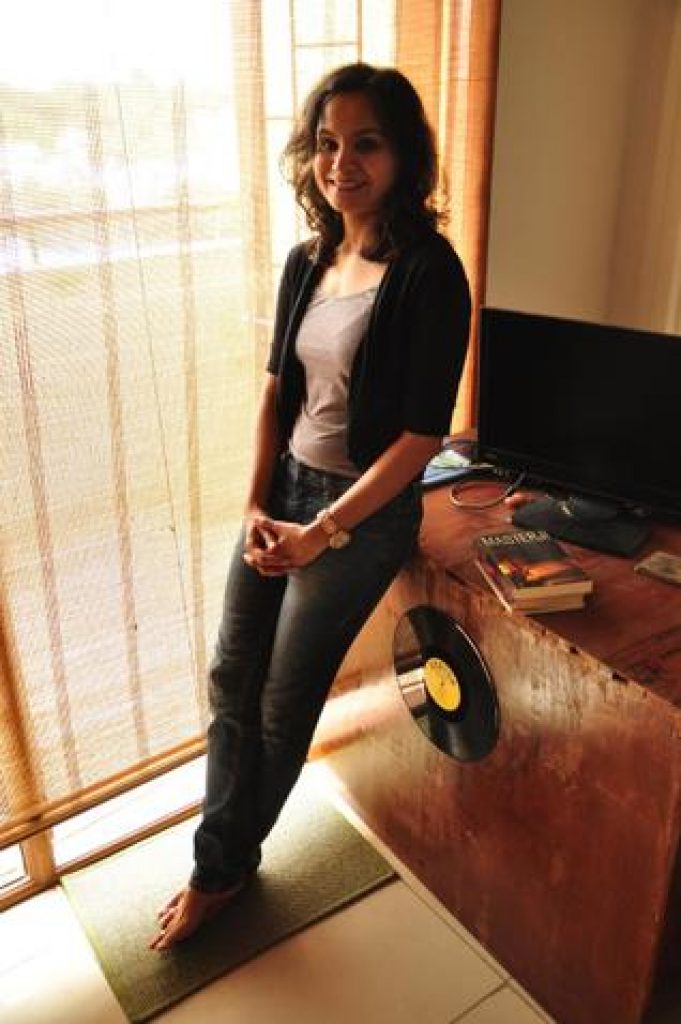 Image Credit/ Source: Puja Borker (Co-Founder JURU Yoga)
Puja Broker – I am a certified yoga teacher and a published writer. I have spent close to 8 years working for my family business (textbook publishing).On moving to Bangalore I started teaching Yoga part-time and also worked part-time as a content writer.
Image Credit/ Source: Sudarshan Borker (Co-Founder JURU Yoga)
Sudarshan brings with him 14 years of marketing and start-up experience and has worked extensively in making JURU a truly global brand.
We had started with matover – now called JURU travel and meditation mat, made of jute and natural rubber. It is light, foldable, reversible with two unique surfaces and is ideal as a mat-overlay or by itself as a travel mat on any soft natural surface like sand or garden. For those looking at investing in a durable and high-performance yoga mat, we have 5 kinds of cork mats to choose from, and the best part is, all come with the same advantages mentioned above. We have a perfect mat for every yogi. Main features of our mats are – excellent grip, reversible, odorless, comes with an antimicrobial surface ( a self-cleaning surface – which is one of the main highlights as you really do not have to worry about bacteria/allergies/infections), it is dust repellent and 100% natural – making it the ideal mat for yoga – where much emphasis is given to breathing. We also have a limited edition printed mat range where we have specially printed mats like chakra mats and 8 limbs of a yoga mat.
Apart from yoga mats, we have a whole range of eco-friendly yoga props like knee pillow, eye pillow, rectangular and cylindrical bolsters, yoga mat bags, sandbag, cork blocks, yoga belts, blankets, etc. We work closely with the yoga community and continue to grow and innovate based on the feedback we receive. Our unique prop – headstand pillow (first of its kind) has gained popularity in the international yoga community. We are planning to launch a few more unique accessories in yoga and wellness category.
JURU Yoga's biggest strength is its network of yogis and understanding their needs is made possible by reaching out to them offline and online. We share a lot of info on our social media page about benefits of using natural mats and harmful effects of toxic mats. We also create awareness about the harmful effects of plastic, about sea pollution and air pollution and encourage our customer to choose an eco-friendly and green lifestyle. We also run an exclusive teacher influencer program for yoga teachers who believe in sustainability and encourage their followers to go green. We feature inspirational stories of such these influencers on our blog – story-of-a-yogi.
 

About funding, plans on growth
We are a bootstrapped and sustainable business and are actively meeting and talking to potential investors.
 

Challenges and Opportunities/ Marketing Strategies
Now, as a Pvt Ltd, The biggest challenge we faced during expansion was to find the right logistic and digital marketing partner. We wanted to ensure our monthly sales do not drop. With growing online presence, we had to ensure we continue to innovate and have something new for existing users and keep them engaged. Sudarshan took a decision to continue to sustain and expand as a boot-strapped model. When we got our first export order last year, things had begun to move at a faster pace since then.
Learning from our previous mistakes, we did not wait too long to stop something we were not happy about or launch something new we were 100% sure of. We experimented with a few digital agencies but realized we understand our market the best. We shifted to our own office space at the right time and continue to work with freelancers and Interns.
We have not just managed to maintain but have considerably grown our monthly sales and draw more traffic directly to our site. We have also started catering to international e-commerce sales and have tied up with logistic aggregators to offer better services. We got our DIPP recognition and were thrilled to get the certificate under the StartupIndia initiative. We continue to place JURU as the global yoga brand that will rise from India!
 

Future plans and funding
We see ourselves as a leading global yoga brand from India with a majority market share of the international yoga market, which is currently valued at around the US $80billion. We are working on growing a strong distribution network, build effective branding and marketing channels and also offer a customer-centric e-commerce experience.
A quote from the founder on the journey, or dealing with the challenge, or any inspiring moment.
Every failure and every success is a lesson and not your final destination. Learn and move on. Also, it is important to remember that you do not have to do it alone. Working with like-minded people will help you reach your

goal

fast and also make your
journey
fun and memorable.
 Product photos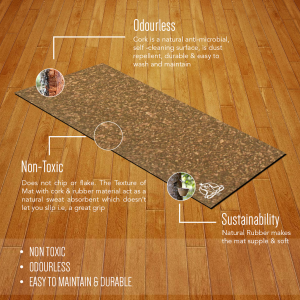 Image Credit/ Source: JURU Yoga
 

EXCLUSIVE: Advice to budding entrepreneurs
Focus on generating revenues and identify the right channels in the 1st 2 years. New opportunities will come with your startup reputation for service and support.
Also, it is important to have a long-term well thought planned goal.
Provide some statistics like revenues or  clients acquisitions
FY 17 revenues: 44 lakhs
Competing with two global brands like Jade Yoga and Manduka.
5000 JURU mats users globally.
Amazon Launch Pad Startup.
DIPP recognized
ISO 9005:2015
Your website / apps / and contact details
JURU Yoga Pvt Ltd, New #5 (old # 3/1) TTK Road 1st Cross Street, Alwarpet, Chennai 600 018.
Co-founder – Sudarshan Borker, [email protected]