" We incorporated Calotropis Software Solutions in October 2016. The idea was much older though. The founders of Calotropis started the entrepreneurial journey way back in 2014 during college with an e-commerce grocery delivery website GoGroc.in. It was a failure though, and myself, Abinandhanan worked as an incubation trainee at Zoho corp for a month as an IOS developer. After that, I (Abinandhanan) started Edge Solutions, a partnership firm for developing web and mobile applications. Co-founder Dinesh Worked in Seehash and then Techaffinity as a sales guru, sharpening his skills at selling stuff. We always wanted to lead the innovation in the technological sphere. I was a tech guy, always researching and building stuff, and he was more into selling. So in October of 2016, Calotropis was born, Says Mr. Abinandhanan The Founder of Calotropis Software Solutions. 
 I have authored a paper on a new algorithm, Modified Component Analysis which gave birth to a new form of facial recognition by eliminating the flaws of traditional machine learning employed in it. We have been involved in Research and development ever since in the area of Augmented Reality and thus
Stellar
, our augmented reality head-wear was concocted. We are the first ever company in India to come up with such an efficient prototype for augmented reality. We know that competing with Magic leap, Oculus by Facebook and Apple is tough, but we believe our quality and efficiency in technology will drive us forward.
Image Credit/ Source: Abinandhanan (Founder: Calotropis )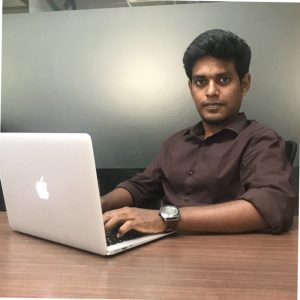 Image Credit/ Source: Dinesh Sridhar (Co-Founder: Calotropis )
Calotropis Gigantea is a native Indian flowering plant, which has a unique seed dispersal which we relate with the way we work and grow, thus inspiring us to name our company after that. Our ideology is that if we have the capacity to pull forward the technological evolution, then we must. This ideology brought together a wonderful team which shares our passion and dream to change the world.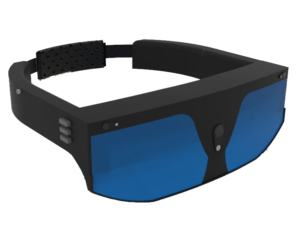 Image: STELLAR – Product concept
STELLAR
is to be officially launched by the third week of August, post which we will be deciding on our investment plans. We have always been a
bootstrapped
business, but we think we have to give in to growth as the company demands from us. Our plans for software are to expand our ERP range which is specific for Logistics, Couriers and freight services. We have a platter of software products catering to specific industries in the medium-sized business segment which includes but is not limited to Couriers, Logistics, Schools, Clubs and Manufacturing Companies.
Our clients are both local and international in the software segment. Some of them being Venus Electronics, Sahara express couriers, HCL learning, Parambriym, Rosoda, Cake park, Swado, Googolplex Tech, Makkal Sakthi, Naalaya Thalaimurai
Our future plans include researching and innovating in the areas of machine learning and augmented reality in a way it will change the perspective on how the digital world is perceived.
"There have been numerous challenges, which we are grateful for. They all have been lessons on how things can go wrong. The only important things are having a purpose larger than yourself and that we do not give up." – Abinandhanan, Founder/CEO
Co-founder/COO Dinesh's quote "Fear is the only thing that stops you from making your fantasy real. Eliminate your fear, step out of your comfort zone."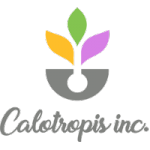 </div