When and how did you start?
" Starting off a new venture especially when you have no previous experience, is difficult. And it requires an idea and detailed planning. However, I wanted to start a company from the very beginning. So, getting the idea was fairly simple however the difficult part was to build a team, says Mr. Kundan Shahi Founder and CEO of advok8.in. 
How did you come up with the idea? Your inspiration moment
It is a myth that every successful person simply brainstorms random ideas until they have a magical "Aha!" moment. You can analyze different types of businesses and first decide which interests you the most. You cannot only think about earning potential when you do this. Which industry/business type do you SEE YOURSELF fitting in. What interests you about this industry/business type. In this digital world full of ideas, copycats, and opportunity, it all comes down to who can execute the best. Being first to market might not even be as important as you may think.
Brief about the organization and founding members
We are a tech company, trying to simplify the legal journey of Indians. We help you with Third Party litigation funding which enables you to transfer your legal cost to a third party. We have our SaaS service, which gives you freedom from manual tracking of your court case. Imagine, you can track your food delivery, so why can't the case status. We are four founding members, and all are from different background and complement each other. Himanshu Kesari is a software engineer, who heads technology at advok8.in, Mahendra Singh heads operation and Asif Iqbal is our legal head. All cofounders have an average 6 years working experience in their sector.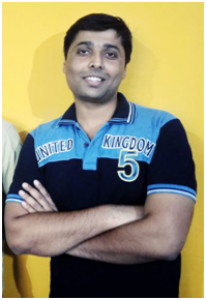 Image Credit/ Source: Kundan Shahi 
Founder and CEO of advok8.in. 
The detailed journey, like what all you want to share with readers.
" I am a first-time entrepreneur, I faced the same challenges as every first timer probably goes through. Its been 3 years since we started, we bootstrapped the company and invested our own money. Our initial product failed big time and we could not generate revenue at all for approx. 2 years. We had to pivot ourselves. We learned from it and changed strategy and altered the products based on the actual requirement as, what fits in the current Indian market, Says Kundan Shahi.
We kept ourselves very lean, we did not take office or spent heavily on branding/marketing, we kept cost negligible, tried doing maximum things which could be done by 4 of them Our Core initiative is we have learnt from our failure. We also realized that a startup should solve a real problem which actually exists not the one which is being done in US/UK and are successful. Identifying good team members is also very important. We focus on the right resource in the right place;
About funding, plans for growth
We have received angel round and in a discussion with VC firms for raising next round of funding. We are growing 300% MoM.
Challenges and Opportunities/ Marketing Strategies
Legal tech is still in its nascent age, it is bound to disrupt however copy-paste model will not work. It is more about awareness than incentive-based customer acquisition.
Our product litigation funding is helping Corporates/Individual litigants to transfer their risks. We invite individual investors to invest in the verified legal claim, with moderate investment cycle which typically matures within 2-4 years, shorter than any other asset class. The average funding size of a case is approx. 5 lakhs and the minimum funding amount of a case is Rs.10, 000. The value of the claims varies from 1 crore to 4 crores. advok8.in has opened a different asset class for investment in India. alternative. The return on this investment is in an average of 150% to 200 %. These Legal claims are uncorrelated to broader capital markets and macroeconomic factors.
Future plans and funding
We want to make India a favorite destination for alternative dispute resolution center. We have been working on to start legal insurance in India. We have categorized our plan in phases, short to long-term. For instances, Case tracking is a short-term plan, through this product we help litigants and lawyers to have the access to of their case details hassle free and timely. The medium-term plan, in the next five to 10 years, is to make advok8 a company which actually becomes a synonym of access to justice. A long-term plan, in next 10 to 20 years is that they want to develop a mechanism which will detect and prevent litigation in India. They believe that advok8's products will add value to a much wider audience.
EXCLUSIVE: Founder's advice to budding entrepreneurs
Persistence is the key. As they say, not taking risk is the biggest risk. starting up is fascinating but it's brutal too. Please be ready for multiple near-death moments, develop the thick skin, it will help. Embrace failures.
Your website/apps / and contact details:
You may visit us at www.advok8.in.
Our app is available on iOS and google play store.
More than 10000 lawyers have registered on our platform.
Thousands of litigants are using our case tracking features.