When and how did you start?
Written From as you see it today officially started in December of 2017, after months of preparation and business planning. We knew we were about to embark on this big journey, traveling halfway across the world, and wanted to share not only our experiences but create a community of travelers who were excited to share their stories, their experiences, their tips and recommendations and their cultures.
How did you come up with the idea? Your inspiration moment
The founding ideas Written From were cultivated throughout 2017 and were the evolution of a pre-existing blog by the same name. Every piece of content to be published was intended to be personal, we wanted to overcome the cold indifference of the screen and force not only our writers to be personal, but encourage the readers to take a moment and think about the humanness of every published work on Written From. With that thought, we decided to ensure every piece included a unique Written From…[location] signature.
This format and way of engaging with travel writing, photography, and videography was born of a feeling that the personal aspect of travel, the real human experience, is sometimes regrettably overlooked in mainstream travel media. We wanted people to make a connection with the creator of the work.
 Brief about the organization and founding members
Written From is a travel and culture platform "founded on a belief that an access to travel, cross-cultural exploration, and the sharing of experiences, are amongst the most important conditions for human growth and understand." (https://writtenfrom.com/manifesto) We believe that these experiences should be accessible to all, and to experience all of these things shouldn't be restricted by knowledge, experience or material wealth. We can travel in two senses, physical travel, and through the imagination by reading, viewing images, and taking in stories of others from around the world with an open mind and a willingness to learn. We bring the world to our audience.                   At Written From, someone is writing to you from the other side of your world.
The founding members are Luis Carrillo Coello and Megan Jessica. They both share a passion for travel and look beyond the new age, "the perfect Instagram picture", vain notions of travel. Visiting new countries to learn about cultures, peoples, and ways of life is something that fascinates the pair, and they believe in documenting these experiences with both writing and imagery so that they can go on to share their stories and encourage others to get out there and explore.
 
Written From is still very much in its infancy, so we are definitely still working things out. From an idea that came to us whilst walking along The River Thames, to a fully developed website, with regular contributors; we've already learned many important lessons. No great idea fully forms overnight. Revisions and planning will take your project from a one-line idea to full company manifesto and allow you to work out what you really want from your project. We've learned that steady increase in growth is better than a one-hit wonder, you want to create loyal followers/readers who are eagerly awaiting your next article or release. Knowing how you want to run your business and what inspires and drives you is two-fold. For that reason, we are currently running Written From mobility from our van traveling around Australia.
 About funding, plans for growth
We have many plans for Written From, but the immediate future plan is to continue building a community of travelers who are excited and passionate to share their personal stories and recommendations. We are constantly looking to grow our team of contributors. We also want to start finding travel companies, with who we can work, who also share our vision of making travel accessible to all.
 Challenges and Opportunities/ Marketing Strategies
In a world where social media is so noisy, and the follow to unfollow culture is stronger than ever, sometimes it feels like a mounting challenge to reach out and engage with people who are genuinely interested in you and your product. We have learned what we want to spend our time on – personally reaching out to travellers that we feel a connection with, guest posting and interviewing for online publications who really want to take an interest in our product, and creating solid content for Written From that bring our readers back – and what we don't feel to be beneficial or productive for the growth of Written From.
" We try and use a number of different of different marketing strategies, but we feel being personable, not acting like robots behind a screen, works best for us. Don't be afraid to talk to lots of people in your niche "
 

Future plans and funding
Further down the road we hope to expand Written From and it's permanent team, and work with multiple organizations to create opportunities that give people the chance to experience travel.  
A quote from the founder on the journey, or dealing with the challenge, or any inspiring moment
"Sometimes we need to take a step back from the mainstream media or most popular accounts in our niche and look inwards. Sometimes we need to stay true to our paths, remind ourselves why we embark on our journeys and what our journeys mean to us" Says the Founding Team. 
EXCLUSIVE: Founder's advice to budding entrepreneurs
Some people won't get it. It's that simple. Some people will think you're mad for going out on your own and building a life that rejects "the norm". But you need to silence those people in your mind and keep striving forward. Not everything is going to work the first time. You will fall. But a defeat is only a defeat when you accept it. It's those who keep getting up and trying who will succeed. So keep at it, encourage your fellow entrepreneurs and in turn be inspired by them, and let go of your frustrations when you come across people who don't understand you and your chosen path.
 

Provide some statistics like revenues or clients acquisitions
Social Media reach: 2140 people
Number of authors on Written From 7
Number of contributions:  26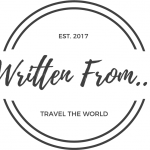 Your website / apps / and contact details
Website: https://writtenfrom.com
Facebook Page: https://facebook.com/writtenfrom
To contribute a story: [email protected]
For businesses looking to work with us: [email protected]