31 March 2023, Bangalore, India
Authorities in the state have reported more than 3000 active COVID cases. Maharashtra is witnessing a rise in COVID cases in the last few weeks. The number of cases reported as of now is 694. It is a massive jump in the daily COVID case counts. It is almost a 68% jump from Wednesday's 483 case counts. Though no deaths have been reported so far today, it is still a growing issue among the people of Maharashtra.
The last time the state reported such high numbers of COVID cases was in October last year. The case count was as high as 972 cases. Mumbai, Pune, Thane, Raigad, Nashik, and Sangli districts have contributed to the rise in COVID cases. A few weeks ago, the positivity rate was set at 1.05 percent, but in a span of a few days, from 22 March to 28 March, the positivity rate has risen to 6.15 percent. As an immediate course of action, the government has urged its people not to go to crowded places and has asked them to start the use of face masks to stop the spread of infection.
The Union Health Ministry has given updates on the latest data on the situation of COVID in the country, and they have reported more than 3000 fresh COVID active cases in the country. It is a big blow to the country as it is the highest amount of cases in more than six months since we saw a number like that. The active cases have now reached a high of 13509 COVID cases.
There are reports surfacing from other parts of the country, too, about the spread of COVID cases rising. Amidst this new wave of COVID cases, three deaths have been reported in Mumbai and 2 in Delhi. Other states who have joined hands in a rapid increase of COVID cases are Gujarat, Kerala, Karnataka, and Tamil Nadu. Official statements have reported that the country is witnessing a rise in COVID cases by more than 10 times in the previous six weeks.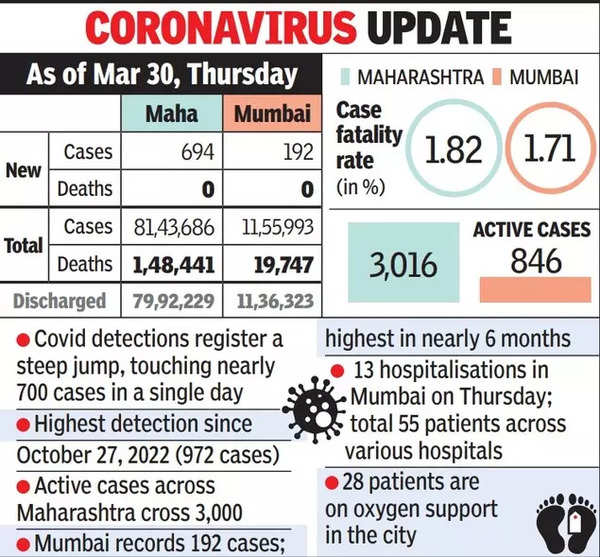 The government and other regulatory authorities have shown their concern by asking people to follow guidelines to avoid getting trapped by the virus.
As responsible citizens, it is our duty to finally understand the threat has not completely gone away, and we must be cautious and take necessary precautions. We should wear our masks whenever we go out, avoid getting in crowded places like public transport places and different eateries, and maintain our hygiene. One thing we can always do is trust the doctors who are available for us instead of sorting out our problems on our own. A simple cold and flu may point toward the possibility of having the deadly virus. Hence, taking precautions is the best solution to this problem. People who have not taken their vaccines yet should take them as soon as they can.
Sources- NDTV, Times of India