20 April 2023, Bengaluru, India
EdgeQ Inc., a startup in Silicon Valley developing 5G chips, announced on Wednesday that it had raised $75 million in investment to increase manufacturing as it began marketing its technology to clients, including telecom operators.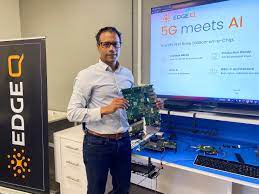 Jim Anderson, the CEO of Lattice Semiconductor Corp., was also disclosed as joining the board of directors of EdgeQ.
EdgeQ manufactures semiconductors for 5G access points and base stations that can be used inside buildings like factories to power robotics and autonomous vehicles.
"WiFi is considered best effort, meaning it isn't guaranteed," said Ravuri. "If it's a precise welding machine and it needs to move exactly this much, that has to happen within a microsecond or a millisecond, and you can't do that in a best effort way."
Despite the fact that funding has dried up for many firms since the collapse of Silicon Valley Bank and the subsequent fluctuations in the banking sector in March, the fundraising demonstrates that businesses seen as promising by investors are still able to obtain finance.
According to Ravuri, EdgeQ is valued at "hundreds of millions of dollars" and that figure is "definitely less than" $1 billion. The recent development called RISC-V has made it possible to design the chips in a more efficient and cost effective way and it has help them to reduce the base station cost by 50%, he added.
EdgeQ, founded in 2018, develops products based on OpenRAN, an open standards organisation that permits operators to use a variety of radio network suppliers. EdgeQ is emerging as a rival to companies like Ericsson, Huawei, and Nokia, which control the global telecom equipment market with their proprietary technologies.
Source: The Economic Times