This post was most recently updated on November 24th, 2022
Introduction:
Our homes are a beautiful representation of our style, and we all love to update them as per the trend. A coffee table is an apt addition to any living room Types of Coffee Tables create a stylish look to the entire room and provide convenient support for magazines, and decorative beverages. Unfortunately, there are various coffee tables available in the market.
Trunk Coffee Tables: These are usually rectangular, but you can find them in different shapes. The traditional suitcase trunk like a lidded top is the defining feature of this coffee table.
Lift top Coffee Table: The portable tabletop that can be raised from cocktail to dining table height is the main feature of the moveable lift top coffee table. You can lower the size to the coffee table height when not in use.
Upholstered Coffee Table: You can consider an upholstered coffee table if you want to minimize the risk of your child's head getting bumped against hard edges.

Why Do You Need Coffee Tables:
After seating, the coffee table is an essential piece of furniture in the living room because it helps hold many necessities like reading material, remotes, etc. So, choosing the right coffee table as per your space, needs, and style requirements is necessary.
Modern Coffee Tables Available In India:
Deck Up Dusun Coffee Table:

This Deck Up dun sun coffee table is a contemporary wooden table made of engineered wood with laminate and has a beautiful dark wenge finish. Although the design looks quite simple, it can be a great addition to your house. In addition, it comes with easy DIY assembly instructions because the product requires basic assembly.
Priti Golden Dreamer Morgan Iron Wooden Coffee Side End Table:
Priti round coffee table is an elegant solution to your table problems without occupying too much space. It offers sturdiness with the metal legs, and the tabletop cannot be easily damaged because it is made with durable and lightweight MDF material. In addition, it mixes well with the furniture in your living room with its unique color scheme.
Klaxon S Shape Engineered Wood Coffee Table:
This S-shaped coffee table can be a perfect representation of your style and personal taste elegantly. It is an easy-to-install and multi-utility coffee table with racks that help you organize everyday items like books and newspapers. It comes with assembly instructions because this product requires basic assembly from your side.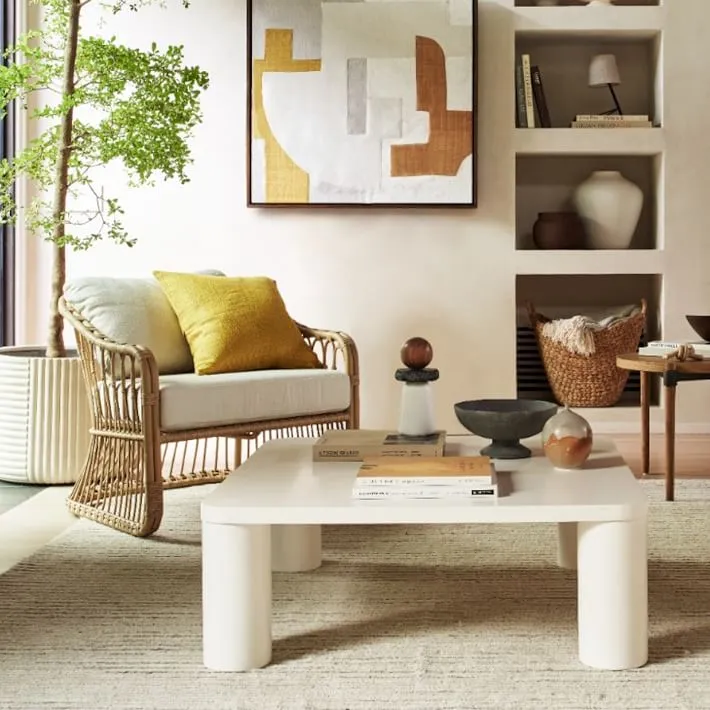 Simran Handicrafts Generic Indiana Bowed Round Coffee Table:
This bowed round coffee table from Simran handicrafts is a unique and stylish-looking table that can blend right into your interiors. The unique feature of this table is that it occupies very little space yet gives your beautiful home vibes. Made with rosewood and metal, this coffee table is durable and lasts long.
Vudy Round Coffee Table with Tripod Legs:
If you are a fan of small coffee tables, the Vudy round coffee table with tripod legs can be an excellent option. It is easy to assemble and can be used in multiple ways. It is a versatile piece of furniture that gives your house a modern look, and you can place a potted plant, photographs, cellphone, candles, etc.
Home Centre Finn MDF High Gloss Two-Tiered Coffee Table: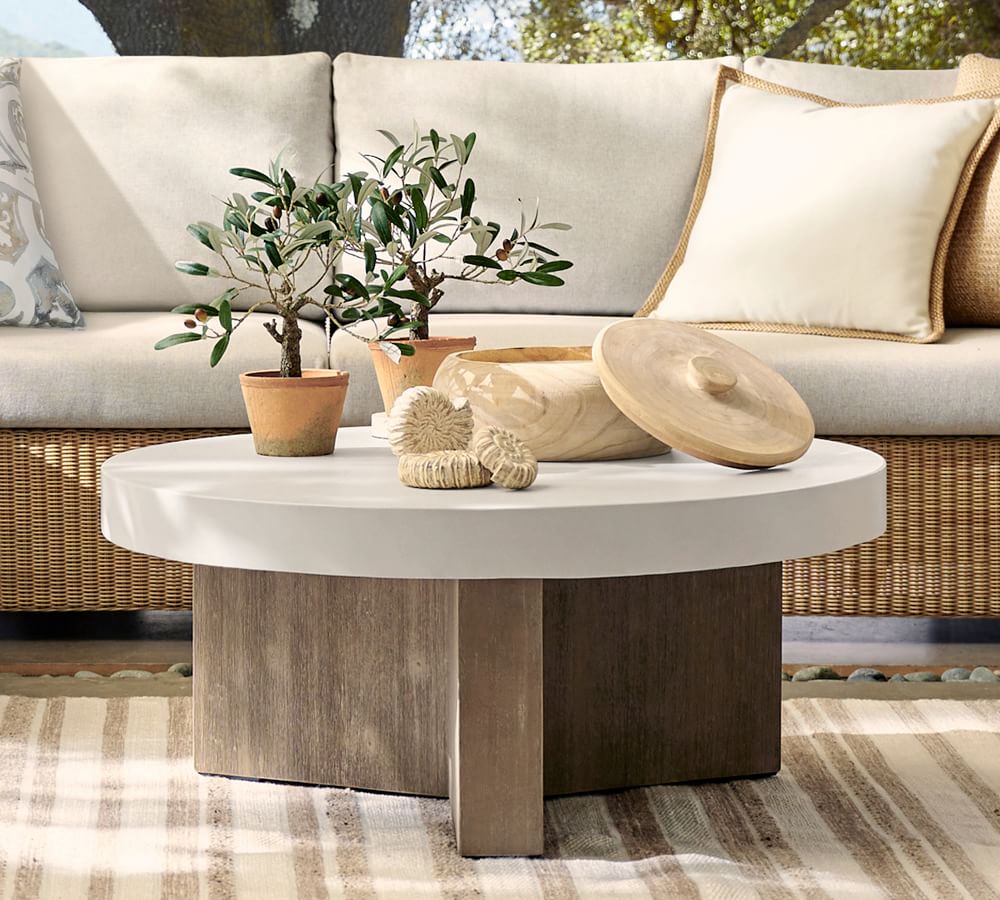 If you are looking for a modern glass coffee table for your home, this product from the Home center is a perfect option. The two-tires frame ensures that you have a good time and the compact design has an appealing finish. In addition, it has an added storage facility and a stand-out appearance.
Prima 5008 Center Trolley Coffee Table:
If you are looking for a coffee table that occupies little space and doesn't require too much effort, this Prima coffee table is an excellent solution. The additional advantage of the product is that it has wheels that make the moving of this product much more accessible. This product goes through rigorous testing and is safe and non-toxic.

Area Furnitures Teak (Tectona grandis) Coffee Table:
This Indiskie marble coffee table blends beautifully with your existing furnishings and provides a convenient surface for your evening tea or coffee. It is a reliable and long-lasting product that complements your personality and décor styles. By simply adding this coffee table, you can embellish the existing look significantly.
Solimo Acamar Solid Sheesham Wood Coffee Table with 4 Stools:
If you are looking for a coffee table with stools, this product from the brand Solimo is an exceptional addition to your home. The safety of this product is enhanced further because it is free from burrs and sharp edges. Since the product comes pre-assembled, you do have to worry about assembling the product. The stools that come with this table are an added benefit.
FAQs about Types of Coffee Tables:
What type of coffee table should I choose if I have kids?
Choose a coffee table with no sharp edges and isn't made of glass if you are looking for a kid-friendly coffee table. A glass top can be dangerous because kids might break them.
What are the materials to look for when you are buying a coffee table?
When buying a coffee table, look for materials that look beautiful in your house's interiors. There are several options such as wood, glass, marble, and travertine.
How can I choose a coffee table for my house?
One must remember that the coffee table has to be a bit lower or the same height as your sofa. It can also serve as art by using a pop of color if the room is neutral.
What are coffee tables called?
Today, coffee tables (also called cocktail tables) still share the same location in the living room in front of the sofa. Yet, the shape, size, and functionality have changed vastly.
What is the purpose of a coffee table?
A coffee table is a low table designed to be placed in a sitting area for convenient support of beverages, remote controls, magazines, books (especially large, illustrated coffee table books), decorative objects, and other small items.
Who invented the coffee table?
Stuart Foote, the founder of the American Imperial Furniture company in Grand Rapids, Michigan, claimed to have invented the coffee table whilst helping his wife prepare for a party. He simply lowered the legs of an existing dining table to make a centerpiece from which coffee could be served.
What is the standard size of a coffee table?
When it comes to size, most rectangular coffee tables will range from 16″ to 20″ in height, 48″ to 54″ in length, and 24″ to 30″ in depth. Round coffee tables range between 30″ to 48″ and ovals run between 22″ wide and 54″ long.
Is a coffee table necessary?
A coffee table is necessary as it can be an essential item that completes the overall look of a room since it draws all the items together and is a great way to fill up empty space. It can also be practical in terms of using it to rest your feet, eat dinner, or for guests to place their cups.
Where do you put a coffee table?
Coffee tables come in all sorts of heights, but as a general rule of thumb, aim to keep the height of your coffee table pretty close to the height of your sofa give or take around four inches. This is in order to allow you easy access to the table when sitting down
Do coffee tables have to match?
Coffee tables, like other furniture, do not have to match at all. It is something that should be considered for a more aesthetically pleasing living space, however. The more cluttered and mismatched a space is, the more chaotic it will feel.
Conclusion:
Although the functionality and versatility of your coffee table are important, don't forget it should be a complement to your sofa. It shouldn't be exactly the same shade or color as the decor, but neither should it be out of place with the rest of your living room. Take into account your family and their needs to have the perfect living room decor.