Some call it 'The Entertainment Capital of the World' – others have dubbed it 'Sin City'. Whatever your point of view, the American city of Las Vegas is one of the most extraordinary travel destinations in the world.
This colourful, characterful and downright crazy spot in the heart of the Nevada desert is like a modern theme park for a huge range of excitement, fun and glamour. To visitors from all over the world, Vegas is awe-inspiring, eye-popping and memorable in equal measure.
The core of the appeal lies along the city's famous Strip – one of the world's most over-the-top sequences of exotic casinos, hotels and attractions. It's all about providing the brightest lights, flashiest glitz and the most head-turning glamour.
A visit to Las Vegas might involve a high-rolling break at a luxurious hotel, taking in fantastic shows, clubs and bars. Or it might involve marathon sessions at the classic roulette wheel at one of the huge casinos on The Strip.
Other visitors are lured to exclusive high-end boutiques, gourmet celebrity restaurants and fabulous big-name showbiz performances. Renowned highlights include the regular Bellagio Fountain Show, massive sports events or the daring antics of Cirque du Soleil performances.
People head to Vegas to see a one-off show or perhaps a business conference, they might shop till they drop or to simply wander around to soak up the unique atmosphere. Some even go there to get married… Perhaps dressed as Elvis.
As a healthy contrast, the city has also become a major centre for outdoor adventures. Visitors use Las Vegas as a base to take helicopter tours of the Hoover Dam, hikes into the wilderness of the desert or take guided off-road tours of canyons and spectacular rock formations.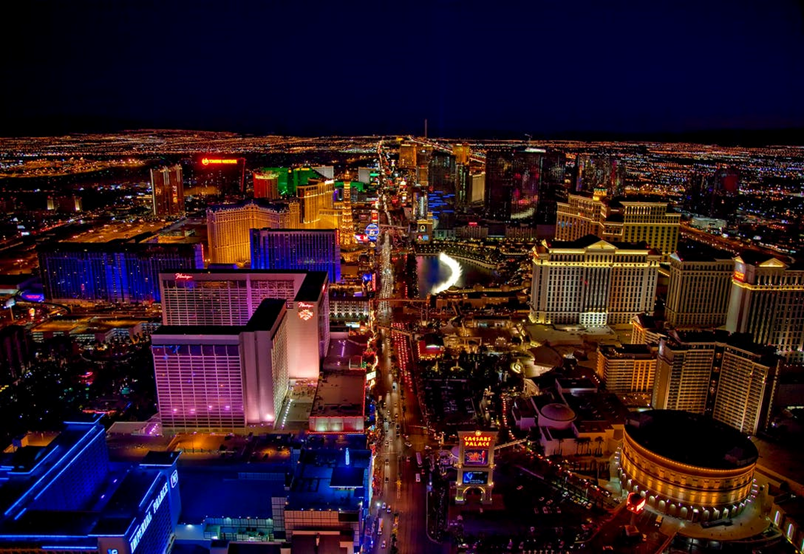 The growth of Las Vegas
The city has grown larger and larger, and has become the main cultural, financial and commercial metropolis for the state of Nevada. As a tourist destination it is claims to have more highly rated hotels than any other resort in the world.
Of course, the original appeal of going to Las Vegas was escaping to a gambling capital hidden in the desert. For many decades people have associated the city with all the glossy excitement and allure of casinos and gaming.
It's one of the world's most visited tourist destinations. Today people from all over the world, from the Canaries to Canada, travel to Las Vegas for holidays and adventures – and most of them will try a session in one of the mega-casinos while they are there.
The city is known as one of the nightlife centres of North America and all types of people of this continent associate Vegas with providing after-dark fun and action.
Las Vegas' connection to gambling
Indeed, it's famous across the whole world – thanks to a never-ending sequence of books, songs, movies and TV shows based in or using the name of Las Vegas. The city's link with the gambling industry provides just a hint of edgy excitement – and that gives it a unique appeal.
So, visitors could simply try a session sitting on a stool alongside a slot machine – feeding in a pile of coins for a sequence of thrills watching the reels spin. Or their visit could involve an evening of classic gaming, sitting in the elegant surroundings of a traditional roulette table. Las Vegas is truly the epicentre of the physical casino experience. With the largest concentration of land-based casinos in the world, it's a destination where you can live, breathe and eat in a real physical gaming environment.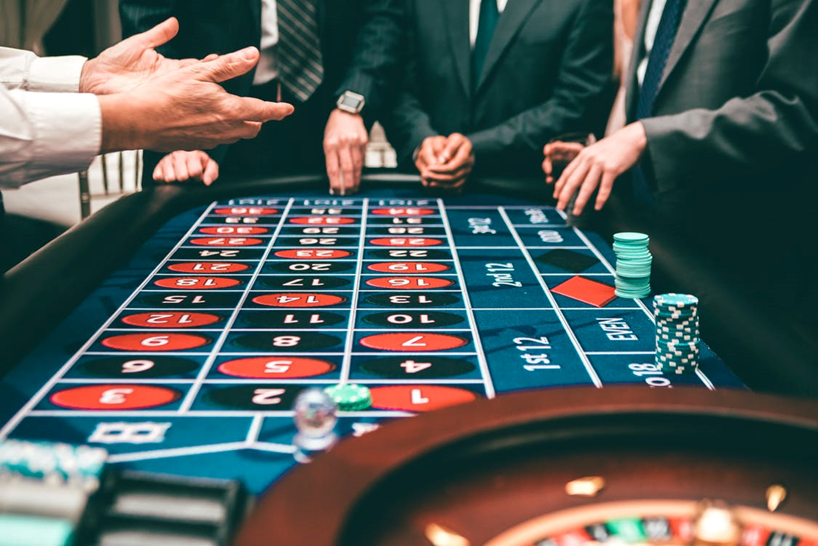 Rise of online casino gaming
Of course, there's an alternative way to play all the same casino games now. The revolution in online gaming has created a whole new industry that provides similar thrills to Las Vegas. However, it is important to note that online casinos are not licensed or regulated in Nevada and therefore are not legal in Vegas.
In other legal states across the USA and in countries like Canada, there has been a huge growth in online casinos where players can access traditional games like roulette, slots or blackjack wherever they are and whenever they want. It could be a quick game while waiting for a train – or a longer relaxed session on the sofa at home.
At first these two forms of gaming appeared to be rivals – it seemed to be the virtual against the real. But they've now settled into a happy balance of providing different sides of the same business.
The new online gaming world offers gambling and betting thrills to players all over the world. It has soared in recent years thanks to the rise in the use and affordability of digital portable technology like smartphones and pads.
Benefits of visiting casinos in Vegas
The physical world still has plenty to offer though. There's certainly an atmosphere to a casino on the Las Vegas strip that can't be replicated by any online formula.
Physical land-based venues offer food, drink and social interaction. That means that the thrills are bigger, and the emotions are all the more real.
And don't forget that the physical visitors to casinos in Las Vegas don't only have the fun of gambling – they have access to all the other attractions and experiences that the city offers, including top galleries, museums, and theatres.
It's a travel destination with such a wide range of world-class attractions it can appeal to almost anyone. Plenty of visitors don't gamble at all – and they can still have a once-in-a-lifetime experience.
Vegas has grown amazingly quickly since it was founded in 1905 – it's still growing today. Online gambling may be on the rise – but industry experts know that the real-world appeal of Las Vegas will never die.