This post was most recently updated on April 27th, 2019
When and how did you start?
Flying Squirrel Holidays was born in 2014 to help people travel the way they want, at their own pace and in their own budget. We believe no two people travel the world the same way. Everyone has their unique idea of a holiday. They like to experience a place and its culture in a certain way, something that resonates with their way of life. Peoples travel needs also change depending on who they travel with. A family traveling with kids will want to experience a place differently than a couple on a honeymoon or friends seeking adventure or a woman traveling with her elderly parents. Despite the destination being the same, the travel objectives of these people will be different and it cannot be addressed by a standard 5-nights and 6-day package. Flying Squirrel Holidays was born with this understanding and with the objective of helping people plan their holiday their way. Our philosophy – it's taken care – is all about taking away the stress of planning a holiday and serving all travel needs on a platter. So whether it's a staycation, a family vacation or a long-awaited holiday with friends, we are specialists who understand the idea of a perfect getaway.
How did you come up with the idea? Your inspiration moment
Like all businesses large and small, it all starts with a need-gap. My partner and I are avid travelers and we pack our bags at every opportunity and set out to explore a new city, new country, new culture and new people. We would meticulously plan our holidays – where to stay, what to see, where to find the best local cuisine and how best to experience the destination the way we wanted it to be. But with time and growing responsibilities at the workplace, the planning part became increasingly difficult. Finding time to research and book flights, tours and hotels became a challenge. That's when we thought of taking professional help from travel agencies. But the experience we received from most of the companies was quite disappointing. We realized that the person across the table knew very little about the destination we wanted to travel to and offered us standard travel packages that did not meet our objectives. So in Paris, if we wanted to sit in a café by the Champs De Elysees and listen to some music, or go for a theatre in the evening, or maybe in Prague book a ghost tour and find out some of the best local breweries in town, there was no one who could come up with these specific suggestions. Many of the things that we have loved doing, such as going on horseback in Georgia, biking in Sausalito or discovering authentic Chinese flavours at SFO's Chinatown have never been part of such run-of-the-mill packages. So that's where we realized the gap in the market and we thought why not create a company that would help people to travel the way they want, at their own pace and as per their own budget.
   Brief about organization and founding members
The company is created, managed and run by a group of professionals from diverse backgrounds, bound by a common passion for traveling. We believe that out-of-the-ordinary experiences can be created only when you dare to have a new vision. Based out of the vibrant and culturally-rich east Indian city of Kolkata (Calcutta) and the beautiful cosmopolitan city of Dubai, we have together traveled halfway around the world (100 cities and ticking as we speak) and have experienced people, places, and cultures with open minds and curious eyes.
Niloy Nag– Partner: A telecom marketing professional with 18 +years experience in India and international markets.
Esha Nag– Partner: A media and communications person, Esha has worked in the area of publishing and public diplomacy in India and the Middle East.
Image Credit/ Source: Flying Squirrel Holidays
 The detailed journey, like what all you want to share with readers.
Flying Squirrel Holidays started out of our sheer passion for travel, out of the love of discovering new places. We wanted to make travel a part of leisure — unhurried, more experiential and out of the box and less by the book. We began with a small team of like-minded individuals, challenging the industry norm of offering packaged holidays where you didn't have much left to your imagination. But our research, first-hand experience of exploring different cultures and countries and hard work paid off. We ticked off many firsts when we gave people holidays that included staying in igloo hotels and chasing the northern lights, spending a week at wildlife camps in the middle of Mara, discovering the haunts of Vlad the Impaler, a night in the Arabian desert, or experiencing pure wellness in the Ayurveda spas of Kerala. For sports lovers, we have planned golf vacations and tennis holidays, for music lovers, a week of jazz and live gigs at many happening cities of the world, for children action-packed holidays in amusement parks and history museums. Our holidays are focused on our clients' needs and we make it a point to let them know that their hobbies, interests, and way of life are also reflected in the holidays they plan. Over the years this personal approach has paid off and we have had people coming back to us, asking us for recommendations, planning tips and even recommending their friends and families. We have grown slowly, but we have made sure that the numbers are more organic than forced. It was more important to us to gain the trust of our travelers through meticulous research and planning, rather than a quick overnight growth path.
  Image Credit/ Source: Flying Squirrel Holidays
About funding, plans for growth
We grew by 200% in year two and by 90% in year 3. We are happy with the way business is growing. Customer satisfaction is our first priority, we want to grow in a way that we are able to consistently deliver our promise of "it's taken care of". We will make the necessary investments in quality manpower and digital technology and if external funding is required to support such investments we shall explore necessary options.
Challenges and Opportunities/ Marketing Strategies
With the advent of digital technologies, access to information and online purchase have become easy. People have become conscious of the services they are opting for and the price they are paying for it. While a lot of people see this as a threat, we see this as an opportunity. We have a transparent policy where we provide customers reviews of services they request for. For example, if we are booking hotels for our clients we send them online links that show them how the properties are rated before they put down the money for it. We make sure that our clients can whet our services and see for themselves what we are providing before they entrust themselves in our hands. Our services are also rated constantly in real time. Our pricing is honest and we often provide comparative pricing. Our policy of transparency, honesty along with our approach to travel, has helped us with a growing set of clientele so far.
 We are adopting a "digital first" strategy in promoting our products and services. Apart from the customized holidays, we offer on a regular basis, some of our theme- or interest-based holidays such as wellness holidays, tea holidays, tennis holidays, golf holidays, music holidays, photography holidays, etc marketed on digital platforms has yielded excellent results.
Video  Credit/ Source: Flying Squirrel Holidays
A quote from the founder on the journey, or dealing with the challenge, or any inspiring moment.
The best part of my job is that I get to live my passion– I get to travel the world in my quest to experience new places and new cultures and then I bring those experiences to people.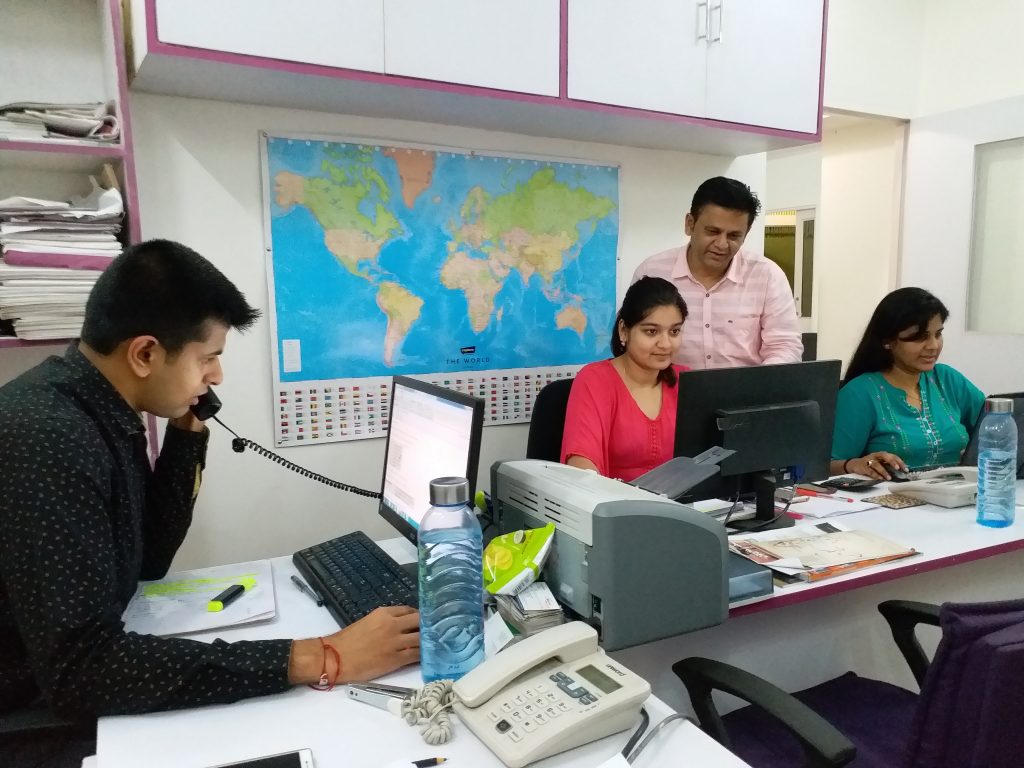 Image Credit/ Source: Flying Squirrel Holidays
 EXCLUSIVE: Founder's advice to budding entrepreneurs
Have a dream- Pursue it
Be brave the key is to take the first step
Don't listen to the world- the dream is yours and you know what's best for your business
Be prepared to work hard, extremely hard- hard work never goes waste
Be patient- there will be times when you feel like giving up. Take a nap, go for a walk, come back and push yourself harder.
Be ever ready to learn – the world and technology is changing every day. Even if we know everything about our business today, tomorrow is another day with new challenges, opportunities and with a changing environment.
Never give up
Your website / apps / and contact details
www.flyingsquirrelholidays.com
122 A Southern Avenue, 1st Floor,
Kolkata-700029, India.
Phone: +9133 40525777.
Twitter: @FSHoliday
Facebook: https://www.facebook.com/flyingsquirrelholidays/