When and how did you start?
 We realized the 'Gap between contact sharing and networking' at my Business development positions at previous companies. As Networking has gone digital but the contact sharing culture is still been carried via a traditional method, Paper Business cards. The process to maintain leads database, update and make a daily report is a hassle for a daily sales professional.
 "A digital contact sharing platform can help solve these, hence Link cards. I started working on it from March 2017, hired developers, executed and launched the idea on Android in September, restructured and launched again in November for Android; IOS in December with the name Link cards " Says The Founder Mr. Kapil Agarwal
How did you come up with the idea? Your inspiration moment
There was no inspiration but a dedication towards solving basic hassles at workplaces, a simple problem is many times neglected for solving major problems, my academic education of computer engineering helped me with converting a simple idea into a viable product – Link cards
What is Link cards:
Link cards (http://www.linkcardsapp.com/) is a Business App for Android and IOS smartphones, which allows to create and share Digital Business Cards with anyone, anywhere. These business cards contain our clickable contact-details along with a Logo and banner, LinkedIn and Twitter profile URLs, youtube video, documents, ppts, and resume.

Link cards

business cards can be updated everywhere, anytime. Sharing of Link cards business cards are not bound to any platform – users have unlimited choice of sharing their business card via any platform; SMS, Email, Whatsapp, LinkedIn and Twitter DMs, etc, .. with other Link cards users using their Unique Bucket -Id and with multiple NearbyLinkcards users at once.
 Scan and store unlimited paper cards into the App's digital wallet and organize in different folders for easy search. Hence, Link cards is a complete package for all the business cards needs, saving the cost of paper thus saving trees. Increasing the productivity of sales professionals at workplaces and enhancing the rate of conversion. The App is free to install, No In-App purchases and no ads.
Link cards

have a subscription-based SaaS for enterprises for managing leads – Create teams, create and deploy business cards for teams, secure 100% team generated leads, get Insights on cards shares and measure teams performance.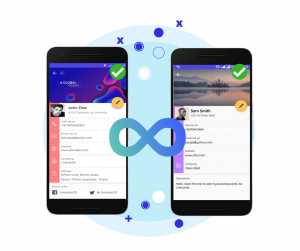 Brief about organization and founding members
     

Link cards

are based out in Mumbai- India. Founded by Mr. Kapil Agarwal LinkedIn profile in March 2017 along with a bunch developers at a small workplace, launched the app on android play store in September. Meanwhile, Mr. Nisar Ahmad Taliman LinkedIn profile – a Research fellow at Hiroshima university got to know about the product and its specifications; decided to back the idea with an initial Seed amount of $50k which further helped with a restructuring of
the product, launching Link cards on Android again in November and IOS in December.
About funding, plans for growth
Link cards were initially bootstrapped until Nisar Taliman came in as a Co-founder with a seed of $50k. With his experience as a founder of 'Afghan youth consulting' in Afghanistan, he provides mentoring which helps in adding more values to the product development and operations.
 Challenges and Opportunities/ Marketing Strategies
The marketing for Link cards is been carried out from Noida, India – A digital marketing agency specializes in startups. These help with SEO, social media presence, brand building, etc,…
Link cards

were launched on Android in September 2017, then was restructured and relaunched in November with IOS got live in December. Currently, Link cards have 5000+ Installs on Android and getting a good traction on IOS.
Vision & mission
Revolutionising the contact sharing culture with Link cards. Link cards prove to be the best business card for connecting Offline (face to face) and Online (social media & DMs) both. Thus Bridging the gap between Contact sharing and Networking.
Go Digital, Go Link cards!