This post was most recently updated on January 5th, 2021
Gone are the days when people even in metro cities had to wait days, take references for hiring a service expert and get their job done. With the Jio internet accessibility and smartphone penetration in India everything from food to cabs, shopping and groceries is just a tap away. Just like the infrastructure of tech helped restaurants in scaling their reach and delivering tastes, service providers such as wedding planners, wedding photographers, dietitian and more have also found a digital infra

Family friends from Faridabad Mohit and Manish Kaushik have known each other for six years now. After selling their first business, both started discussions on what and how to startup and solve something untouched and highly fragmented.

The company founded by the duo, Quicqo, is claimed to be the first and one of the largest b2b service marketplace in India today. 

Scoopearth spoke to Mohit and Manish to know more about the journey of Quicqo so far and the segment they operate in.

What is Quicqo?

Mohit says,
Quicqo is a platform to make our businesses with ease, quick and reliable by fulfilling our needs. This is why Quicqo. Quicqo enables businesses to find any service professional like an interior photographer, a product photographer, an event planner, or an interior designer. They want to be the go-to platform helping businesses complete projects that are important for their growth, executing future plans, etc.

Manish says,
"There wasn't a single player in b2b services and that makes the job tough and easy at the same time. We always believed in adding huge value to the businesses and empower service professionals with the help of tech, so we decided to move into another segment which was untouched and have many problems in different verticals i.e b2b instead of b2c first. We prepared case studies, meet top-level executives, did the market segmentation and divided the market into different charts as per the respective category where we would like to concentrate first. We prepared the case studies first by meeting the top management executives of companies, understood their pain points and problems they were facing in further scaling fast & finally launched the solution as Quicqo."

Founded in 2017, by Mohit and Manish Kaushik, the company works on marketplace model similar to Zomato, Uber and constantly tailored its services to meet the market demands. Quicqo recently launched an android app by starting the b2c segment where it offers makeup, wedding planning, wedding photography, fitness centers, dietitian, yoga services at home and dance choreography services.

After scaling Upto 45 cities in b2b and clientele like Go-MMT, HomeLane, FabHotels, Oyo, Vista Rooms, etc, Quicqo has expanded to b2c now. Quicqo works on the concept of accessibility, affordability, and availability where it makes the services accessible to every consumer, standardizes the services in terms of quality and cost & makes services available at all geographic locations.

Quicqo co founder and COO Kaushik told Scoopearth that the company does a lot more than simply connecting the professionals and customers. The ultimate goal is to stimulate the professionals with high-end training, equipment/product supply, make them financially stable and thus standardize the services for end customers.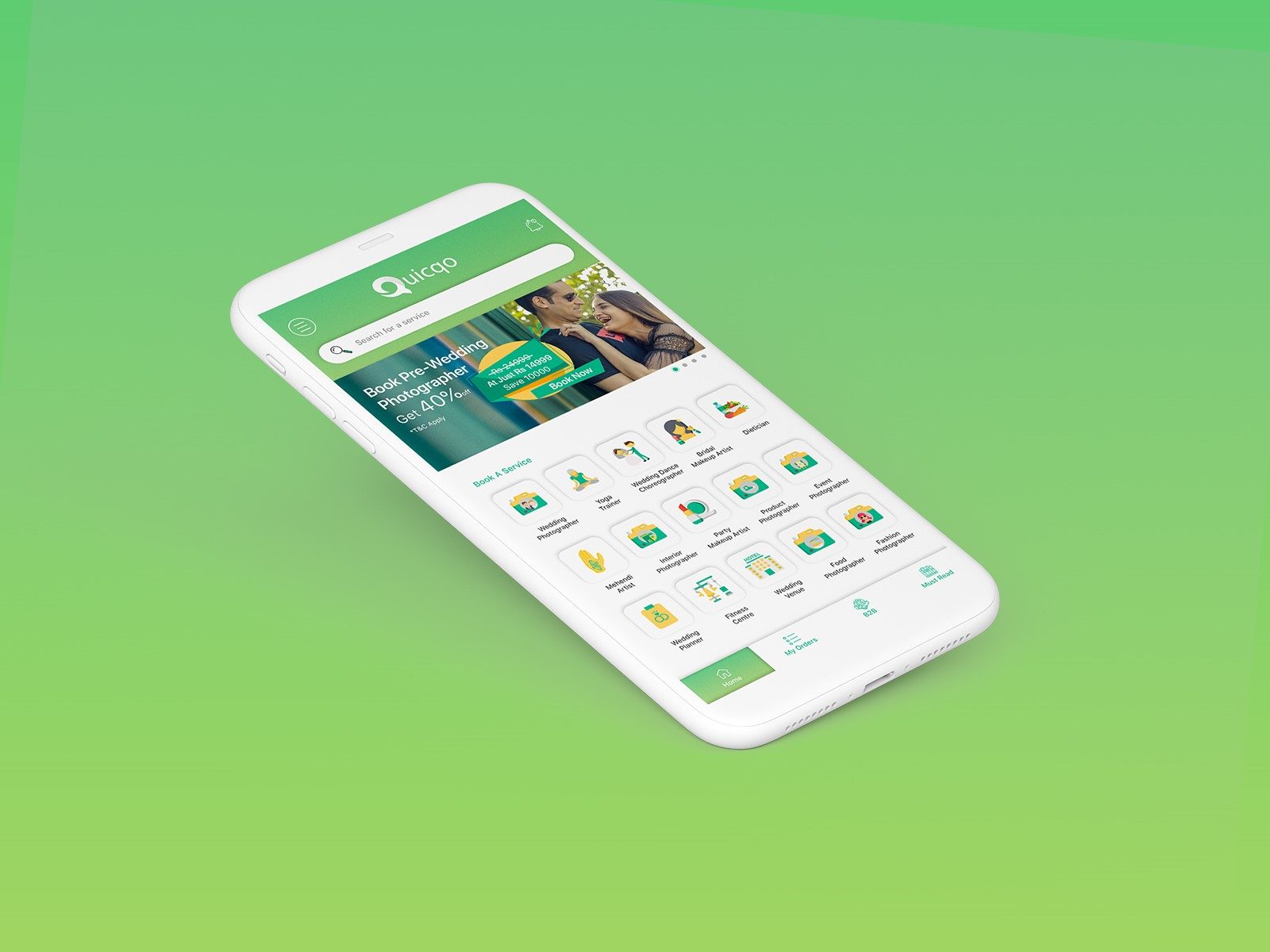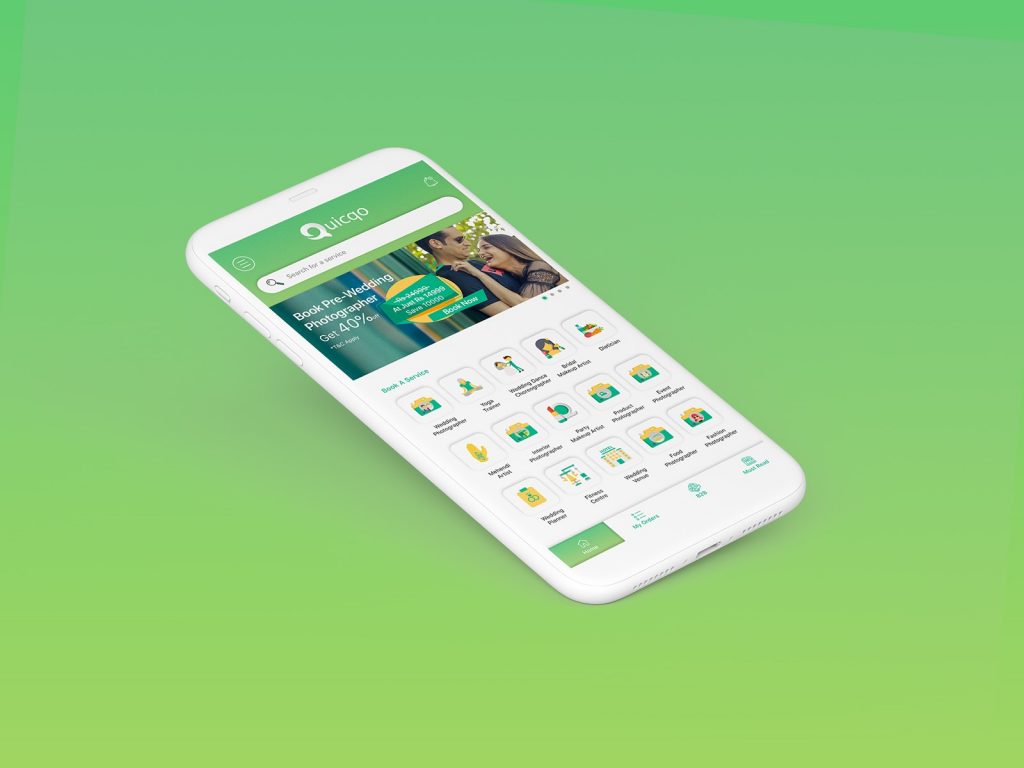 Building an Infrastructure cum Marketplace

Kaushik went deep into how Quicqo scaled up its platform from serving the big tech giants in b2b to small ticket size consumer services in b2c. From interior photographer to fashion designers to product photographer to fitness experts, Quicqo's platform handles many different services across India, itself highly fragmented. So what goes into building a platform for all?

Kaushik said that these categories are part of our plug and play system which we developed over a period of time and now we are at a stage where we can simply introduce new service and it will work exactly the same as others, as far as the engineering of the system is concerned.

This has allowed the three-year-old startup to scale up fast and adapt to the changing trends in the current market.

Quicqo aims to onboard approx 10,000 service providers in the next year to meet the demands in Tier 2 and Tier 3 cities. "We have 10k professionals currently on the platform and serving across 600+ locations in b2c," Mohit added.

In addition, Quicqo is already collaborating with various brands to maximize its reach to masses and deliver an extra edge to its customers. Quicqo recently collaborated with fashion rental company Rent It Bae where it will offer additional discounts to its customers who are scouting for wedding fashion at their blogs and platform itself. Similarly, Company is already in talks with various fitness chains to offer good discounts to lure more customers in b2c.

The co-founder & CEO Mohit told Scoopearth, " It's a market where customers are as important as the service providers and the only way to make both happy is to empower one to benefit others. We deliver experience when we deliver service."

Challenges in Future

"As you scale further the major challenge is to maintain the excellent rate of services and its quality. In the coming future when services will grow, logistics will be one of the main challenges we see. In b2c, customers don't want to wait for a service, it needs to be on time and when the competition is with giants like Urbanclap, Housejoy, etc, you have the huge responsibility to act and react fast to make its mark," Kaushik said.

"It will take a lot of restructuring, learning, and analysis from the current players. Our prediction engine's ability to analyze consumer behavior, as well as service provider behavior on various parameters, will make a huge difference for us. Though, Quicqo is operating in entirely different spaces than Urbanclap and Housejoy, challenges are somewhere the same for every marketplace," by the cofounders.

So far bootstrapped, Company is reportedly in talks with investors to raise money and doing well in b2b already. While the focus of the company is to grow first and then look after profitability, it is worth to wait and watch the disruption it will come up with in consumer services space.

Founders :- Mohit, Manish Kaushik