When & how did you start?
Noisy Newton is a Bangalore based, innovative & first-of-its-kind, Science products startup, incorporated in 2017. NN was started by an erstwhile scientist Ms. Leela Maitreyi, later joined by Mr.Georgie Paul, a communication/branding expert & graphic designer. Newton is an outcome of years of deliberation around the lacunae in the education system and how at a product's level, these could be mitigated without challenging or contesting the mainstream schooling & learning. The inception of Newton was of an outcome of how: "Too often we give children answers to remember rather than problems to solve." As a scientist and a mother to a young child, these were real problems for which Leela was seeking a tangible solution. A solution that is "touch & feel" & "Story-based" knowing these two are the most potent forms of learning.
 How did you come up with the idea? Your inspiration moment?
It can't be boxed into one single moment of inspiration. The journey through inception to productization took many months of research, learning & unlearning. The impetus surely came from witnessing & understanding the systemic flaws in the education system. A child's journey of learning in India is disproportionately centered around exams & grades with very little focus on communication, creativity, collaboration & critical thinking. A child is dissuaded from asking questions or failing, making science a monster most kids dread being associated with. Science is something that is best learnt by doing and not by memorizing. Limited access to labs and hands-on activities is a huge deterrent to science learning which in turn has a great impact on society at large. While it's incontrovertible that we live in a digital era, no new impactful scientific innovations can happen without getting the hands dirty. The result of multiple discussions, iterative prototypes & reviews, umpteen test runs was just what Leela and Georgie envisioned- A product that could inspire children to explore, experiment, folly, create and feed their curiosity for new things. A product that would foster application thinking & solve real-world problems in the most immersive & fun way! Newton was finally unveiled in June 2017!
 

Brief about the organization, founding members & our journey
NN offers a unique product portfolio for children between the ages of 4 to 14 years. This startup works around the tenet- "Doing is learning, everything else is only information". Newton's portfolio includes thematic Science Tinker & Learn Products for children. Narratives & stories as a conduit for scientific problem solving is their USP. Each product offers a bouquet of items-stories, real scientific equipment, experiments, games, collectibles and much more. NN envisions taking the hands-on experience to a brand new level. This, they achieve through a product range designed using a very scientific pedagogy. They are the first in the country & one of the very very few globally, to create such products using this robust method of learning. The activities are designed meticulously using applied themes, tested & reviewed by the in-house team that includes children & experts from the education, design & science fraternity. It is perhaps one of the only companies that has children as an integral part of its core-team "By the children-For the children".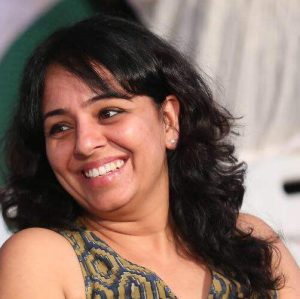 Image Credit/ Source: Leela Maitreyi (Founder and CEO: Noisy Newton)
Ms. Leela Maitreyi:  I am a Molecular Biologist by qualification & Systems Biologist by experience. I have also had the good fortune of being an alumnus of IBAB(Institute of Bioinformatics & Applied Biotechnology). It has been a great journey of research across academia(University of Delhi, IISC & IIT-Delhi) and corporates. I was part of the core team in a drug discovery company spearheading some of their key research domains. I was also part of another initiative, responsible for creating career readiness programs across the biology & chemistry verticals. After a rather fulfilling stint in these places is when Newton was conceptualized and brought to reality.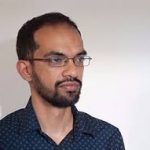 Image Credit/ Source: Georgie Paul, (CO-Founder: Noisy Newton)
Mr.Georgie Paul: I have been working as a communication designer for the last 12 years. I hold a BA in communication design from Swinburne University in Australia. I work on a variety of projects, from print-based branding to web, signage, space and exhibition design. Toy design & packaging is what drives my creative juices flowing. We were destined to cross paths and it's beautiful how both of us had congruent thoughts and vision for children's science learning. Rest as they say is history:-) Our advisory team has  "Mr. Rupesh Shah, Mr.Jayasankar Divakarla-Both seasoned experts in the education and technology space respectively".  Our Review team has Vedant, Roshan, Navya, Shrushti-The backbone of our company. "These firebrands" are our best critics and reviewers. "Thomson is our Operations Hero Our go-to guy for all things non-technical".  We have a dynamic team from the lower income groups for assembly & packaging.
Funding Plans for growth &Future Plan
We are a bootstrapped company. We have created 4 exciting products, two of which are in the market and 2 are ready for launch. We are now at a stage where we need to raise money for building a larger team, product scale-up, and new product development. We are working towards it and hope to get there sooner than later. We are based out of Bangalore & that is indeed a blessing. It's a well known and established fact that Bangalore has a strong community of experts, savvy customers and growing pools of early-stage investors, all of which are critical for a niche start-up like ours.
The unique culture of mentorship and networking opportunities makes Bangalore the most attractive choice for us besides the very obvious that both of us, the co-founders have our respective families, home in this city.
We are B2C currently & sell through online marketplaces which makes our products available pan India. We also have a good client base across middle-east & USA. Next few months would see a few B2B engagements-product wise. Also on the anvil, is a unique science program for children in the above-mentioned age groups. We envision a steady traction of our products across tier-1 & tier-2/3 in the coming months.
 

Challenges & opportunities
In the first 3-4 months, there were sleepless nights about vendors, suppliers, customers, accounts. But when you are passionate about something, about creating a meaningful change, challenges seem like an integral part of the journey and a good stress. As an entrepreneur, I too have come to the realization that I can't be a superhero. That I can falter at times and commit mistakes when taking accountability for multiple tasks. It is true that both professional & personal life can become demanding, sometimes at the same time. These things are a part & parcel of life and the way we deal with such situations can have a lasting impact.
Entrepreneurship is exhausting but exhilarating also. It should be noted that being an entrepreneur should never be an excuse to compromise on either one's work or one's family. Prioritise and live life to the fullest is my mantra! India is in the most open-minded stage now. Newer ideas are more welcome than ever, talent is humungous and hence so is the competition. I would like to believe that there are a few very accomplished companies in the science learning space but each with a very definitive and unique solution. We are at a relatively embryonic stage with our hearts in the right place and we believe the time is just right to fill up the lacunae in the science learning space with our value proposition.
Quote from the founder on the journey and how to deal with challenges
" I am highly inspired by George S.Patton's quote- "Accept the challenges so that you can feel the exhilaration of victory", says Leela Maitreyi. 
 

Founder's advice to budding entrepreneurs
I am still a novice to advise and each day throws different challenges and learnings. There are surely some key takeaways that have worked for me, to keep my spirits high on those low days, to keep my motivation up, to keep my creative juices flowing.
One of the key things I learnt is to not have a Plan B. The option of plan B dilutes the efforts and self-motivation to take the company and the idea of success. By internalizing this, there is no option for failure.
"Take that risk. Yes, it is scary but not as much as not having taken it when you turn 90.
Focus & focus more. Its the most obvious thing but believe me the toughest to implement especially at a time when every second person has a startup and doles out advice like free-flowing salt. Define your goals and stick to them. Plans may shift and you must be open and nimble but be clear about your larger goals
Start-up is a like a sine wave, a series of exhilarating ups and terrible lows. Embrace it! Nail it! Enjoy it", says 
Leela Maitreyi.

Your website, apps & contact details
 Url: https://www.noisynewton.com
 FB: https://www.facebook.com/noisynewton/
email:[email protected],
Call us:9886306042