Growing up I realized that I had immense confidence in myself though I had no special advantages.I was eager to do new things and ok to fail.I could take criticism constructively and let go of grudges easily.
As I was growing and getting to know more and more people, I realized everybody was not so comfortable in living and exploring life.A happy and fulfilled life as a result of feeling happy and confident about your own self-was my conclusion.
"I was a studious girl and hence had completed medical college successfully.yet in my heart I wanted to create, grow, make things happen.I wanted to be an "entrepreneur" Says, Dr. Shweta Iyengar
So I found my calling in combining my medical knowledge with a desire to create superconfident individuals and to create a beauty transformation.I dedicating my energies to growing anesthetic Clinic
"Skinsense was a gift to me on my birthday. Skinsense came into existence on 26th June 2009.I started in a small 150 sq ft shared the place in a polyclinic with only medical knowledge.Entrepreneurial knowledge and resources were scarce then " 

Says, Dr. Shweta
Skinsense is a proprietary firm.To begin with, I used my saved money and also borrowed from the husband.Skinsense quickly began to make some money and I reinvested all of it in buying the best beauty technology there is in the world.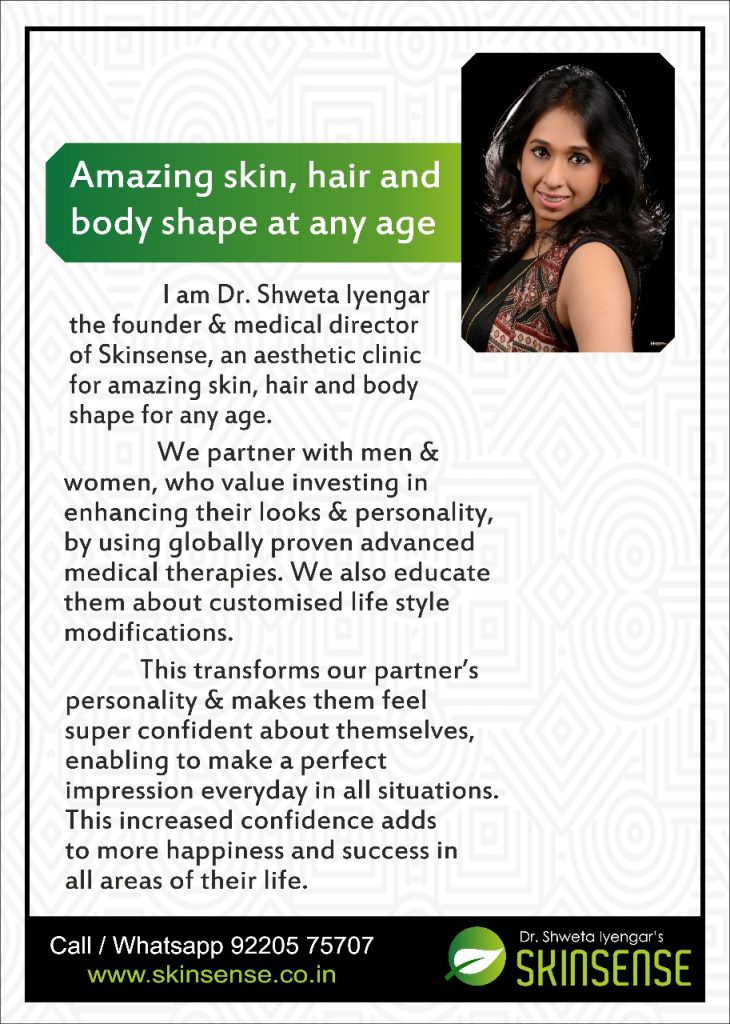 Image Credit/ Source: Skinsense
Skinsense has grown wonderfully over these 9 years.we have wonderful testimonials from clients who have seen their life has been transformed.
Due to lack of entrepreneurial knowledge and skills, the journey has been an uphill task.limited resources as I grew kept the stress levels pretty high as I had to continuously tread very carefully ,take extremely calculated risks .Skinsense was pioneer in getting many technologies first time to central suburbs.I had to work on different areas for long hours daily and taking breaks was impossible
Building awareness in the market was a challenge. Too many myths and fears about these newer devices.
Worked continuously with free seminars and lectures to create market awareness about what are the latest trends and possibilities in beauty medicine
Capital expenses for set up and sourcing worlds  best devices is very high
"Skinsense is an advanced medical beauty clinic.we use the best medical technology from all over the world for amazing skin hair and body shape at any age".
 We partner with ambitious enthusiastic men and women who value investing in their personality.
So you can have an amazing skin hair or body shape at any age and create perfect impressions in all situations every day .so you feel super confident and take more chances and succeed more.you will feel more successful and fulfilled in all areas of your life
"

"

 my goal is to transform the lives of 1,00,000 individuals by empowering them to raise their confidence levels even more by dramatically enhancing their skin,hair and body shape.This super confidence will help them make an amazing impression and hence readily take more chances and attempt more new things, thus living a more fulfilled life of growth and things " Says Dr. Shweta Iyengar
"This goal will also empower over 100 women intrapreneurs with more abundance freedom and fulfillment," Says Dr. Shweta Iyengar

Url: http://www.skinsense.co.in/
Facebook Page Link: https://www.facebook.com/drshwetaiyengarskinsense/