This post was most recently updated on August 20th, 2019
A monthly plight of Indian women, sanitary waste is something we all have to think about and worry about. Unfortunately, that menstruation remains a largely taboo topic and carries social stigma only adds to the complexity of the issue and makes it difficult to find effective solutions.
Sanitary napkin disposal is a worldwide problem. The impact is more pronounced in India because of the unorganized ways of municipal solid waste management and poor community collection, disposal and transportation networks in the cities and villages. With an estimated 9000 tonnes of sanitary waste (of 432 million pads) getting generated annually and more than 80% of this waste either getting flushed down the toilet or getting dumped in the landfill, India is facing a serious problem. Sanitation workers have inadequate tools and come into contact with human excreta and waste with their bare hands. This is a major health hazard and has even been fatal. The issues with sanitary waste disposal are plenty, and the solutions were not available. Only until Anisha Nichani, 30, found an effective and economical solution with 'Svacch'.
What does Svacch do?
Svacch engages ladies from low-income backgrounds to work with discarded and upcycled newspapers, to make sealable, identifiable disposal bags for disposing of soiled sanitary napkins and tampons. This provides them with an opportunity to work flexibly, by getting paid for every complete bag they make from the materials provided. These bags are then packaged and sold in counts of 10, 50 and 100 through online and offline. Search is available on Amazon India, 1mg.com, Nykaa and most other leading e-commerce portals. A portion of the profits from each month is set aside to distribute sanitary napkins in slums and calamity-hit regions.
The Svacch Story
"When I learnt about the difficulties that Indian sanitation workers and rag-pickers faced with regard to improper disposal of sanitary napkins, I knew there had to be a way out, and that it didn't have to be boring! I felt like my education, work experience and knowledge would be a waste if I didn't do something about an issue so critical. The more I delayed addressing this, the more troubles they would face and so, I came up with something that didn't require much time, investment and infrastructure to begin with. I started selling Svacch bags within a week of conceptualizing," Anisha says,
As she recalls spending a weekend making these bags – clocking the time taken, measuring and weighing the materials going into it, to decide a target selling price that would be cost-effective and affordable, without compromising on the primary goal – that sanitation workers would be relieved from the disgrace of touching the human menstrual waste.
So she made bags with some help and distributed them to her friends and family for feedback. As people started appreciating the efforts, she reached out to an NGO to help in the making of the bags and sold them in packs of 10s at her family-run beauty store – Prisha Cosmetics, in Alsa Mall, Egmore. The appreciations rose, the interest grew and the word spread. Slowly, customers came in asking for Svacch bags and clearly, there was a market that wanted to do their bit towards hygienic disposal by using our bags and recommending it.
For one to make it big, one must scale. "I started with a team of seven ladies, today we are twenty-five women, strong team, solving one of India's gravest issues, one bag at a time." The bags are available in mom-and-pop stores in Chennai, on most of the online portals and she also participates in exhibitions and flea markets in different cities. The most recent one has been the Pink Power 2019, organized by Inorbit Malls where women entrepreneurs get a rent-free space to showcase their ideas and products for one week. "The response has been fantastic. Not only am I teaching ladies and little girls about hygienic disposal, but I am also learning their cultures and beliefs and receiving great feedback from people of diverse backgrounds."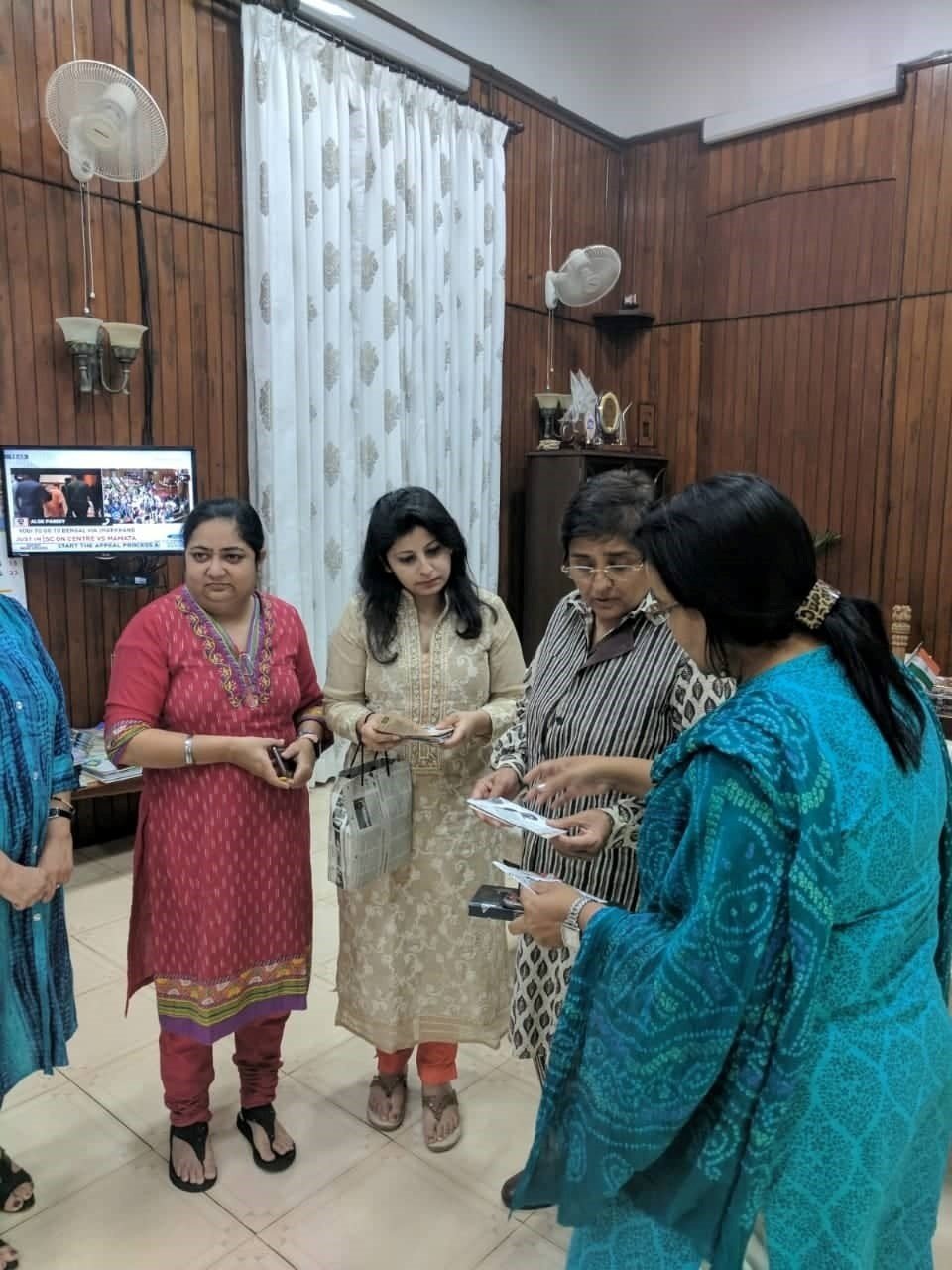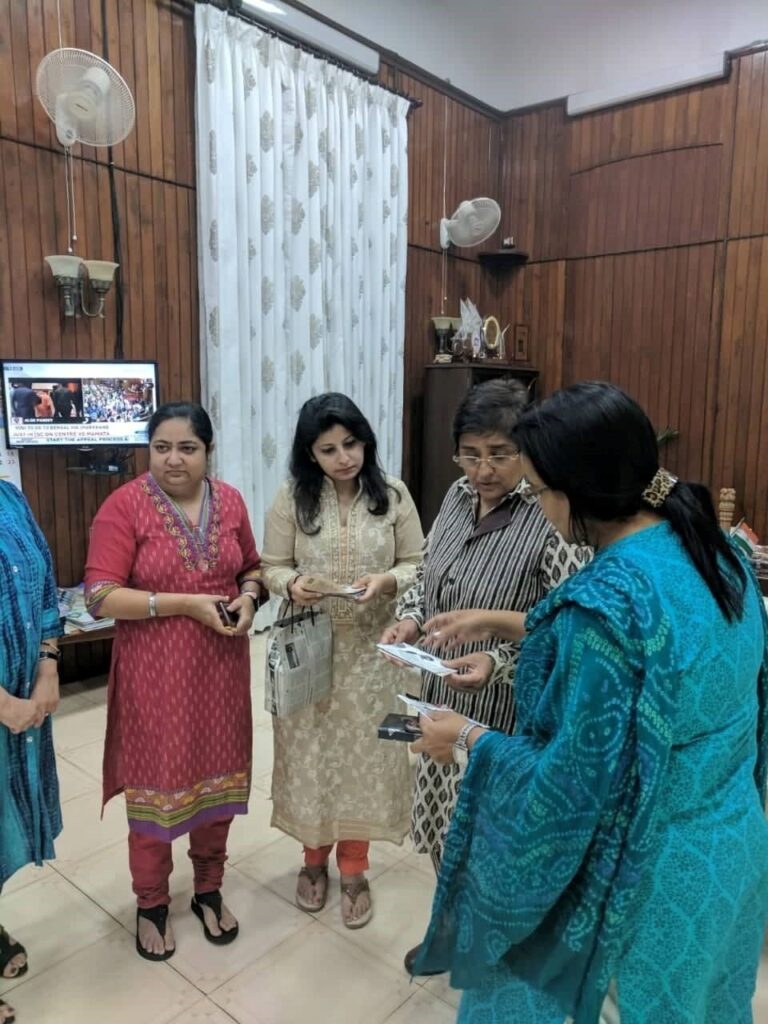 The Long-Term Goal
Almost five years into the social business now, Anisha says she still has a long way to go. "My goal is that hygienic and responsible menstrual waste disposal should be a part of each residence, household and building." And how does that happen? "When administrative departments, corporates and independent institutions join hands to bring about a solution," she quickly answers.
Achievements and Recognition
Anisha was a finalist of the iVolunteer Awards 2019 under the 'Volunteer Hero' category for her contributions to a more clean and responsible society. Svacch was in the top 10 list of the Retail StartUp Awards 2019 organized by the Retailers Association of India.
Svacch was appreciated by Dr Kiran Bedi, Lt. Governor of Puducherry as "you are tackling a sensitive issue in a sensible way," when Anisha met Dr Bedi in her office in Raj Niwas, Puducherry.
Recipient of the 'Changemaker of the year' award by Pakwan Chennai's 'Women of Wonder' earlier this year has got Anisha more motivated towards doing something to bring about a positive change in the community.
of the 'Changemaker of the year' award by Pakwan Chennai's 'Women of Wonder' earlier this year has got Anisha more motivated towards doing something to bring about a positive change in the community.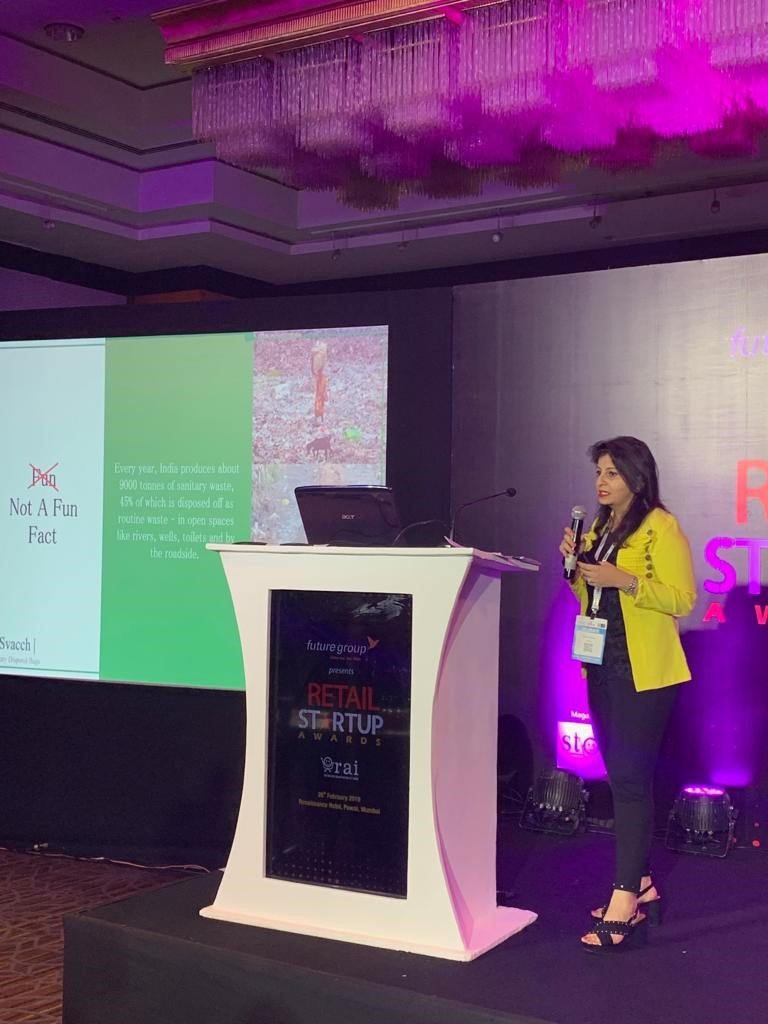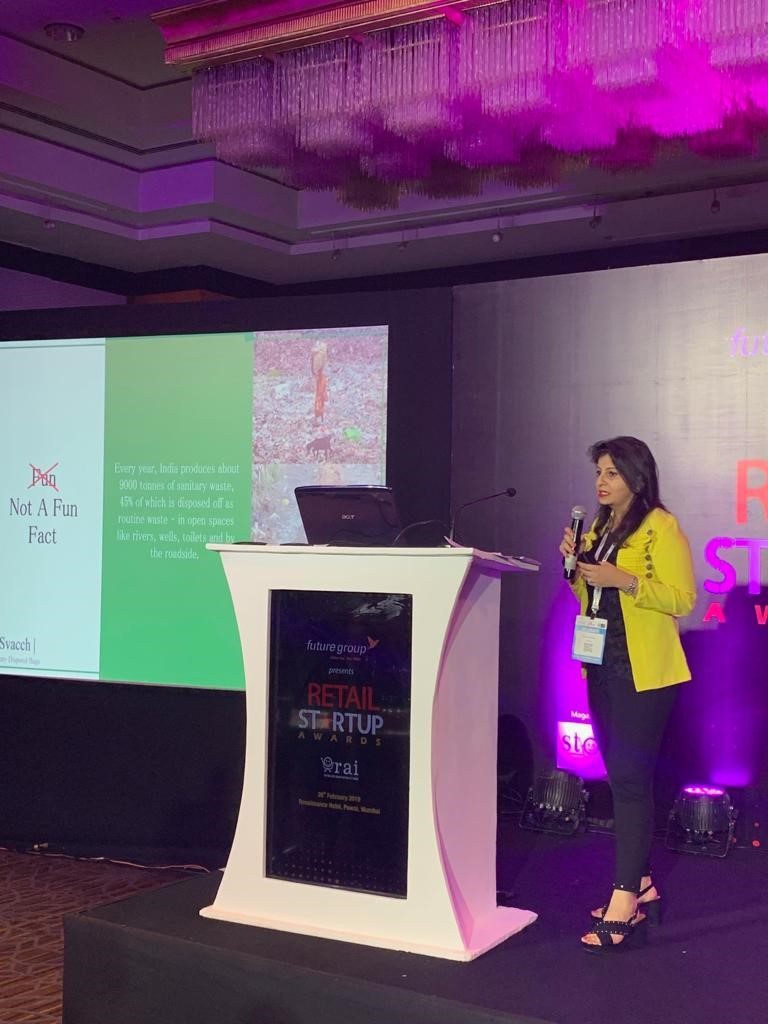 Collaborations :
Svacch is already the sanitary disposal partner for 'The White Revolution' – a campaign of the Golaghat, Assam NGO All & Sundry that distributes menstrual hygiene kits in marginalised areas of the North-Eastern state. Svacch has also been approached by the Leh – Ladakh administration to guide them on starting a similar project under their PAGIR (People's Action Group for Inclusion and Rights) Movement. PAGIR works for advocating for the inclusive rights of the differently-abled people of our society.
Social Media Handles:
Facebook: www.facebook.com/Svacch
Instagram: @svacch.disposal
Twitter: @SvacchB