When and how did you start?
"I started Simply Body Talk in 2013. The idea was to tap into a passion and turn it into a full fledged business; a passion which had ample space in the market since no one was currently tapping into it, but one which would take tremendous patience since not many would associate immediately with the depths of the subject. I began by writing about various applications possible and these articles got published in respectable magazines and platforms which helped me get personal coaching clients And that's how my business began", Says Khyati Bhatt, Founder of Simply Body Talk. 
 How did you come up with the idea? Your inspiration moment
When I wanted to restart my career after the maternity break, I went through my personal diary which I had maintained over the years. What jumped out in my face was how my notes had constantly been focusing on human behavior which I had been observing over the years through my varying roles. It suddenly dawned on me that understanding how humans thought, acted and behaved was my true passion and calling. When I thought of starting a business around this, I spent a good month just contemplating how this unique passion could be turned into a money-making business. Only after I was convinced that even though it might take some time, there was enough scope of tapping the market and also scaling up the business when required, did I finally take the plunge.
Brief about the organization and founding members
Simply Body Talk has various different service and product offerings, all centered around the theme of nonverbal communication. The learning vertical caters to both corporates and individuals interested in unraveling how to best maximize nonverbal strategies for various applications. This is executed through open format events, corporate workshops, online course, personal sessions etc. For those individuals who wish to improve their style of communication, the company also offers personal coaching services. Various other assignments taken up include profile shoots to highlight personality through body language, consulting investors on the teams they are investing into, assisting media companies in the final selection of ad during post-production, scripting corporate ad films focusing on nonverbal communication, involvement in an interview for employee selection etc.
I, Khyati Bhatt, am the sole founder and CEO of the company. I started the company in 2013 after experience in the corporate world convinced me that running my own venture was my real calling. Professionally, I have trained for mastery in the subject of nonverbal communication with a retired FBI special agent. My articles have been featured in various magazines and platforms and over the years I have received multiple awards and recognition for excellence in my field of work. My educational background includes post graduation in Wealth Management from SP Jain Center of Management, and BE in information technology from Nirma University. My work ex profiles include those of currency trader, portfolio manager, and business analyst.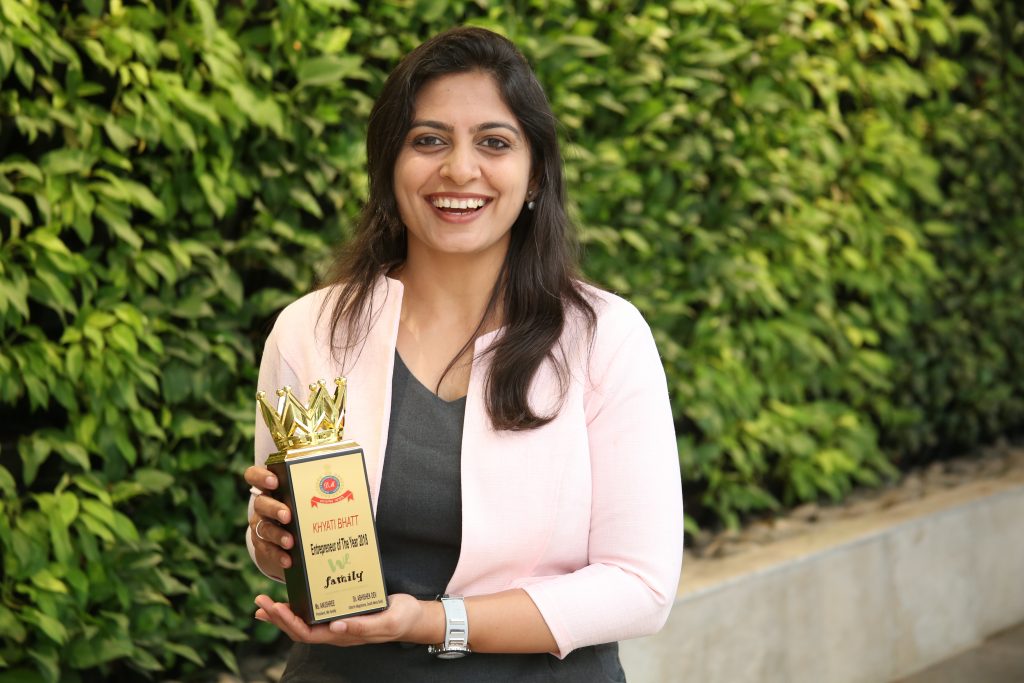 Image Credit/ Source:(Khyati Bhatt: Founder and C.E.O)  Simply Body Talk  
The detailed journey, like what all you want to share with readers

.
As I mentioned, I began by focusing on working with personal clients in the beginning. I also had to find a good teacher to certify my expertise because it is one thing to work with people who approach you through your published work. But when one wants to reach out to corporates, they would want some cerfied proof of my knowledge. So I researched to find the right teacher. The person was a retired FBI special agent so I had to follow up with him for some time before he was convinced I had a real passion for this subject, which is why I wanted him to validate my subject knowledge.
"Around mid-2015 I hired my first employee and began conducting open sessions on different topics like how sales can tap into nonverbal strategies, how interviewers can avoid bias during interviews and so on. Since 2016 our reach, as well as team size, has increased and in 2017 we shifted to our own permanent office space, launched our first product, received multiple awards and recognition. Early 2018, we also released our first online course",

Says Khyati Bhatt.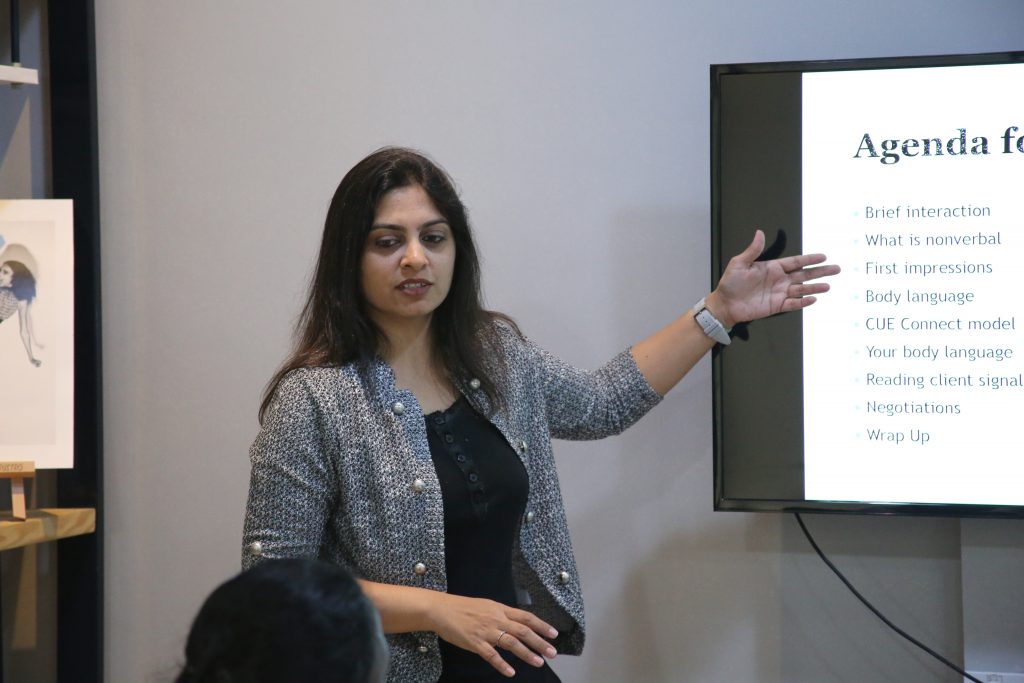 Image Credit/ Source:(Khyati Bhatt: Founder and C.E.O) Simply Body Talk 
About funding, plans For growth
Whatever funding I have required, my family has been kind enough to back me up with. We already have three new projects in the pipeline; our second product an application to provide tips of improvement to individuals and corporates, the launch of a new segment to reach out to Tier 3 students in the form of the video channel, and a book on this subject. Team-wise, I am looking to create a second layer of trainers and coaches so that my business can be scaled up. This is going to take time since the nature of business requires the in-depth expertise of the subject.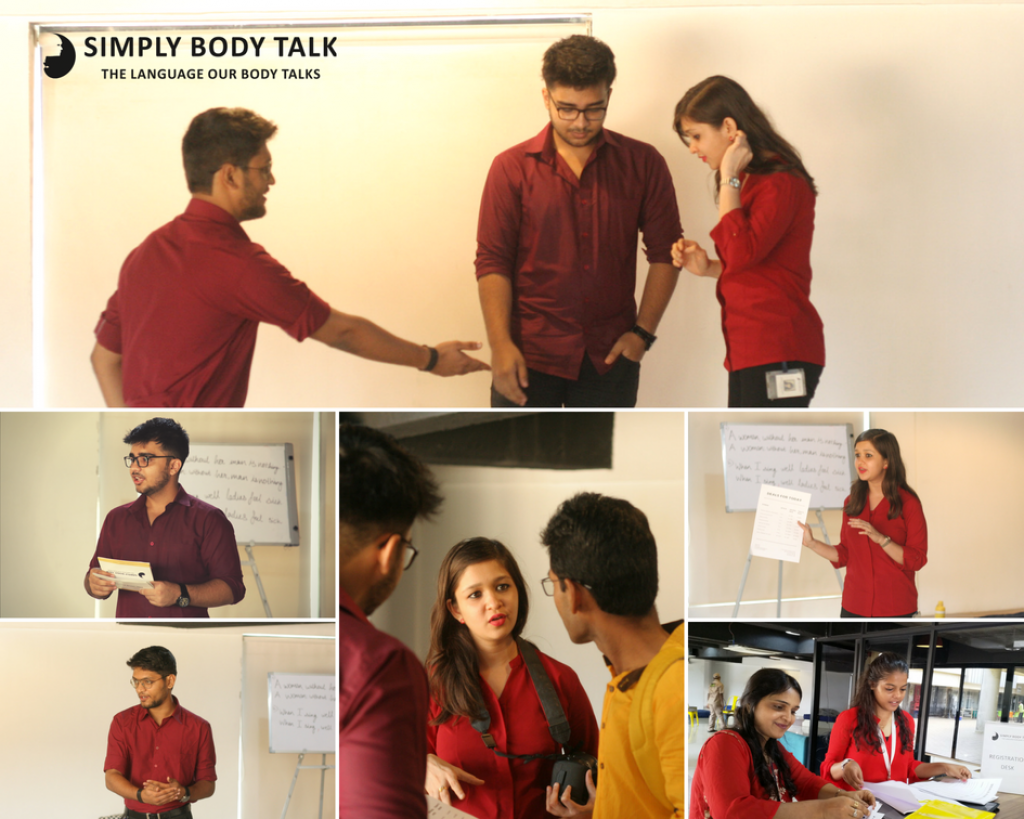 Image Credit/ Source: Simply Body Talk 
Challenges and Opportunities/ Marketing Strategies
The biggest challenge that any niche business faces is to convince the market about the need for its offerings. We faced a similar situation, in addition to differentiating ourselves from what was currently available in the form of Image Consulting. Over the years we have been able to position ourselves as a brand which deals solely in body language and non-verbal communication and the depth is far superior and scientific than what Image consulting offers. We keep getting inquiries to extend our offerings to subjects which are not strictly non-verbal but my focus is only on my expertise. Initially, it was a challenge, but then we converted it into a cross-selling strategy by incorporating independent consultants, those who are subject experts for the inquiries that we get. This is a win-win situation since these consultants refer us business where they see an opportunity for us, and our clients remain satisfied since we are able to provide all services as per their requirement.

Your website/apps / and contact details
Online course Titled Body Language for Beginners available on
www.udemy.com Landline: 022 67208017