Hello folks once again thanks for visiting our website. Today we are going to brief about Top Best online Job Portals in India. According to our Analysis and deep understanding, we are mentioning Top 13 job search Platform those have a clean sweep over the Job market of India and they have successfully provided Platform for millions of job-seekers and Employers. Kindly follow the below list of Best job portals in India in 2021.


Best Job Portals in India in 2021 :
Kindly Find the List of Top Job Portals in India [Updated 2021]:
Naukri : (Top Job Portal in India : 2021)
Naukri.com is the First and Largest online job Platform in India started its Operation in the year 1997. Info Edge (India) Limited is the Parent Company of Naukri.com.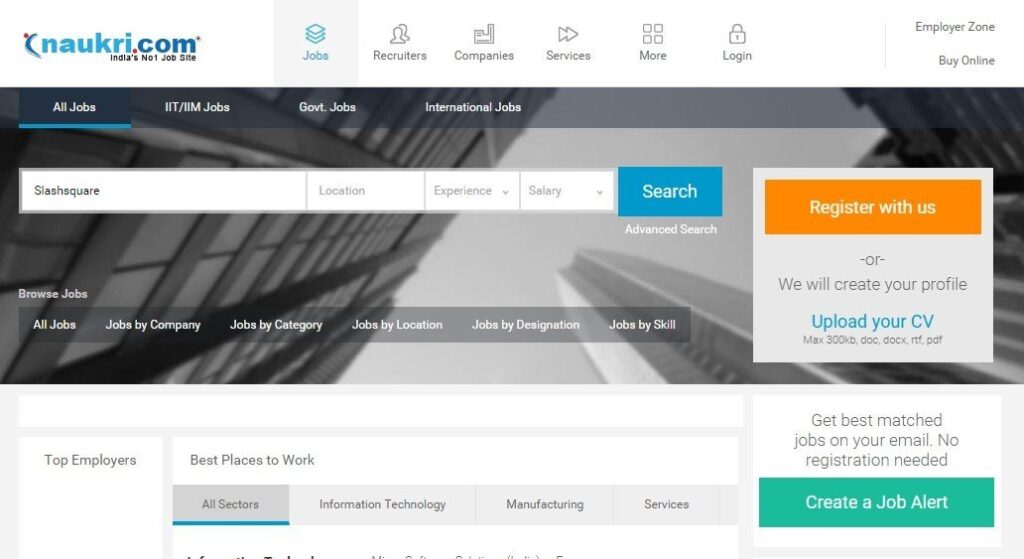 Freshersworld :Best job Portal for Freshers in India in 2021
Freshersworld.com (A TeamLease Company) is NO.1 job Portal for freshers hiring in India with a database of over 1.5+ Crore resumes. More than 3 Lakh+ resumes are added every month from entry level graduates across the country. They offer Freshers Recruitment Solutions for 60K+ recruiters and They have a presence in colleges in 100+ cities across India.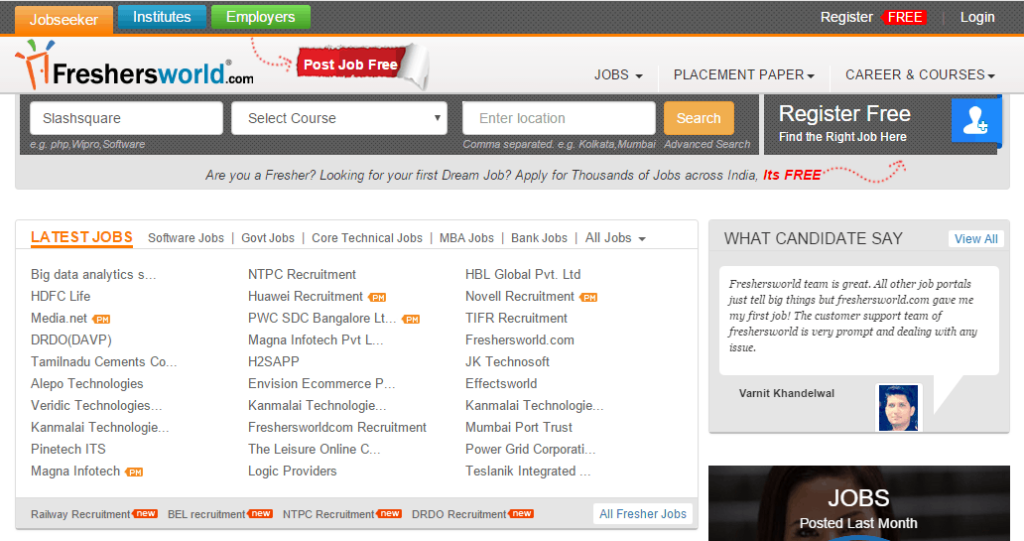 Monster India is India's leading online career and recruitment resource with its cutting edge technology provides relevant profiles to employers and relevant jobs to job seekers across industry verticals, experience levels, and geographies. More than 200 million people have registered on the Monster Worldwide network. Today, with operations in more than 40 countries, Monster provides the widest and most sophisticated job seeking, career management, recruitment and talent management capabilities globally.
Monster India started its operations in 2001 headquartered in Hyderabad, the company has presence in 11 other cities of India viz., Mumbai, Delhi, Bangalore, Chennai, Pune, Kolkata, Ahmadabad, Baroda, Chandigarh and Cochin. According to us This is one of the best job portals in India in 2021.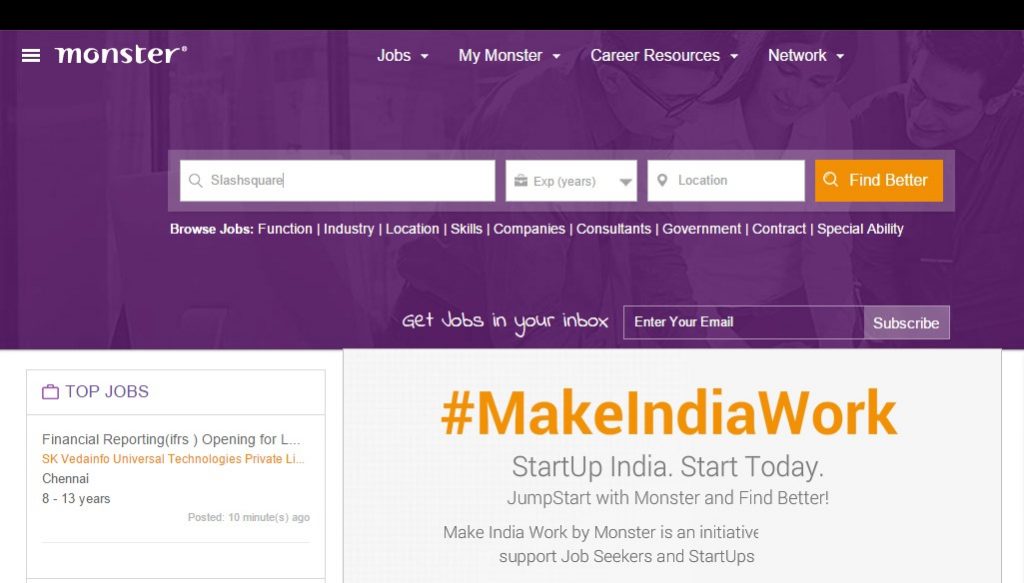 TimesJobs.com is TBS's flagship business and has been in existence since 2004 and has established a strong competitive position in the online recruitments space amidst tough competition. This is also the best online Job sites in India in 2021.
Times Business Solutions (TBS) – a division of Times Internet Limited – the "Life Interactive" arm of the Times Group, provides global internet users interactive media to provide support, assistance, and guidance throughout their life.
Shine.com is the most innovative and second largest online job portal in India Founded in 2008, over the past decade, Shine.com has become a prominent name in the recruitment industry. The popularity of the portal is evident from the fact that it has crossed the 2.6 crore candidates landmark and has more than 3 lakh latest job vacancies from leading companies on the site. Shine also comes under the Top 10 best job portals in India in 2021.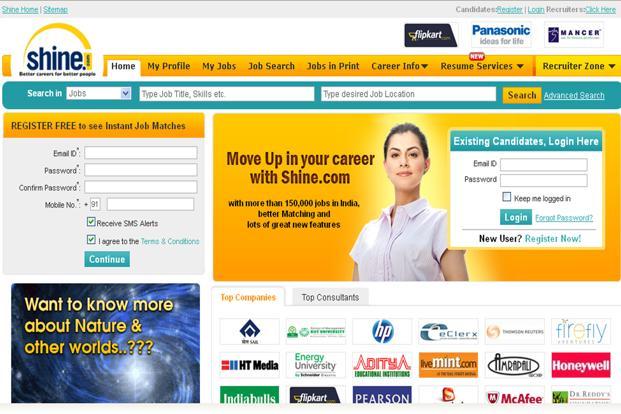 Wisdomjobs.com was founded in 2010 by Ajay Kolla. Kolla initially started a Google group, where he posted vacancies, to assist his unemployed friends for job placements.Between 2008 and 2010, the group placed nearly 20,000 people, which led Kolla to see a potential market for an online student job marketplace that could help in connecting students with trusted professional employers. This is the reason Wisdomjobs comes under the category of Best job search websites in India in 2021.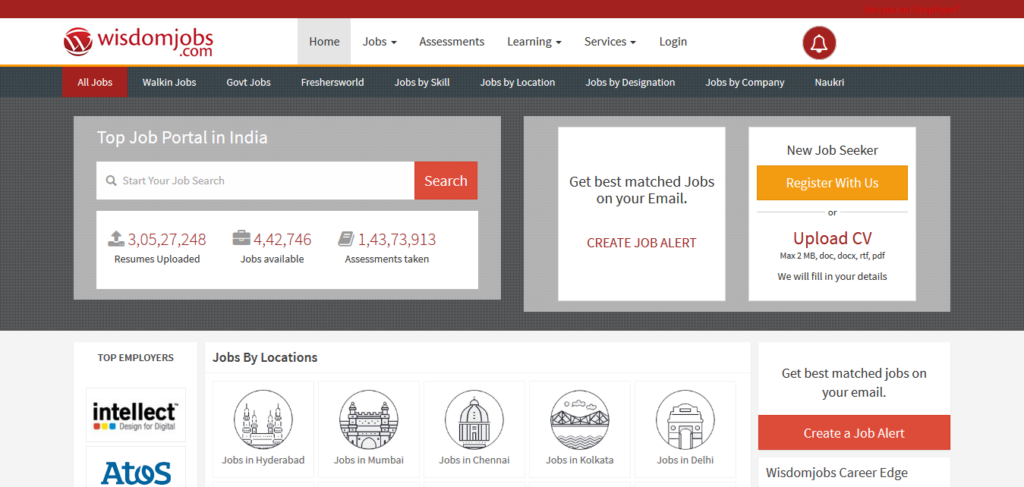 PlacementIndia established in the year 1999 has managed and owned by Weblink.In Pvt. Ltd . This is also one of the Oldest Job portal in India.

Linkedin is the most Popular Social media Networking website for Professionals across the globe. Linkedin also Provides Job searching Facility to their platform. You can Search for a Particular job as well as You can refer and directly contact with the concerned employers in your Network.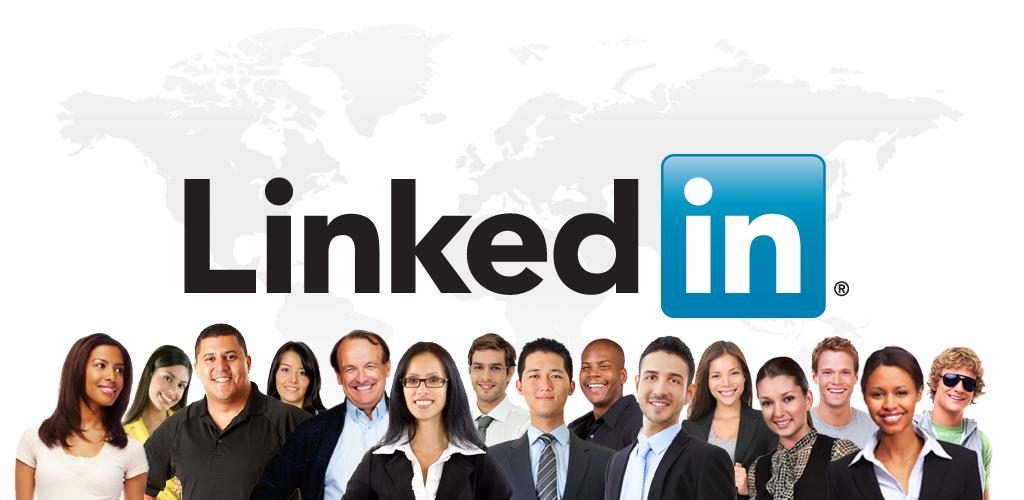 Glassdoor is one of the world's largest job and recruiting website.
Built on the foundation of increasing workplace transparency, Glassdoor offers millions of the latest job listings, combined with a growing database of company reviews, CEO approval ratings, salary reports, interview reviews and questions, benefits reviews, office photos and more.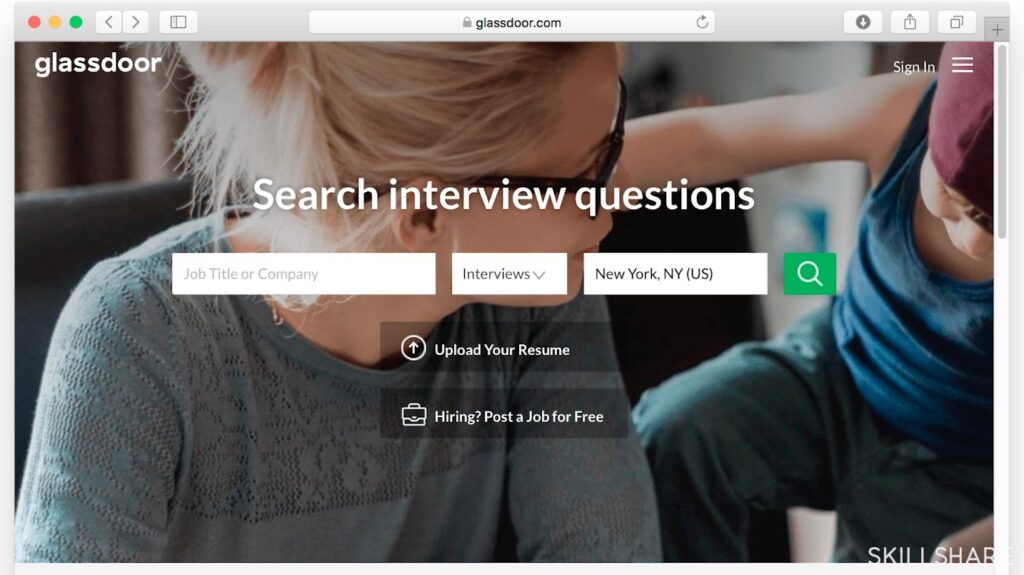 Highorbit Careers Private Limited is the Parent Company of iimjobs.
Iimjobs connected with over 13,00,000 jobseekers .They Feature Banking & Finance, Consulting, Research & Analytics, Sales & Marketing, HR, IT and Operations related jobs.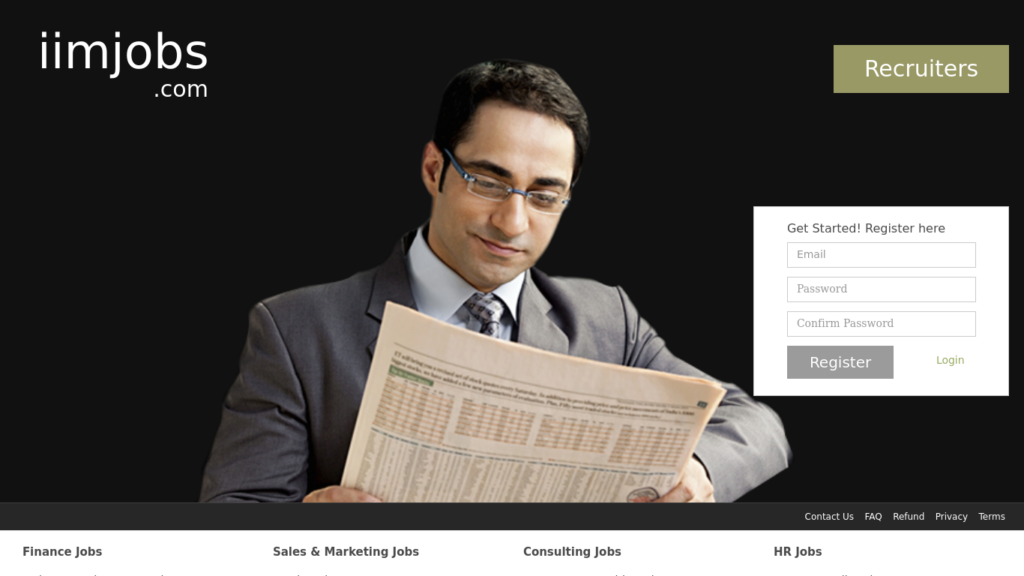 Indeed is the #1 job site in the world1 with over 250 million unique visitors2 every month. Indeed strives to put job seekers first, giving them free access to search for jobs, post resumes, and research companies.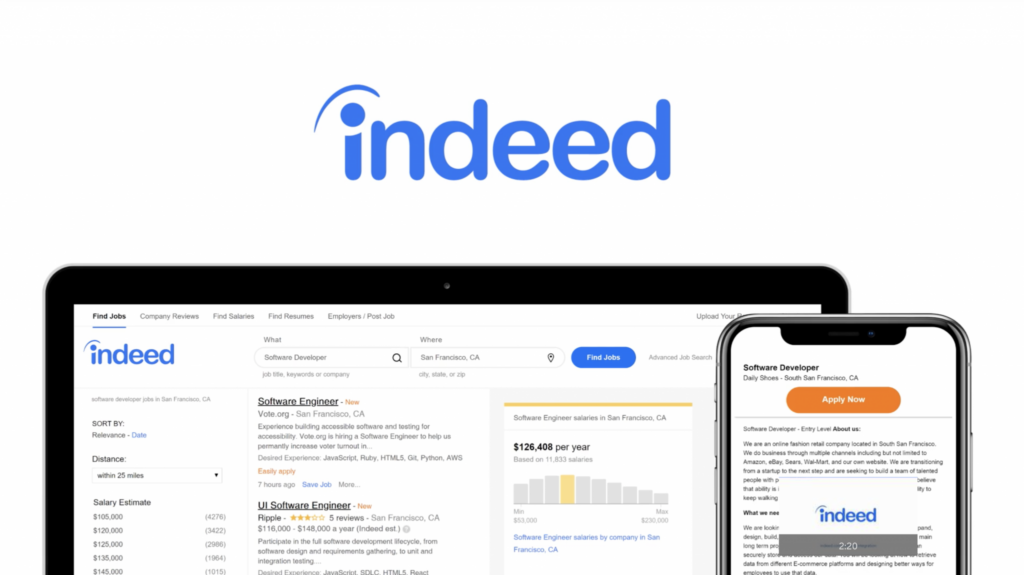 Careesma is a company that develops, owns and manages job board websites. They operate in multiple markets from India , Austria, Poland and Italy. Their market presence is significant in all four locations.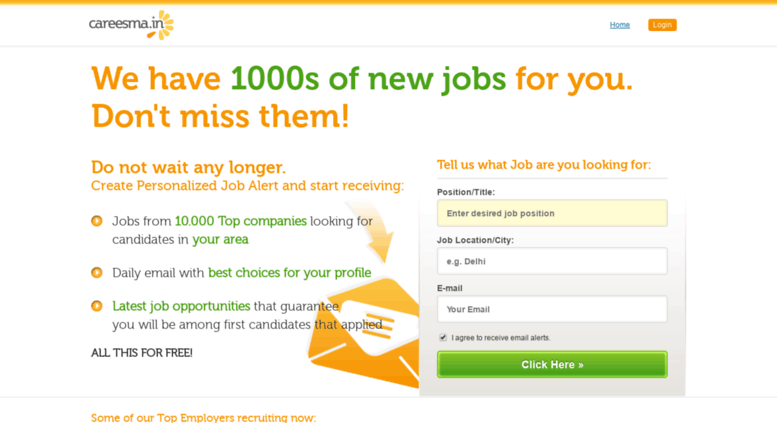 CareerBuilder is more than 20+Year-old Job search website.
CareerBuilder has helped millions of people find jobs and has equipped hundreds of thousands of employers with the talent they need
Conclusions :
According to us, these are some of the best Job portals in India in 2021. Freshers, as well as experienced candidates, can register to these websites and can apply for job search via uploading their resumes. Kindly comment on our posts and If you want to add any job website list here let us know.