Meet This Duo Vipul Jain a Serial Entrepreneur and Vikas Shirvastav, How they are creating  a unique learning experience with domain experts at "Ctrlaltlearn"
When and how did you start?
We started this journey of Ctrlaltlearn in the month of July 2017. When myself (Vipul Jain ) along with Vikas Shirvastav thought about this idea of bringing structure and organization the Non-tech part of the business, which is scattered. Same time, domain expert's have there own struggles in marketing their capabilities, even they are good in content and teaching.
How did you come up with the idea? Your inspiration moment
"I got inspired by Kota ( Raj.) coaching system, where every student is taken care by face to face coaching in-itself, which provides amazing results," Says Mr. Vipul Jain
Brief about the organization and founding members :
As a serial entrepreneur & Digital Marketing evangelist, Vipul has over 14+ years' expertise in mobile marketing, Campaign management, and marketing operations. Established two e-commerce stores in India. Co-founder and Chief Marketing Officer at Bidstalk. Established marketing channels for Bidstalk, a B2B mobile advertising system that offers a transparent and holistic real-time bidding platform. Acquired by Applift ( German Entity ) in Year, 2015.
 Vikas is having more than 13+ years of experience in consulting, operations, project management, and startups. MBA from S.P. Jain Institute of Management & Research, Mumbai and B.E. Marne from MERI (cracked IIT JEE in 1998). A wide range of experience which includes hands-on work in the shipping industry to consulting on process improvement to global majors. Rich globetrotting experience, Vikas has traveled to more than 15 countries and worked with people from multiple nationalities.
   About funding, plans for growth
We are aiming for investment, but our focus will be on profitability from day one and bring a value to the educational system on the non-tech side of it.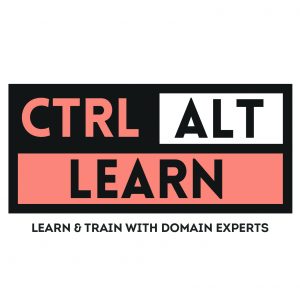 Image Credit/ Source: ctrlaltlearn
Challenges and Opportunities/ Marketing Strategies
" Major challenges will be uncharted territories, which is never experienced by any educational start-up till date. Secondly, to build an online & offline presence simultaneously is another challenge "  Says the Co-Founder Mr Vipul Jain. 
Future plans and funding
We are planning to provide our offerings across India for this year and start operations across PAN India Locations. Same time, looking forward to an investor who can not only bring funds but can bring expertise, experience, and profile into the business.
Achievements in the span of 5 months:
15+ Workshops | 20+ experts | Partnerships like WeWork | Innov8 | Instaoffice
 A quote from the founder on the journey, or dealing with the challenge, or any inspiring moment.
" Planning to build an ecosystem which is governed and designed by domain experts, who can bring 360-degree angle to the current education system " – Vipul Jain, Co-founder, Ctrlaltlearn
Your website / apps / and contact details
 Location:
#355/2, 3rd Floor, 14th B Cross, 6th Main Road, Sector 6, HSR Layout, Bengaluru, Karnataka 560102
Office Hours:
Monday – Friday : 9.00am – 7.00pm
Telephone:
+91-9916755668
Email:
[email protected]