.
"Myshopholic.com was an idea established in 2017, after months of trying to get it up and started it has been concluded to officially launch it in Zambia by the beginning of 2018″, Says The Founder Ms. Natasha Mbewe
It is an initiative brought to life by a foreign student in India whose main focus is to develop her country Zambia by enforcing collaboration with Indian resource, taking advantage of the fast-growing industry in india.
It is with this platform that many products and services will be easily accessible by Zambians and to top it off will provide branding of Zambian designed products of various sectors like fashion, cosmetics etc with the help of Indian large scale manufacturing partners.
Inspiration
The founding idea of myshopholic was cultivated from exposure to a more developed industry of India. Seeing the vast number of ecommerce websites/apps and realizing how much such a platform would not only benefit the individual but also Zambia as a whole we decided to start a lets brand Zambia campaign which will elevate the fashion industry by facilitating production Zambian brands on a global market.
Realizing that having the 'made in Zambia' tag will be the next innovative step made this project a goal for us. Promoting Zambians is our priority.
Brief up
Myshopholic is an online shopping platform founded on the belief that development of oneself comes from within and so the startup was established to help Zambians develop their own brands, sell them and maybe put the country on the map. It was begun in India outsourcing Indian resources to help create an everlasting sustainable international relationship .
Image Credit/Source Natasha Mbewe (Founder: Myshopholic )
Founded by Ms. Natasha Mbewe who saw the need of immediate and reliable shopping for everything you might require at any time anywhere, with this Zambian products would gain global recognition as it has been planned to be a worldwide platform from Zambia. With this Zambian made products will easily gain global recognition thus developing the community.
It's about time Zambians developed their own. Though there are many e-commerce websites in the world right now this initiative is for Zambian people to help them reach a level of development and exposure with the help of India.
Key members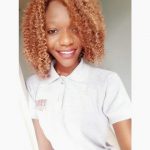 Image Credit/Source Natasha Mbewe (Founder: Myshopholic )
Ms. Natasha c. mbewe a young Zambian studying in an institution in India who saw great opportunities and decided to use them for the benefit of her country.
Natasha is now focused on creating an international relationship to carter for the needs of the Zambian community and also help Zambian brands reach a global market
She says " The only way to develop your own is to create your, the only way to develop a country is to support the locals, just like India did"
About product
Currently, the start up holds no funds from outsources, however, investors are welcome.
The startup intends to provide products ranging from electronics, accessories, fashion and apparel, health and beauty, even samples(if anyone wants to sell off an old item of theirs you are welcome)
We hope to be the one-stop shop that is with you everywhere you go, providing whatever you need just by a click.
Challenges and opportunities
Entering the Zambian market has been a tough journey, however, the locals are proving to be welcoming despite the fact that the website/app will be launched later this year.
Brand awareness has been a major setback as we all know introducing something new is hard for people to trust it instantly.
Limited finances restrict the capabilities of the organization.
Opportunities: it is a mildly tapped industry in Zambia and so with the help of the community this can be the biggest Zambian platform in Africa that not only markets Zambian products globally but also helps the locals develop their own initiatives.
NOTE: Myshopholic is currently sourcing any designers or individuals that would like to start up their own brands in Zambia, we are also looking for entrepreneurs who would love to sell their products and services on the platform…contact us for more details.
Quote; " we can build a greater and better world by helping each other develop, everyone hopes for a better future for our next generation, what's the whole point of hope when only a few benefits and the rest don't and so we better use the resources we all have to develop one another'"
Website: http://myshopholic.com
Email: [email protected] | [email protected]
Facebook: Myshopholic Zambia
Twitter: @MyshopholicZm
Instagram: @myshopholiczambia