About the Brand:
TUGHARNESS is a flagship brand under the company Linking Products – the first company to work on the concept of bottle crafting along with dealing into interiors and home designing in India. The company launched TUGHARNESS, a brand of its own catering to the manufacturing of luxuriously handcrafted bags and leather accessories. Obsessed with skills – TUGHARNESS does not fabricate mass production of products and offers a range of high-end bags and leather accessories.
How it Started:
The brand TUGHARNESS was conceptualized by Saurabh Dev Kapoor with his impeccable knowledge of leather products, gained through his exposure of importing varied leathers for export houses since the year 2012. His addiction to leather formed the vision of TUGHARNESS, exemplary handcrafted luxury leather products. His visionary approach and leadership qualities make TUGHARNESS a Luxury finesse brand; designing and manufacturing the trendiest products for Men and Women.
About the Founder
Image Credit/ Source: Saurabh Dev Kapoor
Saurabh Dev Kapoor, an eminent and versatile business leader, with an experience of over 8 years in the field of sales and marketing is committed to innovating new ideas and conceptualizing his dreams into reality. He has meticulously executed his projects and tasks in this highly competitive world and encompassed all obligations that hamper the growth and sustainability of businesses. A broad knowledge of marketing, Saurabh Kapoor has attracted consumers and big brands for every project in his hands with his tactful planning and professional business relationships.
A strong background in working with companies like Hindustan Unilever, Vodafone & TATA triggered him to do something more meaningful to achieve higher levels of satisfaction.
An MBA by educational qualification, Saurabh in a short span of 8 years, has challenged himself in the fields of Marketing, Media, Theatre, Social responsibilities; with his strong analytical skills and business support operations through analysis of key performance indicators and trends, Saurabh outgrew as an Entrepreneur giving rise to his own venture in the field of Home decor & Leather products in the year 2012.
A first generation entrepreneur, Saurabh Kapoor has shown a remarkable contribution to the leather industry. A pioneering spirit behind the brand TUGHARNESS, he ensures using the finest quality of leather for every product handcrafted under the brand, leaving no scope for quality issues.
The brains and creative skills behind TUGHARNESS: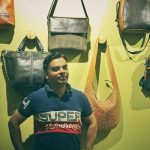 Image Credit/ Source: Dhirendra Singh Parihar
Dhirendra Singh Parihar leads the design team as the Sr. Product Designer at TUGHARNESS. His work experience of more than 15years in the highly competitive worldwide fashion industry gives him exceptional skills of conceptualizing and creating stunning masterpieces in the domain of fashion accessories; he is known for his utmost knowledge of Leather Products, especially different kind of leathers & their treatment processes. A professional in the field of designing and merchandising, Dhirender holds the passion of adding beauty to the beautiful – he ensures every product under his hands are timely designed and developed using the best quality of leather in the process of manufacturing. Throughout his career, Dhirendra's primary focus has been designing leather bags & leather accessories (wallets and belts) made of high-quality leather and other fabrics, beginning from conceptualization and design – through to completed product.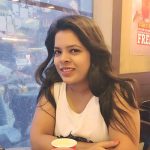 Image Credit/ Source: Tanvi Jalan
Tanvi Jalan holds the marketing aspect of the brand. A Blogger and motivator with the Passion for writing and creating awesomeness through ink. Tanvi Jalan is an experienced Content Specialist with a demonstrated history of working in the writing and editing industry. Skilled in eCommunications, E-commerce, Customer Relationship Management (CRM), Event Management, and Creative Writing. She handles the entire online and offline portfolios and social media for the brand designing every image and video. Strong professional writing and digital marketing skills are further achievements. She is also associated with an NGO working towards the betterment of women and children named NARII Foundation and heads the projects at the NGO.
Inspiration moment and brains behind the Brand:
TUGHARNESS is inspired by an impeccable threshold, unparalleled artistry and pledges to toss up the fashion game and come up with iconic indulgent collection crafted from rich, tangible suedes and leather fabrication of merchandises to court your casual day outings or evening dates. Reinventing the cosmos of modern and superior customer engaging experience has stationed us with the avant-garde of the most desirable fashion houses. All products at TUGHARNESS are handcrafted by the hands of our craftsmen – sewed or stitched with finely pointed knives and attached to the finest quality of buckles and closures.
Video Credits: @Renderforest
Challenges Faced:
It isn't easy for the entire team to agree on the same agenda, it does get difficult at times to get our point across, but it's all teamwork. I am not the sole person who makes the decisions, the entire team sits together, puts their opinions and then a joint decision is made. Although, yes making people agree to be associated with a start-up fashion brand was the most difficult task, and we are somewhere still dealing with it. But as it is said, "Where there's a will, there is a way."
Creativity

goes in tandem with motivation. At TUGHARNESS there's no Me between the team members, it is always a WE that is focussed on. Thus, it is the entire team that worked together to achieve superior elegance, sophistication and luxury aspects that hold the foundation of the brand TUGHARNESS in tandem with streaks of creativity, style, and latest fashion trends. TUGHARNESS team together brings forward a mixed range of contemporary yet modern styling with leading-edge technology adding utmost finesse to our collection. Utmost knowledge in leather crafting, the brand showcases a Modernistic Luxurious Craftsmanship – Leather bags and accessories handcrafted to perfection from the finest quality of leather's around the world to give life to stunning masterpieces.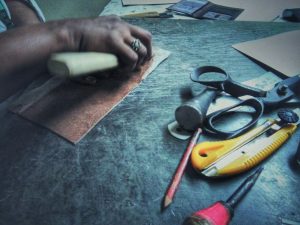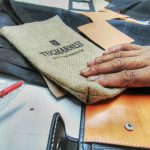 Picture Credits: @Chobibox
Founders advise to budding people
"Don't ever quit, there will be challenges and also knocks on your door, just ensure you know which are the ones you shouldn't let go."
Presently TUGHARNESS is looking for collaborations, to give a revolutionary shift to the fashion industry.
Saurabh quotes "We are open to different proposals of collaborations, and would love to sit over a cup of coffee and discuss what suits best to both ends."
Recently TUGHARNESS has come out with its a Slim Wallet series designed for the comfort of men. The wallets hold customizable options and showcase varied funky colors. The Slim Wallets are so convenient that they do not make your pockets bulky and protect your RFID's, cards and money with ease. TUGHARNESS held the inspiration behind this concept through the idea of not having to remove your wallets when you sit down since there are various health hazards also associated with sitting with bulky and hip pockets. These wallets are offered at a minimal amount of INR 350/- and are crafted from high-end leather with utmost finishing.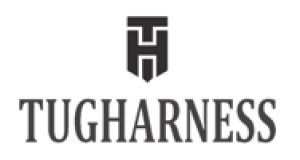 Go shop and get yours customized today..
Website: www.TUGHARNESS.com
Facebook: www.facebook.com/TUGHARNESS
Instagram: www.instagram.com/TUGHARNESS
Pinterest: www.Pinterest.com/TUGHARNESS
Mobile: +91-9711113624
Email: [email protected]
Picture Credits: @Chobibox
Video Credits: @Renderforest