Every one of us desires to become a billionaire and at least once we all have googled the richest business families in India. Piramals have been a part of this list for a long time now and are one of the powerful business families in India. Anand Piramal, son of Ajay and Swati Piramal is a business tycoon and Executive Director of the 'Piramal Group' and is the founder of Piramal Realty. This Piramal heir was born in Rajasthan and brought up in Mumbai.
Anand is a Graduate in Economics and has also completed his MBA from Harvard. His prominence amongst the youth escalated and he became a frequently googled name after his engagement to Isha, daughter of Mukesh Ambani. Even though belonging to a Marwari billionaire family, Anand has not left his ground and is a very humble and benevolent persona. It might be a bit surprising for a lot of you but Anand went down on a knee and proposed Isha at the Mahabaleshwar temple. Isha and Anand's marriage signified the union of two of the most powerful business families.
Personal Details:
| | | |
| --- | --- | --- |
| Name | : | Anand Piramal |
| Vocation | : | Entrepreneur |
| Date of Birth | : | 25-Oct-85 |
| Age | : | 34 years (As in 2019) |
| Hometown | : | Bagar town, Jhunjhunu district, Rajasthan |
| Sun sign | : | Scorpio |
| Nationality | : | Indian |
| Religion | : | Hinduism |
| Hair Colour | : | Black |
| Eye Colour | : | Brown |
| Height | : | 6 feet |
| Weight | : | 85kg |
| Father | : | Ajay Piramal |
| Mother | : | Swati Piramal |
| Sibling | : | Nandini Piramal |
| Uncle | : | Dilip Piramal |
| Schooling | : | Cathedral and John Cannon School, Mumbai |
| College | : | University of Pennsylvania |
| Education Qualification | : | Masters of Business Administration from Harvard Business School in Boston (USA) |
| Hobbies | : | Travel around the world, watch football and play cricket. |
| Favorite food | : | Paneer Makhani, and he takes Chamomile tea. |
| Favorite Actors | : | Hrithik Roshan, Varun Dhawan |
| Favorite Actress | : | Priyanka Chopra, Deepika Padukone |
| Favorite bands and singers | : | Pitbull, Ariana Grande, Coldplay |
| Spouse | : | Isha Ambani (Daughter of Mukesh Ambani) |
Personal and Professional Life:
Anand was brought up in the lovely town of Bagar in Rajasthan. Now, this 34-year-old business mogul is the Executive director of Piramal groups and Non-Executive director of Piramal Enterprises Limited. He is also the founder of Piramal Realty which he founded in the year 2012. Anand has done his schooling from Cathedral and John Connon School in Mumbai. Later he went to Philadelphia for his graduation and completed the same from the University of Philadelphia. After that, he completed his masters from one of the top-notch business schools- Harvard Business School in Boston (USA). Senior Piramal, Anand's father is the Chairman of Piramal Group & Shriram group while his Mother, Swati Piramal is a businesswoman and a Doctor. His uncle is the Chairman of VIP industries.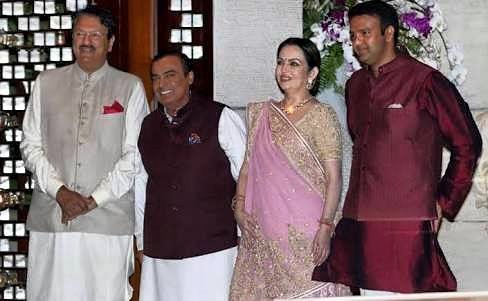 While studying in college, Anand founded an NGO named 'Dia' to help the poverty struck people in Rajasthan. He initially was confused between two career choices- Consultancy and Entrepreneurship. At that time, reputed businessman Mukesh Ambani mentored him and he selected the second of the choices. Before Piramal realty, he set up a platform 'Piramal eSwasthya', a rural healthcare start-up to endorse healthcare in 2012. Today the merged unit 'Piramal Swasthya' is India's largest private primary healthcare initiative. It comprises 250 efficient doctors along with 2260 employees and they serve about 20000 patients every day with the various services provided by them. Today this Piramal Swasthya is a case study at prestigious institutions as Harvard Business School and IIM Ahmedabad. He also invested in the Investment banking company Goldman Sachs and also in a private equity firm Warburg Pincus. Thus he raised a huge amount of 434 million dollars for the growth of his company. He has a net worth of about $5.6 billion and is the youngest president of Youth Wing of 100years old Indian Merchant Chambers.
Proposal and Marriage Extravaganza:
The two families have known each other for a long time and had a strong bond. Mukesh, Nita, and Ajay Swati Piramals have been friends for decades and their friendship dates back to the 70s. Anand proposed to Isha, his childhood friend at the Mahabaleshwar temple. After that, they threw a private get-together party for their friends in Antlia and later celebrated their engagement at Lake Como in Italy in September 2018. The engagement ceremonies started on September 21 and ended with lunch on September 23. The welcome lunch of this event was titled as 'Benvenuti A Como'-Welcome to Como. It was the celebratory dinner –'Amore E Bellezza' which translates in English as "to Love and Beauty". And the farewell lunch was titled 'Arrivederci Como' i.e. Goodbye Como.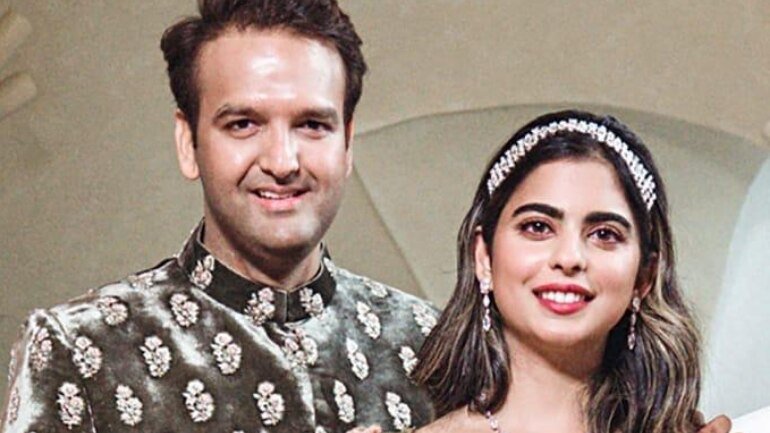 During one of the celebratory functions, Ambanis told that they understood their daughter was in love with Anand when she became a day person from a night a person. Piramals have a habit of getting up early and the Ambani heiress changing her habits made them realize about she being in love.
The two scions hosted their pre-wedding ceremonies in Udaipur on December 8 and 9. The wedding was an extravagant festival and consisted of performances from American pop sensation Beyoncé. Famous personas and who's who from the realms of Business, showbiz and politics all came together to celebrate the union of this couple. Many personalities like former US First lady Hillary Clinton, Priyanka Chopra, Nick Jonas, and the Bacchans became a part of this lavish event.
The couple got married in a traditional Gujarati wedding ceremony at Ambani's beautiful Mumbai residence, Antilia on December 12, 2018. Isha donned an Abu Jani Sandeep Khosla lehenga whereas Anand looked like a handsome groom in an ethnic Kurta of similar hues. Isha and Anand looked amazing together and their wedding pictures created quite a buzz on the internet. After their marriage, Anand and Isha live in the Beautiful Sea –facing bungalow, named Karuna Sindhu (Gulita). This 50,000 sq. ft. house is a wedding gift from Ajay and Swati Piramal to their son and darling daughter in law.
Awards: Anand Piramal has always worked towards success and in one form or other he has accomplished it through many awards and recognitions. See the few of them mentioned below:
Piramal Swasthya won the Times Social Impact award in 2015 and the Forbes Philanthropy Award in 2013.
Anand was awarded the Hurun Real Estate Unicorn of the Year Award in 2017
He also won the Young Business Leader Award by Hello! Magazine in 2018
Net worth: As per the various online sources, the total net worth of Piramal Group is the US $4.2 Billion as of March 2019. Anand is making a big move in terms of Group's net worth with his realty business.
Thus Anand is surely an inspiration to the youth of the nation and if you want to follow him for his daily updates you can also follow his social media pages from below links: