Meet "Anjali Kanodia " and Know about her Passion and her new Startup for Handcraft Bags " New Leaf "
Tell us Something About You and Your Journey :
Born and brought up in Mumbai, big time foodie, always passionate and inclined towards art, craft and design since childhood, I decided to make a career in the handcrafted bags soon after clearing my 12th Board exams.
After checking out all possible design related courses in various fields, I trusted my instinct and opted for BSC with Specialisation as Textiles and Apparel Designing.
So the journey began in the field of textiles and fashion!
Too particular, hardworking and punctual about my work, I always had a thing to do something different from the rest.
After gaining quite some knowledge about traditional textiles, art, and crafts of India, I acquired a skill of creating handcrafted products. In spite of studying apparel designing as my main subject, I used to end up making "Bags" in my free time. My friends used to tease and joke around saying "Anjali, In future, you will have your brand named as Anjali Bags".
"Couldn't they think of a better name?" I thought.
" It was during my second year of graduation when I was inspired by my Mom's colorful basket weaving bag  in which she used to carry her Tiffin, " Says Anjali
 
Credit/ Source: New Leaf
Who all are in Your Team and how do you manage all?
Currently, I work alone. I have karigars from whom I get the job work done. Also, I have trained few females the handwork which I do in all the bags. And of course, my friends and family who constantly support me and help me throughout.
 How did you get the idea of "New Leaf" and  Why did you decide the name New Leaf?
 Excited to create something new I took out few scraps of fabric and synthetic leather, cut them into strips and wove them into a simple plain weave pattern and gave it for stitching it into a formal bag.
The bag looked interesting and different.
[I was still not sure about what to do in future]
Soon after graduating and completing my internship Being Human began the search for a course in Bag Designing.
Unable to find a good short-term course in Bag designing, I chose to join School of Fashion Technology in Pune where I would do PG in Fashion Design and Clothing Technology with an aim that I will at least learn something if not Bag designing.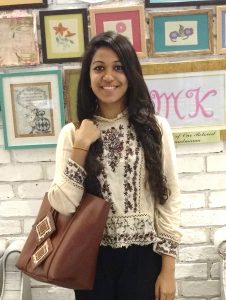 Credit/Source: New Leaf
Trying to explore myself more in that competitive environment, I became firm with a thought that in the near future I will create something of my own for sure.
The time I had in hand after completing the course and before joining the internship at Vero Moda was crucial.
This was the time when temporary planning of my start-up started. One thing was sure that I would go beyond the common things, something which couldn't be found on google, Pinterest etc or with any other brand.
" Keeping this in mind the name- NEW LEAF emerged which meant " a new leaf on an old tree of fashion"
I was still not sure about what all products to include in the start-up.
This confusion was cleared too after completing my internship at Vero Moda where I assisted the designer in women's wear apparels. I became sure that I don't fit into a 9 to 5 job nor could work with garments as a whole.
"Bags is the thing for me" I realized.
Then the execution of the plan started. It was time to start with building up my first collection of handcrafted bags!
Still, love the first handwoven bag I had made during my second year I thought of taking forward the idea and creating a better line of products with proper research and understanding.
Having had a good quality of weaving knowledge I was able to grasp different basket weaving patterns easily and wove few samples with different materials.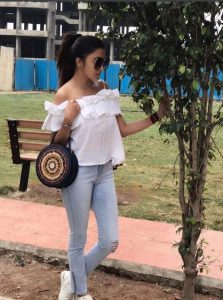 Credit/ Source: New Leaf
What is Your USP and Future Plans :
I wanted to develop only handcrafted bags where innovation meets inspiration; where something classic along with a modern touch is the core feeling which one gets after looking at a New leafbag.
Clean, classic, minimal, unique and unconventional, handcrafted are few words that describe New Leaf Bags. This was the main USP which I followed then and will always follow.
And so the designing of handwoven bags followed by its manufacturing began.
This collection is for the people who like to stand out from the rest and want to get noticed.
Tell us Something about your Past Work Experience :
 EXHIBITIONS DONE TILL NOW: KNOTTY TALES, ROTARY CLUB, WAKE CLUB, THE LIL FLEA, ZA PALOOZA, SHOR BAZAAR, WEEKEND WINDOW.  Approx 12 exhibitions till now. (MUMBAI, PUNE, AHMEDABAD)
ONLINE RETAIL STORES: THEBAGTALK, RED POLKA, CULTURE TRUCK, LOVE THIS STUFF
RETAIL STORES: CHENNAI, SURAT
Advice to all the budding entrepreneurs,
just be focused and determined and have patience. Do not hesitate, just start. Give your 100%, success will follow.
               Check  Few Collections of Our Beautiful Handcraft Bags  : 

Credit/ Source: New Leaf
Anything more You want to tell to our Viewers "
There are few designs which I would suggest the working women to definitely have this summer.
The handcrafted totes are handy, comfy, can stuff with all summer requirements along with your work needs. Oh! Of course its eye catchy! If you want attention at your workplace these are the bags you could opt for. I am sure you must not be having a handcrafted as well as classic work kind of 
bag!Designs –
Open totes
Triangular weave intricate tote
Circular weave tote
Crisscross weave handbag
Tile weave handbag
Mix match handcrafted tote
Laptop Bag
For More details Kindly Find the Link Below :
FOUNDER: Anjali Kanodia
STARTED IN OCTOBER 2016
CONTACT DETAILS :
Company Name: New Leaf
Insta link: https://www.instagram.com/creation.newleaf/
Facebook link: https://www.facebook.com/creation.newleaf/